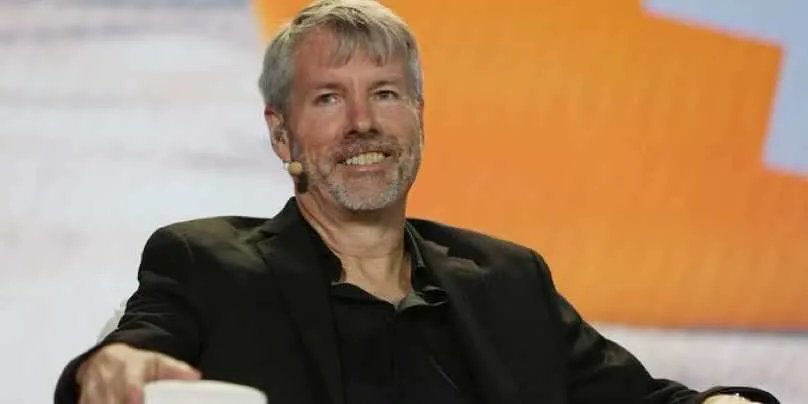 Microstrategy has started dumping some of the Bitcoin it has been accumulating aggressively in the past year and it was behind the 20% BTC drop yesterday, one theory suggests.
This comes as two of the company's top executives dumped their stock options in a move that experts believe signals trouble at the company.
---
There have been few who have been as bullish and vocal about Bitcoin as Michael Saylor, the controversial leader of enterprise software firm Microstrategy. His company has been gobbling BTC up in an aggressive manner for months and has been credited with some of the positive price moves. But for how long could Saylor continue buying the top cryptocurrency before eventually starting to take profits?  According to one investor and analyst, Saylor's firm has started dumping and was behind the mysterious 20 percent drop in BTC price.
Software maker to Bitcoin investment vehicle
For years, Microstrategy was known for its software solutions and not many knew Saylor. However, he has gained global recognition and become the de facto face of institutional interest in Bitcoin. Microstrategy has bought billions of dollars worth of BTC and become the biggest publicly traded Bitcoin owner.
Even when Tesla's Elon Musk buckled and seemed to abandon Bitcoin, Saylor held on. It even got to the point where Microstrategy seemed more of a cryptocurrency investment vehicle than a software maker.
Read More: MicroStrategy plans to further its Bitcoin acquisition strategy despite BTC recent struggle
But according to one pseudonymous investor and analyst, Saylor has been waiting for the best time to dump on the market, and that moment may have arrived. Known to his legion of followers as "Crypto Whale," the analyst claims the Bitcoin believer is taking profits behind the curtains.
Crypto Whale pointed to a move Microstrategy made that raised eyebrows from Saylor's supporters and critics alike. The company revealed that it was forming a subsidiary known as Macrostrategy LLC to hold its BTC, which now stand at over 92,000. In its SEC filing, the Virginia-based firm claimed the new company would be valued at $3.37 billion for its BTC stash alone.
Michael Saylor was urging everyone to buy $BTC today at $51K.

He also moved all of MicroStrategy's BTC to a shady LLC, which means he can now sell without filing with SEC.

My guess is that Saylor is dumping his $BTC holdings on those he's actively trying to lure in.

— Mr. Whale (@CryptoWhale) September 7, 2021
Granted, this is nothing new and it was made public over two months ago. Microstrategy was also open about the formation of the new unit. However, it is true that by transferring the BTC to the new unit, Saylor can sell off the stash without any SEC fillings.
There have also been concerns over Saylor's past and sudden pivot to become Bitcoin's foremost believers. Back when Bitcoin was new to the scene, he was bearish on the cryptocurrency, claiming that its days were numbered.
#Bitcoin days are numbered. It seems like just a matter of time before it suffers the same fate as online gambling.

— Michael Saylor⚡️ (@michael_saylor) December 19, 2013
However, this is nothing new. There are many who were anti-Bitcoin at the start but have since converted, such as billionaire Mark Cuban.
Then there's the business outlook of Microstrategy, whose revenue has been decreasing every year since 2014, up until Saylor dug into Bitcoin.
Considering all these factors, it's not too far-fetched to take a pause and take a look at Microstrategy and the amount of power it now wields over Bitcoin.
Microstrategy execs dump stock, worrying analysts
Saylor founded Microstrategy in 1989 and in the three decades since, he has managed to stay at the helm and has now placed the company at the heart of a burgeoning sector. Those under him have shown great faith in him over the years, even when he had to pay an $8.2 million fine for manipulating the company's accounting books to make it look profitable when it was losing money.
However, it now appears that some of Saylor's top lieutenants are not as convinced about the direction the firm has taken. According to a Bloomberg report, chief financial officer Le Phong and chief technology officer Timothy Lang unloaded Microstrategy stock recently after exercising about 30 percent of the options they were awarded.
Each exec got $7 million from the stock sale.
Converting options isn't an unusual or alarming move for any executive. However, the two are selling despite the company's stock going up fivefold as more investors sought indirect exposure to Bitcoin through its stocks.
Matt Maley, the chief market strategist at Miller Tabak + Co., an institutional trading firm, is one of those that have cast doubt over the move. He believes the two execs may be getting concerned over the direction Saylor is taking the company, especially in regards to the long-term Bitcoin-tied future of the firm.
Senior executives do not sell stock if they think it's going higher. It's just a bad sign no matter how you slice it.
While it may be a bit concerning for Microstrategy, Edward Moya doesn't see it having any impact on the momentum of Bitcoin. Bulls are in charge of the market and a little insider selling is unlikely to faze them, Moya told Bloomberg.
He added:
MicroStrategy's Saylor relentless support for Bitcoin has made the company a cryptocurrency trade and not necessarily a bet on the company's software solutions and services. The share price will likely continue to go the direction of Saylor and his bet on Bitcoin.