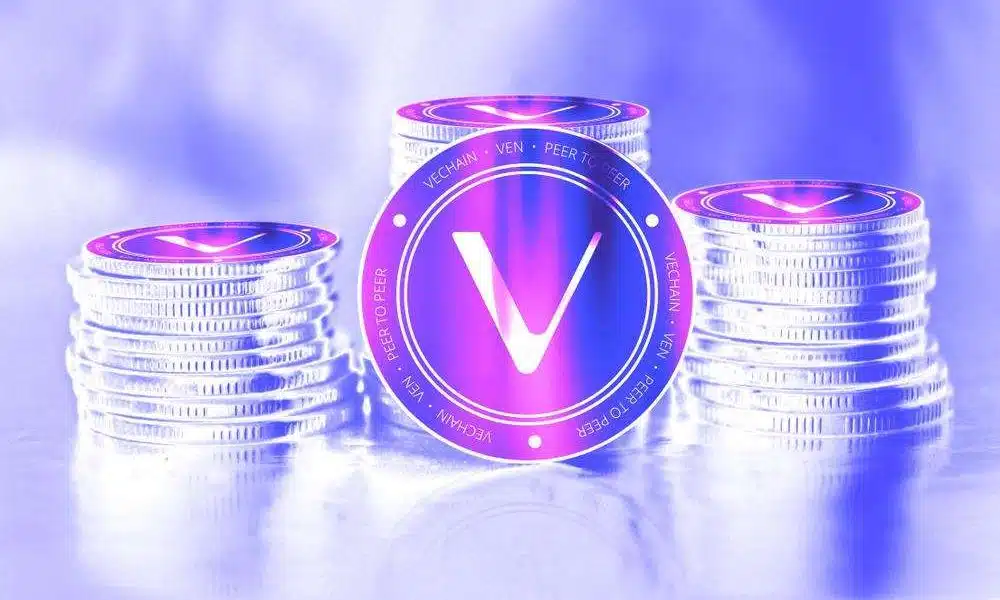 Blockchain is driving a major transformation in the US automotive retail sector.
Vechain offers insights into optimizing supply chain management using blockchain.
The Five Pillars of Automotive Blockchain Revolution
Historically, the American automotive retail sector, deeply anchored in conventional commerce, stands on the brink of profound transformation, guided by blockchain's revolutionary capabilities. Known for its decentralized, transparent, and permanent nature, blockchain isn't just a passing tech fad; it represents a seismic industry shift.
1/3)🚀 #VeChain is revolutionizing American auto retail with #blockchain:

🚗 Vehicle History Verification: Immutable records boost trust and resale value.

💸 Transparent Transactions: Real-time, smart contracts, and digital currencies redefine transactions. pic.twitter.com/azLwDcEkNw

— Collin Brown (@CollinBrownXRP) September 18, 2023
Vehicle History Verification
Blockchain offers an unparalleled capacity for creating immutable records. Imagine a system where every vehicle's history is etched permanently, immune to alterations or revisions. Brands like CarVertical are already capitalizing on this feature, offering crystal-clear title and damage histories, fostering an unprecedented level of trust in automotive transactions. Such unwavering histories bolster the confidence of potential investors, propelling the resale values.
Transparent Transactions
Blockchain promises a new dawn of rapid, transparent transactions. Think of a world where lengthy fund clearances and hidden fees are a thing of the past. Enter the age of smart contracts: digital agreements that autonomously honor their terms, cutting through ambiguities. With industry leaders like Tesla formerly embracing cryptocurrencies, we might be on the cusp of a new era of transactional methods. Blockchain's digital ledgers also minimize the paperwork typically associated with automotive transactions.
Optimized Supply Chain Management
Precision in traceability is paramount in automotive supply chains. Innovative Original Equipment Manufacturers (OEMs) such as Porsche AG are turning to blockchain to fine-tune their supply chain operations, eliminating misrouted shipments and dubious origins. Brands like Vechain highlight the potential of blockchain in this realm. Furthermore, by verifying the authenticity of auto components, blockchain can ensure that only genuine OEM parts are used during servicing or repairs.
Hyper-Personalized Customer Interactions
Today's dealerships, equipped with AI and blockchain, can sift through extensive data to deliver highly personalized customer messages. Platforms like Ocean Protocol further sweeten the deal by rewarding users for granting secure data access. Traditional manufacturers, including BMW, are exploring blockchain to rekindle and sustain customer loyalty.
Emergence of Novel Business Models
The automotive world is teeming with possibilities, from the inception of token-based loyalty programs to the dawn of peer-to-peer trading structures that challenge conventional dealership systems. In the financial domain, collaborations with fintech entities hint at groundbreaking monetary solutions, while insurance giants like Allianz are exploring blockchain for innovative offerings. Additionally, the Decentralized Finance (DeFi) wave promises to redefine vehicle financing, adding more clarity and focus on user experience.
As blockchain steadily weaves its way into the automotive fabric, traditional customer-dealer dynamics are set to undergo a dramatic overhaul. In this emerging landscape, dealerships equipped with blockchain innovations stand to capture lucrative opportunities and redefine the future of automotive retail.
Crypto News Flash does not endorse and is not responsible for or liable for any content, accuracy, quality, advertising, products, or other materials on this page. Readers should do their own research before taking any actions related to cryptocurrencies. Crypto News Flash is not responsible, directly or indirectly, for any damage or loss caused or alleged to be caused by or in connection with the use of or reliance on any content, goods, or services mentioned.