CME Ethereum futures launched three weeks ago and in that time, the cryptocurrency has spiked to an all-time high before retracing heavily.
This price movement is similar to Bitcoin's which shot to an all-time high, days after its futures launched, before the onset of the worst bear run in the market.
---
When Ethereum futures launched on the Chicago Mercantile Exchange (CME) in February, the cryptocurrency industry was buzzing with excitement. However, in the three weeks since then, Ethereum has followed a pattern that's all too similar to Bitcoin's. The second-largest cryptocurrency shot up to a new all-time high before retracing and recording a monthly low.
A futures contract is an agreement between a buyer and a seller to trade an asset at a fixed price at a future date. They allow investors to bet on the future movements of the price of Ethereum without purchasing the cryptocurrency.
Ethereum futures launched at the CME on February 8. At the time, the cryptocurrency was trading at $1,600. It had hit a record price at $1,750 just days prior. Following the futures launch, the cryptocurrency soared to record its new all-time high at $2,037 on February 20. Since then, Ethereum has shed off 25.4% to now trade $1,520.
The CME futures curse
Ethereum has followed a similar path to Bitcoin, which was the first to launch on the CME futures market. BTC futures launched at the CME on December 17, 2017. At the time, Bitcoin was enjoying its best run yet, trading at its all-time above $20,000 for the first time ever. A week earlier, BTC futures had also launched at the Chicago Board Options Exchange (CBOE).
Following the launch at the CME, Bitcoin started going on a downward spiral which was the onset of its worst bear run. Some argued that Bitcoin made a natural market correction, independent of the futures.
First month of CME trading for $eth ethereum pic.twitter.com/7xPO0Z4588

— frxresearch (@frxresearch) February 28, 2021
Ethereum has taken a similar path, as CoinDesk Research noted. "Ethereum has underperformed BTC since its CME futures launch, and has accelerated during the recent crypto selloff. [It was] a similar situation in BTC, which underperformed ETH after its CME futures launch in 2017," it stated.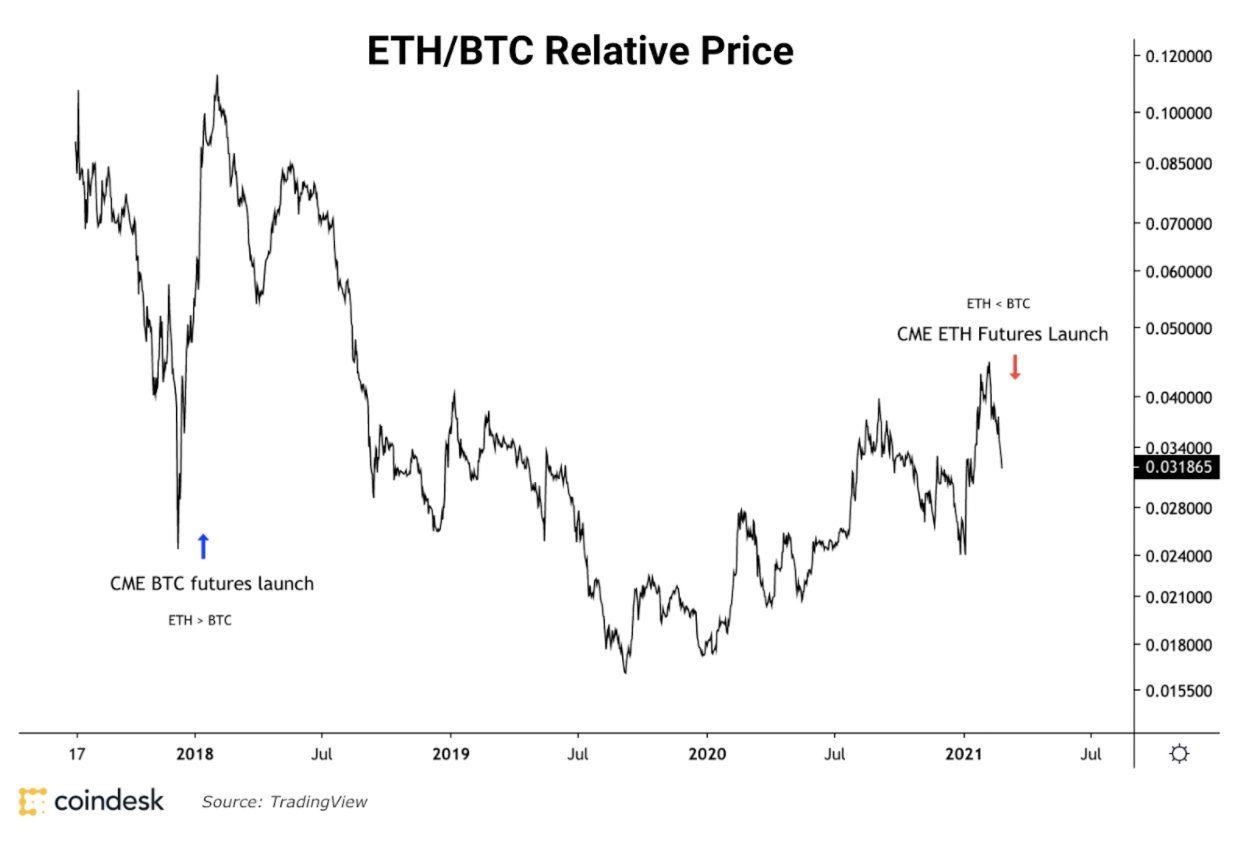 When the Ethereum futures launched, some experts argued that the cryptocurrency wouldn't take after Bitcoin. They claimed that the market has matured and will not be shaken by a few institutional investors. Ryan Watkins, an executive at research firm Messari was among them. He termed fear of the upcoming futures as 'ridiculous.'
"Not only does that fear stem from just one data point, but there's also clear differences between market conditions in December 2017 and market conditions now. Also don't think institutions are itching to short ETH," he stated.
Qiao Wang, a DeFi Alliance member and renowned market observer also laughed off any suggestions that Ethereum would go through a similar fate to Bitcoin. He claimed that Ethereum was on its way to $20,000, regardless of the futures launch.
ETH is going to $5k-20k by the end of this. There's absolutely no reason to sell your long term holdings here.

— Qiao Wang (@QwQiao) February 7, 2021