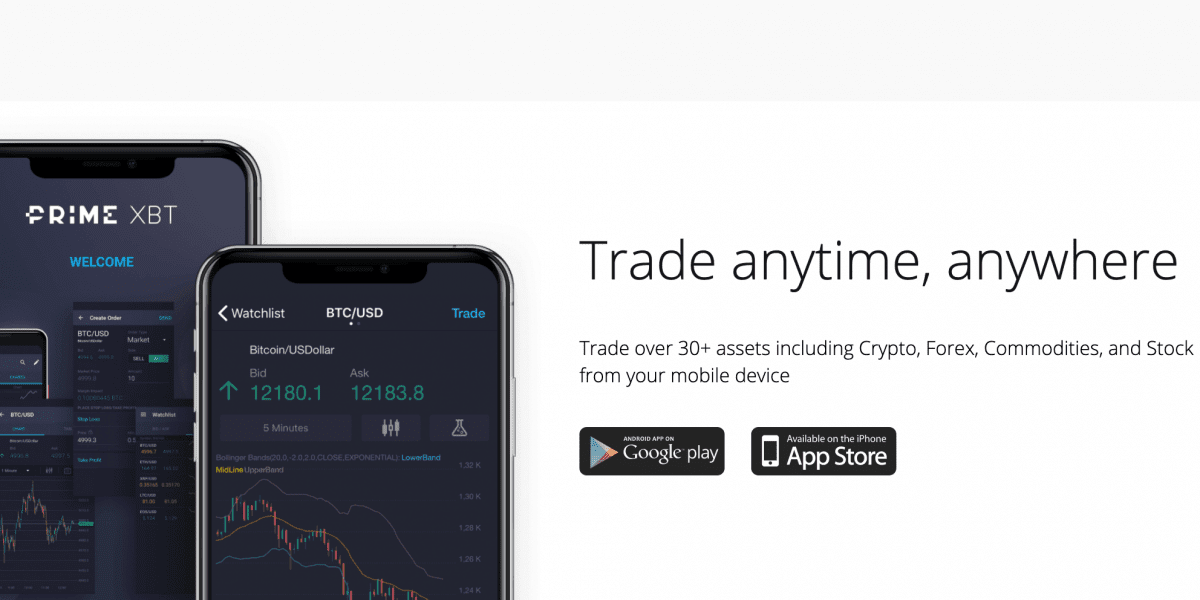 PrimeXBT is a trading platform suitable for professionals, as well as novice traders, developed with a foundation of experience in traditional markets, which are currently experiencing record-breaking volatility.
Because of the platform's roots deeply connected to the traditional market, although it got its start as a cryptocurrency exchange, it features a wide list of traditional assets, and the tools offered are more commonly found across traditional trading platforms.
This makes PrimeXBT a unique proposition for traders, especially during the current economic environment. Let's find out if the trading platform is worth signing up.
What is PrimeXBT?
PrimeXBT, the trading platform is registered and based in Seychelles but caters to all global traders. And with so many assets to choose from, including forex, commodities, stock indices, and cryptocurrencies, the platform attracts all types of traders from all types of markets also.
The platform is safe, secure, and recently took home a number of Forex Awards and the ADVFN awards for Best Bitcoin Margin Trading Platform.
However, the platform is far more than just Bitcoin margin trading. Here's all that PrimeXBT offers.
PrimeXBT trading tools
High leverage is among the main features of the platform. Up to 1000x leverage can maximize profits generated on forex, gold, and silver.
100x leverage maximum is supplied for crypto, commodities, and stock indices. Leverage lets traders gear their trades, turning tiny positions into large ones. 1000x turns the 0.001 BTC deposit into 1 BTC worth of trading power, for example.
Leveraged positions can be taken across long or short trades, depending on which direction the market is trending. Stop-loss protection orders and take profits further maximize profit potential while keeping risk at bay.
The user interface is customizable via widgets and features multi-monitor support for professionals. Built-in charting software is also included with specialized trading studies available such as RSI, MACD, and more.
PrimeXBT assets
The first assets the platform listed were cryptocurrencies Bitcoin, Ethereum, Litecoin, EOS, and Ripple trading against USD. Later, BTC trading pairs were added.
Following that, PrimeXBT took its traditional market experience and brought CFDs for stock indices, commodities, and forex currencies to the platform, adding so much more value to the overall offering.
Now, traders no longer need to log into multiple platforms to trade such a large variety of assets. Incredibly diverse portfolios are also now possible – an experience that is rare to find elsewhere.
More than 25 major forex currency trading pairs are included. This includes FX pairs for AUD, CAD, CHF, JPY, NZD, USD, EUR, SGD, RUB, and TRY
CFDs for stock indices include DOWJ, EUR50, FRANCE, GER30, SP500, SPAIN, NASDAQ, HK-HSI, AUS200, JAPAN, and UK100.
Commodities offered include BRENT, CRUDE, and NAT.GAS. Gold and silver are also available.
Registration, deposits, withdrawals, fees, and customer support
PrimeXBT doesn't require any KYC process to keep your personal details private. When you sign up for an account, the only requirements are to confirm your email address and make a minimum deposit of 0.001 BTC in order to start.
Making a deposit is easy and secure. The platform generates a Bitcoin address for you to transfer BTC to. PrimeXBT also works with Changelly so that you can deposit in fiat currencies like EUR, USD, and even other cryptocurrencies. However, it all gets covered into BTC for trading, which is used for leverage collateral.
Before you can withdraw Bitcoin, each BTC address must be added to a whitelist prior to making the withdrawal. When you are done setting up the whitelist, you can withdraw Bitcoin to any address that has been confirmed during the whitelist process, preventing the funds from being transferred to an accidental or unwanted address.
The platform also provides a 24/7 live customer support chat, a help center, and a company blog filled with useful information, updates, and guides.
Referral program
PrimeXBT offers multiple referral programs.
The four-level system gives 20% back in commissions of direct referrals, however, what makes the program unique is that any new users the original direct referral makes also generate a commission on the original referrer's referrals, up to four levels of earnings.
Direct referrals offer 20% commissions, while level 2, 3, and 4 earn 15%, 10%, and 5% respectively. Top earners have already made over 51 BTC according to the platform's affiliate leaderboard.
Attractive CPA offers range from a 70% rev share, up to $1,250 per trader signed up.
PrimeXBT Turbo
Turbo is a new product offered by PrimeXBT. It offers profits of as much as 90% in just 30 seconds. These short-duration Bitcoin contracts range from 30 seconds, 1 minute, and 5 minutes.
Incredible profits are possible in even just a day, however, a complete loss of capital is also possible. Be certain to practice using the free 1 BTC demo account before trying with your own capital at risk.
Is PrimeXBT safe?
PrimeXBT has a solid reputation across the trading community, has partnered with many top traders for Q&As and other educational material, and has even won awards for the platform's benefits.
Highly regarded platforms that win awards are always the safest bets, making PrimeXBT among the safest platforms. Bank-grade security and a number of protections keep client funds secure.
And with no KYC process, no personal data is never put at risk.
Final thoughts
PrimeXBT has a feature for everyone and the largest variety of trading assets all on one platform. The advanced trading tools cater to professionals, while the easy to understand user interface is ideal for novices just getting started.
With more ways to make money beyond just trading, PrimeXBT is among the fastest ways to become profitable.
And with up to 1000x leverage across long and short positions on forex, commodities, stock indices, and cryptocurrencies there's money to be made at nearly every turn. Register for PrimeXBT today – it takes less than 60 seconds and offers free demo accounts.