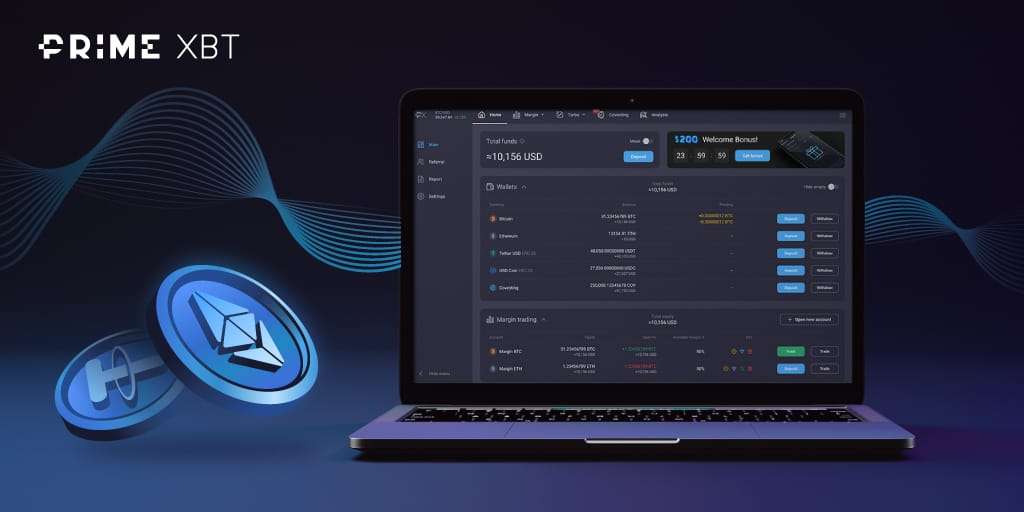 This week's cryptocurrency community and industry chatter have been primarily focused on the potentially negative environmental impact of Bitcoin and other cryptocurrencies.
The topic was brought to the forefront by a shock announcement by Tesla that they will no longer accept BTC due to its carbon footprint – a payment option the company only added just two months prior.
Tesla and its CEO Elon Musk claim that there's been increasing use of fossil fuels, particularly coal, to facilitate Bitcoin mining operations. This has sparked fierce debate once again about the energy efficiency of the flagship cryptocurrency and the world's largest by market cap. 
PrimeXBT analyst Kim Chua believes this is potentially a "gamechanger" for Dogecoin, which could take the throne away from Bitcoin. Here's more about the analyst's thoughts on a potential "flippening" between Dogecoin and Bitcoin, and what that could mean for crypto.
Bitcoin Energy Impact On The Environment Becomes Hot Button Issue
The Bitcoin industry as a whole is estimated to use roughly the same amount of energy as the annualized energy usage of a moderate-sized country, such as Malaysia, according to industry experts and studies.
According to published data from April of last year, almost two full thirds of the new BTC being produced by miners took place in China – with one-third being attributed to Xinjiang alone. Although their influence has been reduced recently, Chinese miners still command about half of all of the Bitcoin hash rate.
Xinjiang is the same region that has become notorious in recent years for the treatment of the Uighur Muslim minorities by the Chinese government. More recently, a power grid shutdown exercise in March caused the Bitcoin hash rate to plummet sharply by 45%. This also resulted in the price per BTC falling from local highs above $60,000 to where it is today.
This sharp reduction in hash rate once again underscores how much the first-ever cryptocurrency is still very much beholden to the Xinjiang miners – a scenario that is somewhat contradictory for a supposedly decentralized network.
While there have been widespread reports of Bitcoin mining moving out of China and into regions like Canada and the United States that rely heavily on renewable, green energy, the Xinjiang power shutdown incident is a clear testament that the concentration of miners located within China is still there. It also highlights that using black coal labour is still rampant.
Industries that are heavily dependent on cheap electricity are often drawn to the Xinjiang region, which has vast natural reserves of coal that are challenging logistically and costly to ship elsewhere, resulting in a congregation of energy-demanding industries like cryptocurrency mining to be established there.
However, the mistreatment of coal mine workers in Xinjiang has been the subject of much scrutiny recently.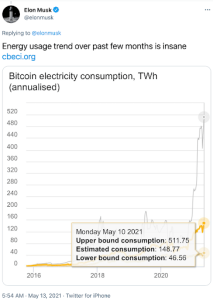 Elon Musk: Tesla CEO And Self-Proclaimed Dogefather Backs DOGE
PrimeXBT analyst Kim Chua believes that is the reason for Tesla's "sudden change of support in Bitcoin." And it could result in a shocking change across the crypto market.
"Tesla has vowed to start using Bitcoin again as soon as mining operations transition to more sustainable energy solutions and is exploring using other cryptocurrencies that consume less than 1% power than Bitcoin currently does," Chua reiterated.
Chua then discusses Dogecoin, which she points out "has been very well-publicized by Elon Musk himself." Musk recently hosted Saturday Night Live – a long-standing, skit-based comedy show that has featured some of the biggest celebrities in the world throughout its history.
There, he talked extensively about Dogecoin, even dubbing himself the "Dogefather." Musk's infatuation with DOGE doesn't stop there, however, and could be a coin he's eying as a replacement for BTC.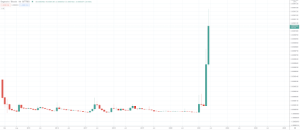 The Dogecoin Debate: Which Coins Require The Least Energy?
According to data, XRP uses the least power overall in crypto, using 0.0079 of a Kilowatt-hour (KWh) per transaction. DOGE itself is not far behind at 0.12 KWH.  When taken in context together with how often Elon Musk has been touting DOGE lately, it shouldn't come as a significant surprise if Tesla decides to accept DOGE instead.  
Both Dogecoin and Litecoin use the Scrypt mining algorithm, which has lower hash rate requirements than Bitcoin, and therefore is much less energy-intensive than Bitcoin's SHA-256 mining algorithm.
However, Bitcoin is said to be more secure because of the very fact that it consumes more power, making it significantly more expensive to attack. DOGE and LTC can't tout the same level of security.
With the environment as the focus, "Tesla might feel pressured to endorse a cryptocurrency with a much smaller carbon footprint" than Bitcoin's massive 707 KWh – which is by far the most energy-demanding cryptocurrency out there. Litecoin, for example, is rated at 18.522 KWh, and 62.56 KWh.  
Kim Chua On The Possibility On Dogecoin Flippening Bitcoin
Musk polled his followers just days ago through his Twitter account, asking if users wanted Tesla to accept DOGE. 78% of all respondents voted for accepting DOGE – Musk revealed the company's decision to drop BTC as a form of payment just hours after the poll concluded.
This was followed the next day with yet another market-moving tweet that Musk and his teams are working with Dogecoin developers to improve the blockchain – possibly working on making it even more energy efficient. Potential improvements to security, or the addition of smart contract functionality, could also be added. The tweet itself could be a "gamechanger" for Dogecoin as a blockchain –the possibilities are endless with Musk's involvement and influence.
Examining the series of tweets and how Musk regularly refers to himself affectionately by names like "Dogefather" and "the CEO of DOGE," in addition to the fact he has been supportive of DOGE since 2019, it is evident that the sometimes evil genius is up to something. But what?
PrimeXBT's Kim Chua says that Tesla very well could accept DOGE soon and that it is "almost a given." Chua also expects "even bigger things to come for Dogecoin." "After all, a literal rocket scientist is working with the team behind the meme coin to improve its network," she added.
The PrimeXBT market analyst also speculates that if the problems surrounding Xinjiang mining dominance are not resolved soon, there is a chance that other coins may "flippen" Bitcoin to become "the new King of Crypto."
Many experts are predicting Ethereum to be the chosen one that eventually flips Bitcoin. However, with so much happening at such breakneck speed in the world of blockchain and crypto, the race is still on, and ultimately any coin could be crowned king in the end.
With Dogecoin already currently at number four by market cap rising from little more than a joke or a meme, the chance of it becoming the top cryptocurrency is suddenly a genuine possibility. And it could even take the throne from Bitcoin if Musk continues to build into the altcoin.
About Kim Chua, PrimeXBT Market Analyst
Kim Chua is an institutional trading specialist with a track record of success that extends across leading banks including Deutsche Bank, China Merchants Bank, and more. Chua later launched a hedge fund that consistently achieved triple-digit returns for seven years. 
Chua is also an educator at heart who developed her own proprietary trading curriculum to pass her knowledge down to a new generation of analysts. Kim Chua actively follows both traditional and cryptocurrency markets closely and is eager to find future investment and trading opportunities as the two vastly different asset classes begin to converge.