In a search of reputable forex brokers, you might be surrounded by advertisements about the countless number of mediators and dealers. Among them, FXCM and NSBroker stand out with rather competitive spreads, a diverse instrument portfolio, powerful trading platforms and many more.
To support your deep understanding of two brokerages, I have attempted to produce a detailed comparison in several terms of available investment products, fees, trading platforms, payment methods and security. With that said, this review may help you reach a suitable trading partner for your goals and experience.
What is NSBroker?
Launched by NSFX Ltd in 2011, NSBroker* is a Malta-headquartered broker under the regulation of the MFSA and other regulatory governmental bodies in different Eurozone jurisdictions.
As an ECN broker, NSBroker offers narrow spreads and low commissions. Such fees vary as per tradable assets but generally, they are among the most competitive ones. Furthermore, the company covers a wide range of investment products entailing fiat currency pairs, precious metals, share indices, energy carriers and cryptocurrencies.
Regarding the trading platform, NSBroker cooperates with the third party, MetaQuotes Software, to provide you with the latest model known as MetaTrader 5 (MT5). The platform is better known for its automated trading and advanced features that facilitate your risk management.
What is FXCM?
FXCM, short for Forex Capital Markets, entered the forex and CFDs industry more than two decades ago. The retail broker is powered and administered by Leucadia Investments which functions as the merchant banking division of Jefferies Financial Group. Headquartered in London, FXCM has expanded its operational activities across the Europe and Asia-Pacific regions. Therefore, it comes as no surprise that the brokerage is regulated by various competent authorities (FCA, FSCA and ASIC).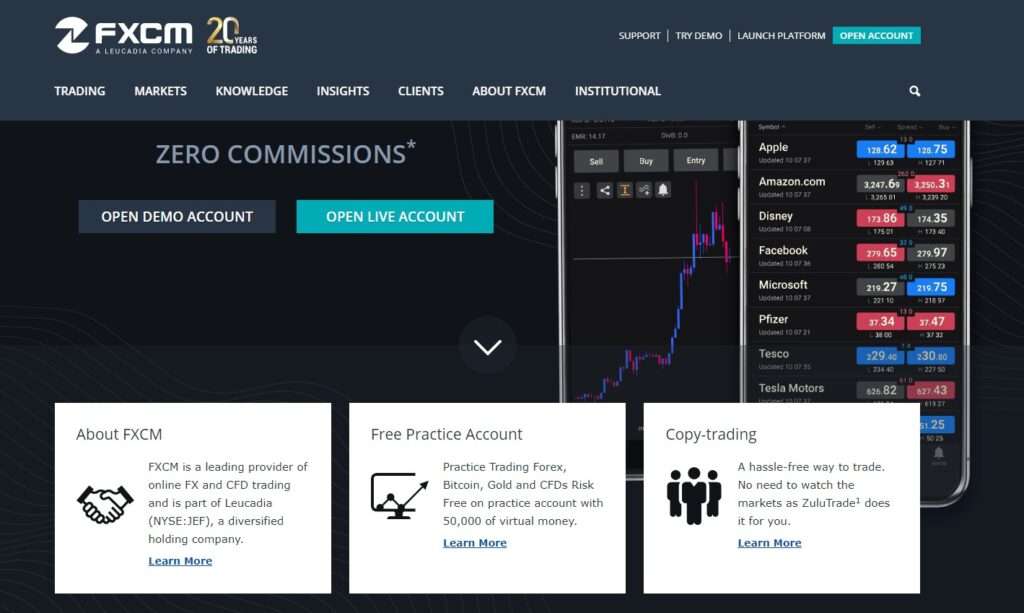 Acting as a market maker, FXCM allows CFDs trading on forex currency pairs, stocks, commodities, indices and cryptocurrencies. Besides, what differs the brokerage from other counterparts is its forex and stock basket offerings.
Apart from the provision of the prevalent trading platform, MetaTrader 4 (MT4), the company offers four additional platforms. They include ZuluTrade, TradingView Pro, NinjaTrader and Trading Station which is a self-developed platform.
1. NSBroker vs FXCM: Tradable Markets and Assets
The first comparison between NSBroker and FXCM lies in tradable instruments and markets.
To begin with, NSBroker affords 100+ purely CFDs instruments; they are classified into five categories: fiat currency pairs, precious metals, indices, energy carriers and cryptocurrencies.
Despite the long-standing history of the establishment, the FXCM's portfolio is less diverse in comparison with its competitor and records just over 60 financial instruments. You may conduct CFDs transactions on forex currency pairs, stocks, indices, commodities and crypto-assets.
One unique metric of the brokerage is its trading baskets which allow you to speculate on the subsequent price movement of one group rather than one currency pair or one stock separately to diminish the involved risk of one instrument. FXCM provides stock baskets for different sectors, entailing FAANG, BIOTECH, ESPORTS, CANNABIS, CN.TECH and CN.ECOMM.
In a similar sense, FXCM's forex baskets consist of Yen, USD and emerging markets indices which are denominated as JPYBasket, USDOLLAR and EMBasket respectively.
Winner: Draw
When it comes to tradable markets and assets, both FXCM and NSBroker end in a draw. FXCM becomes outstanding with both CFDs and basket products. However, NSBroker dominates FXCM in the number of financial offerings, particularly 100+ versus 60+. Further, forex currency pairs are the main contributor at both brokerages with the figure of approximately 40 instruments.
2. NSBroker vs FXCM: Fees and Commissions
This part compares how NSBroker and FXCM charge your trades, as well as mentions non-trading fees that possibly arise when you register with them.
Debuting as an ECN intermediary, NSBroker gives clients a direct connection to liquidity providers and other clients on an electronic communication network. In other words, the brand doesn't engage in your orders as the counterparty. Hence, bid/ask prices at NSBroker are based on quotes of liquidity providers (e.g. CitiBank, Dukascopy Bank, Barclays and UBS), thus becoming closer to real market prices.
In addition, the company imposes tighter spreads and low commissions which are its main income. This renders you less prone to widened spreads when the market becomes volatile. Those fees are clearly prescribed on NSBroker's website. That is, the smallest spread is as low as 0.3 pips for majors. The commission is fixed at $8 per lot for most instruments, whereas that of cryptocurrencies and indices is 0.5% and 0.05% of the position size in a given order.
In comparison, FXCM plays a role as a market maker, also known as a dealer. This means price quotations will be determined by the broker. The minimum spread starts at 1.3 pips and may significantly change in the period of illiquidity. As spreads are the main transaction costs paid to the broker, no additional commission is required.

OTHER FEES
Besides the given trading fees, you should consider other charges as well. If you choose swing or position trading styles, overnight funding (also called swap or rollover rate) is charged as per the broker's policy. In the case of financing your trading account, no deposit fee is incurred regardless of payment methods.
When it comes to withdrawal, NSBroker charges you nothing if you wish to take profits out by credit/debit cards or wire transfer. Nonetheless, withdrawn money via Skrill and Netller will count the extra withdrawal fee of 2.9% per transaction.
As of November 2018, FXCM demands different withdrawal fees when you draw incomes out by wire. Depending on the location of your local bank, the charge will vary. For instance, your bank account is funded in the USD and you prefer receiving money at the UK or US-based bank, the fee is regulated at $25. In a meantime, it costs you $40 if your receiving account lies outside those jurisdictions.
Furthermore, FXCM's clients are obliged to pay other fees for account conservation, Virtual Private Server (VPS) hosting, the interest rate on negative balances and currency conversion.
Winner: NSBroker
In this battle, NSBroker defeats FXCM. The above description indicates more assorted expenses you may bear when trading with FXCM. Though, fees at NSBroker are generally limited to spreads, commissions, withdrawal costs and swaps.
3. NSBroker vs FXCM: Trading Platform and Tools
Another important comparison is trading platforms and tools. NSBroker provides you with MetaTrader 5 (MT5) – the most cutting-edge platform – of all versions (Web, Desktop and Mobile). The platform is already integrated with 21 time-frames, 50+ technical indicators and 40+ graphical objects, in conjunction with trading signals and expert advisors that back up automated trading. Compared to its brother, MetaTrader 4 (MT4), MT5 gives two additional order types (Buy and Sell Stop Limit) and other supportive functionalities (e.g. Depth of Market and multi-threaded strategy tester).
Meanwhile, you're impressed by the diversity of trading platforms at FXCM. Particularly, it provides MT4, ZuluTrade, TradingView Pro, NinjaTrader and Trading Station, which is better known as FXCM's proprietary platform.
MT4 has similar attributes to its successor, with the availability of Web-based and mobile models.
The broker also develops its own platform for desktop trading on Mac only, web and mobile trading. Generally, Trading Station gives you easy access to 15+ indicators, customised trading analytics, incorporated news and economic calendar. For better trading performance, it provides advanced indicators including Real Volume and Speculative Sentiment Index (SSI) to help you in approaching real-time market data.
Meanwhile, other outsourcing platforms (ZuluTrade, TradingView Pro and NinjaTrader) practically support your trading decisions by giving you what is called copy/social trading. Accordingly, you may apply the best suggestions of seasoned traders to adjust your trade settings.
What strikes traders to the forex and CFDs market is leverage and no minimum capital requirement. When opening a live account on any given trading platforms, you're required to choose a fixed leverage ratio and fund.
At NSBroker, the leverage amount for each type of financial asset is different. Particularly, novices may have the maximum 1:30 leverage ratio regardless of currency pairs. Meanwhile, this figure for other instrument groups is much lower; even when you can merely double your investment when you wish to speculate on cryptocurrencies. According to my experience, professional traders who represent hedge funds or investment management companies and are technically supported to make precise predictions can leverage their deposits up to 100 times. What's more, you must top up at least $500 to open an account.
At FXCM, the maximum leverage is 1:400 whilst the minimum deposit is $50. These parameters are confined to 1:30 and €300 for European and UK speculators though. Moreover, the brokerage holds the Active Trader program for those with high investments, thus requiring the smallest funding of $25,000.
Winner: NSBroker
Despite four separate trading platforms to facilitate your speculation, FXCM's trading conditions are seemingly riskier for traders, especially newcomers to the forex and CFDs market. Provided you pick the high leverage level, coupled with low capital, you may encounter the higher possibility of burning all account balance right after a few losing trades.
Conversely, NSBroker's MT5 is pre-loaded with more modern indicators and advanced tools for better risk management. In conjunction with the $500 deposit and smaller leverage amounts, NSBroker will be a safer choice for the inexperienced. So, in this comparison, NSBroker wins hands down.
4. NSBroker vs FXCM: Payment Methods
One possible consideration is payment solutions. No matter whether you would like to fund or withdraw, NSBroker offers a modest number of methods including credit/debit cards (Visa and Mastercard), bank transfer, Skrill and Netller. Before making any deposit, any new holders should validate their trading accounts by submitting personal credentials such as proofs of your passport or national identity and your residential address (e.g. utility bill, bank statement or certificate of residence).
Most funding methods are instantly processed by the broker, except for wiring that lasts from 2 – 3 business days. NSBroker slower deals with the withdrawal request that might take up 1 – 2 working days.
FXCM also provides the same payment options plus two other digital wallets as Klarna and Rapid Transfer. Like NSBroker, FXCM also seeks to cope with the deposit and withdrawal requirement within 1 – 2 business days.
Winner: Draw
Speaking of payment methods, no broker dominates the other. This is simply because their funding and withdrawing solutions are quite limited compared to other competitors.
5. NSBroker vs FXCM: Safety and Security
Security and regulation are always one of the leading criteria for traders to choose brokers.
Since its establishment in 2011, NSBroker has been regulated by the Malta Financial Services Authority (MFSA). In compliance with the organisation's strict laws, the brokerage pledges to provide a transparent and regulatory space for trading activities and reimburses clients with the compensation of up to €20,000 in the case of insolvency. Additionally, the broker abides by MIFID Compliant to promote monetary transparency, improve competition and enhance client protection in trading activities.
After its operational activities reach other Eurozone jurisdictions, NSBroker is endorsed and licensed by the following reputable entities:
Federal Financial Supervisory Authority (BaFin) – Germany – License No. 131055.
French Prudential Supervisory Authority (ACP) – France – License No. 74397.
National Securities Market Commission (NSMV) – Spain – License No. 3354.
FINANSTILSYNET – Denmark – License No. 9221.
Consob – Italy – License No. 3597.
In comparison, FXCM is under the regulation of three top-notch regulatory bodies including:
FXCM Ltd (Forex Capital Market Limited) regulated by the Financial Conduct Authority (FCA) in the UK, License No. 217689
FXCM Australia Pty. Ltd regulated by the Australian Securities and Investments Commission (ASIC), License No. 309763.
FXCM EU Ltd regulated by the Cyprus Securities and Exchange Commission (CySEC), License No. 392/20
FXCM South Africa Ltd regulated by the Financial Sector Conduct Authority (FSCA)
Admittedly, the FCA protects the EU or UK clients' reserves from the insolvency of FXCM by giving them the maximum reimbursement of €85,000. Nevertheless, this policy isn't applied to traders from other regions.
Moreover, NSBroker and FXCM become reliable partners on the ground of their negative balance protection policies. In particular, the former commits to hindering client account balances from being negative. Meanwhile, assuming your negative balance exceeds $50,000, FXCM will cover this amount and you will take responsibility for the remaining debt.
Winner: Draw
This time, the comparison is declared a dead heat. Unsurprisingly, the FCA is valued over the MFSA in reputation and strict regulations; but it doesn't translate to the inferior position of NSBroker in terms of trading security. Besides, FCA's legislation doesn't secure citizens outside the Eurozone and United Kingdom.
NSBroker vs FXCM: The Verdict
In conclusion, NSBroker and FXCM are both trustworthy and legitimate brokers. Which one is more suitable depends on your understanding of financial markets and experience.
If you're new to the market and don't want to suffer heavy tolls from strong market moves, NSBroker is a better option. Altogether with the humble leverage ratio, the large capital required to fund your account shortens the time of depleting your reserves after a consecutive losing trade. Besides, you don't need to worry about debt payments thanks to the broker's hindrance from negative balances. Even when you make some profits, fees are worth noticing as well. With a shorter list of payables, NSBroker once again proves a greater partner for rookie traders.
Crypto News Flash does not endorse and is not responsible for or liable for any content, accuracy, quality, advertising, products, or other materials on this page. Readers should do their own research before taking any actions related to cryptocurrencies. Crypto News Flash is not responsible, directly or indirectly, for any damage or loss caused or alleged to be caused by or in connection with the use of or reliance on any content, goods, or services mentioned.