Kadena has been shooting up the charts and has gone on a 1,100% surge to inch closer to the top 50.
Few know about Kadena despite being founded by the two people who led the blockchain team at JPMorgan.
---
The cryptocurrency market seems to be growing and evolving at a frightening pace with new projects coming up daily and others dying off. It can be hard to keep track of all the exciting projects, especially if they aren't in the top 50. One that has gone under the radar is Kadena, but after a 1,100 percent surge in a month, the JPMorgan offshoot project is finally garnering attention.
At press time, Kadena is trading at $17.2, down 3.5 percent in the past 24 hours. Its market cap stands at $2.67 billion, making it the 65th largest cryptocurrency in the market, just above Enjin Coin and below BitTorrent.
However, despite the slight drop, Kadena (KDA) has been a great run in the past month. It shot up from $1.9 just a month ago to hit a new all-time high at $24.72.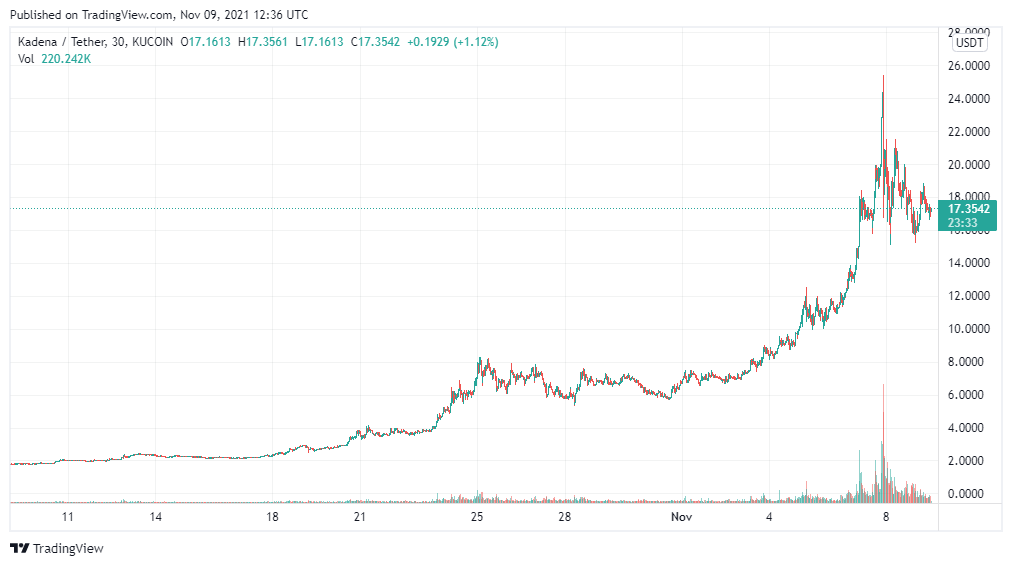 So, what is Kadena?
Kadena is a public blockchain that's targeting solving the blockchain trilemma, in a nutshell. It tries to bring all the features that endear projects like Bitcoin and Ethereum to their users, without the drawbacks. It comes with a new smart contract language called Pact, a new PoW consensus mechanism known as Chainweb that's basically several individually mined chains working in parallel to validate transactions.
Prior to building the public Kadena blockchain, its developers first built a private blockchain which they called ScalableBFT. Now known as Kadena Kuro, it uses Byzantine Fault Tolerance consensus mechanism and targets enterprise use.
Kadena has links to the largest American bank, JPMorgan. Its founders are Will Martino and Stuart Popejoy met at JPMorgan and were behind the bank's blockchain activities. In fact, the two are credited with being behind the first cryptocurrency built by an American bank – the JPM Coin.
Even more impressive is that one of Kadena's advisors is Stuart Haber, the godfather of cryptography, a 'co-inventor' of blockchain technology and the person who Satoshi Nakamoto cited the most in his Bitcoin whitepaper.
Why Kadena is tearing the charts
While having some of the cryptocurrency industry's most elite minds is impressive, it's not enough to take a project to great heights.
Kadena has backed its promises with great market developments, boosting its price. One of these, as with many projects, is venturing into NFTs. And as earlier stated, the project seeks to bring its users the qualities they love about Ethereum without the pain points. As such, minting NFTs is easy and secure with Kadena and more importantly, they are much cheaper than on Ethereum.
.@TheUFOtoken will be building their #NFT gaming platform on @Kadena_io!

UFO will utilize Kadena's unique features from our scalable layer 1 #PoW #blockchain & Pact, our safest smart contract, to create the next generation #blockchain gaming experience!https://t.co/itO3QF3Xet pic.twitter.com/Rx1IgZQdX4

— Kadena (@kadena_io) October 29, 2021
One unique offering is its crypto gas stations. These allow NFT issuers to cater to their customers' fees (which are quite low anyway) under preset conditions.
And as with any other project, listing on new platforms and increasing its presence never seems to hurt. Kadena is not yet available on Binance, Coinbase and other such major platforms, but is now increasingly being listed on other smaller exchanges. On these platforms, the interest in KDA has been quite high.
KDA Staking officially reopened!!

We just filled 730,000 $KDA capacity in 20 minutes!

That is $5,800,000+ worth of KDA Rocket

Proud to be supporting @kadena_io LFG! https://t.co/74AAgbX4rT#Staking #CoinMetro #Kadena #DeFi

— CoinMetro (@CoinMetro) November 3, 2021