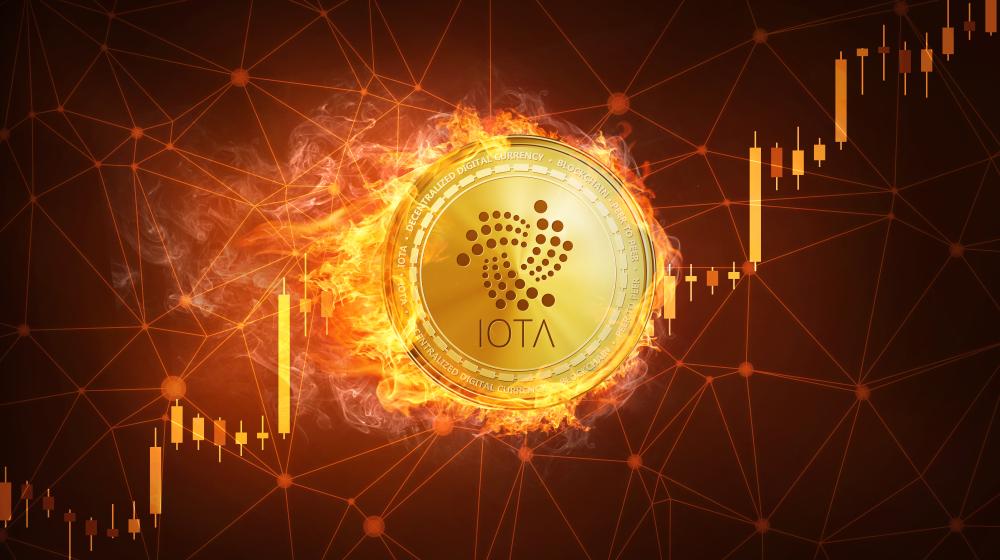 A new report from Fundstrat describes that IOTA can grow to become the global standard for machine-to-machine payments.
If successful, IOTA could reach a market capitalization of 200 to 400 billion USD.
The economic value of the IOTA network could rise to 700 billion USD by 2035.
---
The research company Fundstrat, to which also the well-known Bitcoin bull Tom Lee belongs to, has published a new report that IOTA believes has great potential. According to the report, the chances of success for the cryptocurrency developed in Germany are good. According to the report, IOTA could become the global standard for machine-to-machine payments within the next 10 years.
According to a study by McKinsey, the Internet of Things (IoT) market has the potential to increase in value by more than USD 17 trillion by 2025. Almost 40% of this potential is accounted for by interoperability between machines and sensors. McKinsey describes that about 99% of all collected sensor data is lost before it reaches the decision makers in the company.
According to the report, the economic value of the IOTA network could grow to USD 700 billion by 2035. This is based on increasing IoT growth until 2025 and then stabilizing until 2030 – 2035. Another prerequisite is that IOTA becomes the global IoT standard, only then could these forecasts actually be achieved. The following figure illustrates this development:
The report states that IOTA fully supports embedded computing and sensor technology/IoT and is therefore well prepared for an important target market such as the semiconductor manufacturing market. Existing partnerships, such as the one with STMicroelectronics, act as an adoption accelerator:
We believe that much of the total silicon wafer growth over the next decade will derive from low power sensor and control type of applications, which aligns with IOTA's area of focus.
Other collaborations, such as those with Jaguar Land Rover, the EDAG Group and the CityXChange smart city program, are helping to develop test environments and proofs of concepts, thus laying the foundation for increasing adoption. Another significant fact, according to the Fundstrat, is that the number of citations in scientific publications has increased significantly and is even at an all-time high. The following chart shows this development in detail:
However, according to the report, a number of key factors must be taken into account in order to assess the prospects for further success. First of all, it must be examined whether IOTA and its technology, the tangle, will actually be adopted as an industry standard by the end of 2020.
Furthermore, it remains to be seen whether IOTA will be able to offer reference solutions in important core areas, such as the semiconductor and components industry, in the next 4 to 5 years, which can be used by companies worldwide. The next figure shows how a successful development of IOTA could look like step by step in the next 15 years.
Further implementations in related industries will provide the key evidence for the success of IOTA, if it occurs as predicted. In summary, the report describes that IOTA has great potential, but of course there are also risks. The opportunities are as follows:
IOTA aims to become the standard protocol for machine to machine data and value transfer. The architecture of the Tangle, combined with Coordicide, promises to be able to deliver speed and security in a fully decentralized environment. Should IOTA succeed, it could gain a dominant share of its core market, although the risk profile of IOTA and most Cryptos is high.
However, the report sees not only great potential, but also some realistic risks for the project. These are mainly due to a possible failure of standardization and thus a lack of applicability in different industries and companies. Fundstrat also lists the continued high volatility of the cryptocurrency market as a possible risk factor that will probably never disappear.
Can IOTA achieve a market capitalization of 400 billion USD?
Fundstrat mentions a range of 200 to 400 billion USD as a possible market capitalization of IOTA. With a market capitalization of 400 billion USD, the price of MIOTA would be 143 USD, which would be an exorbitant amount. The cryptocurrency market is still in its infancy and is only 11 years old.
The current market capitalization of Bitcoin is only about 161 billion USD, so IOTA has a long way to go. The crypto market has shown in the past that almost nothing is impossible. Nevertheless, the hope of a rising IOTA price on this scale should by no means serve as an investment decision.
MIOTA trades at 0.2495 USD at the time of writing and has increased by 14.77% in the last 24 hours.
Follow us on Facebook and Twitter and don't miss any hot news anymore! Do you like our price indices?
Crypto News Flash does not endorse and is not responsible for or liable for any content, accuracy, quality, advertising, products, or other materials on this page. Readers should do their own research before taking any actions related to cryptocurrencies. Crypto News Flash is not responsible, directly or indirectly, for any damage or loss caused or alleged to be caused by or in connection with the use of or reliance on any content, goods, or services mentioned.