A press release was published on GlobeNewswire claiming that Walmart would accept Litecoin payments today.
Litecoin spiked by 34 percent immediately after the PR was published but after Walmart denied the links, it lost all the gains.
---
A fake press release has led to a sudden spike in the price of Litecoin, and a sharp retracement shortly after. The PR claimed that Walmart, the American retail behemoth, would start accepting Litecoin payments. However, the firm later came out to deny the links and the PR has since been taken down.
The PR was published by GlobeNewswire, one of the world's premier press release platforms. As Reuters reported, it claimed that the retail giant would integrate the cryptocurrency into its online shopping platform.
"Starting October 1st, all eCommerce stores will have implemented a 'Pay with Litecoin Option'," it quoted Walmart Chief Executive Officer Doug McMillon.
The PR further linked to a non-functioning website, leading many to cast doubts over the supposed partnership. In addition, such a move would have required the publicly traded firm to file with the Securities and Exchange Commission, and it hadn't. Further, Walmart didn't publish the supposed news on its internal newsroom.
To compound the doubts, the PR had been published only on GlobeNewswire while Walmart has historically favored Business Wire for its press releases.
This PR has since been taken down.
Nevertheless, the PR was quickly covered by leading outlets including CNBC. The effect was an almost immediate spike in the price of Litecoin. The cryptocurrency shot up from $173 to hit $231, a 33.5 percent surge in about half an hour.
However, the gains would be short-lived. Walmart caught wind of the press release and the Litecoin links and came out to set the record straight.
Press release on Walmart's litecoin partnership is fake – CNBC https://t.co/ZVX0gXmcTk pic.twitter.com/cpDDel6rwF

— Reuters (@Reuters) September 13, 2021
Randy Hargrove, the Walmart spokesperson confirmed to CNBC that the press release was not authentic. He further revealed that the retailer had been in contact with Globe Newswire to probe who was behind the mishap.
Immediately following the clarification by Walmart, Litecoin shed the gains and retracted to its pre-fake PR price. At press time, the cryptocurrency is trading at $178.50, down 3.10 percent in the past day.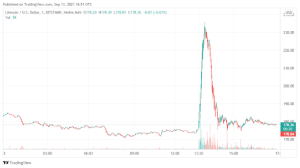 At press time, the SEC hasn't responded to media requests for comment on whether it would be investigating the hoax. Globe Newswire and Walmart have also declined from making any comments on the same.
Related: Are the latest developments in Litecoin setting up LTC for a massive rally?