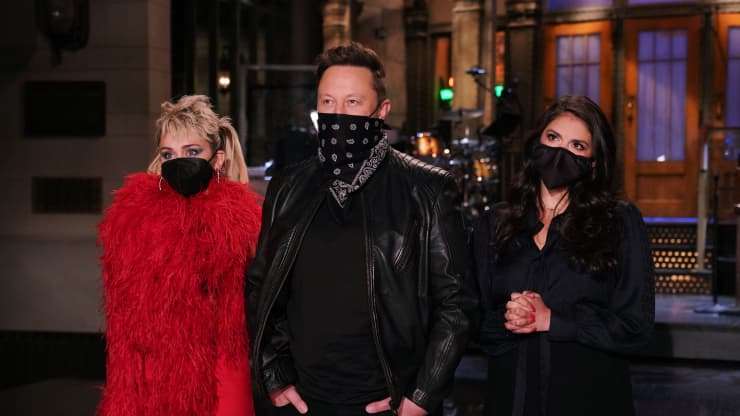 The much-awaited Elon Musk appearance on Saturday Night Live finally happened, and as many predicted, he plugged Dogecoin into his skits.
Immediately he mentioned the crypto, it dropped 30%, but regained some of the losses immediately he mentioned it the second time in the never-ending DOGE rollercoaster.
---
The Dogefather finally appeared on Saturday Night Live, the popular late-night live television sketch comedy show. Elon Musk, the 'Techno King of Tesla' went into the TV show with the fate of Dogecoin firmly on his shoulders. Bets had been placed and trading positions had been taken, all that remained was for Musk to plug in Dogecoin on his SNL appearance. And he did, but the market reaction wasn't as many expected.
Musk first made mention of DOGE in the opening monologue. As is typical with SNL, guest hosts open the show with a comical monologue. In Musk's case, he talked about a number of things, from smoking weed on the Joe Rogan podcast to being misunderstood on Twitter. He rounded it off by joking that he would get his mother Dogecoin as a Mothers' Day gift. This was the first mention of the meme crypto on the show.
The effect was a drastic drop in price. Immediately after the mention, it dropped by 29.5 percent to trade below $0.50.
The Dogefather would further mention the meme coin on 'Weekend Update,' a satirical news segment. In a Q&A with hosts Michael Che and Colin Jost, he attempted to explain what DOGE is.
It started as a joke based on an Internet meme but now it has taken over in a very real way.
To the delight of many crypto fans, he finished this segment by howling, "TO THE MOON!"
Dogecoin price drops, Robinhood disappoints again, scams abound
Many had expected that Dogecoin would shoot up as soon as Musk mentioned it on SNL. The publicity from Musk has done it loads of good in the past and has been a key price driver. Not this time though. It would seem that too many traders had been betting on this specific event that Doge was bound to drop in price.
this is the funniest part of snl tonight pic.twitter.com/m5iBofzcpG

— slate (@PleaseBeGneiss) May 9, 2021
As the show wore on, the price picked up slightly and ended the show at $0.55. At press time, it's trading at $0.52, down 25.7 percent in the past 24 hours. However, despite the drop, Dogecoin is still up 43 percent in the past week.
While many traders were able to sell DOGE once the price started plummeting during the SNL show, those using Robinhood had a different tale. The stock trading app experienced an outage for close to an hour during a critical time for DOGE.
Robinhood clients took to social media to express their outrage, with some threatening a class action lawsuit while others demanded reimbursement for the money they had lost as a result. The company acknowledged the outage but assured its users it was working to restore services.
Who else is ready for a class action lawsuit? #doge #Robinhood #dogetothemoon pic.twitter.com/VyuMLfYu9N

— Yousef (@Yousefharbyh) May 9, 2021
And as with any other major crypto events, scams sprung up to take advantage of the hype. Many scammers claimed to be working with SNL to award users Dogecoin, (after all, the Dogefather was in the house.) One, in particular, managed to bring in over 150,000 DOGE and over 7 ETH (collectively worth more than $100,000).