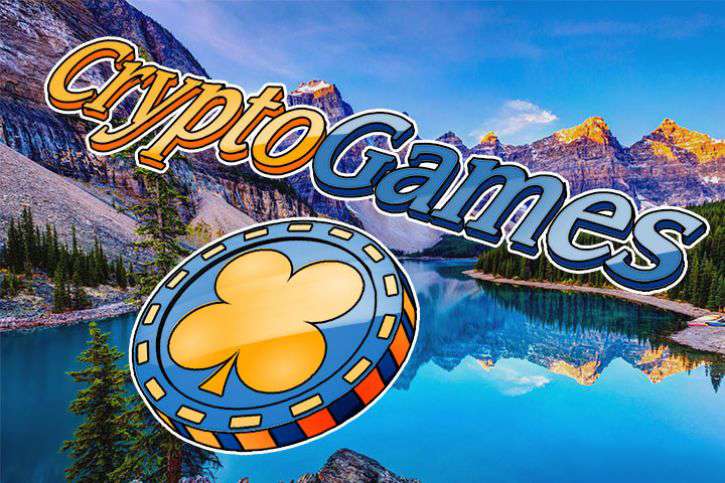 CryptoGames is an online casino that offers Bitcoin and nine other cryptocurrencies. In contrast to other casinos, the platform does not want to slay the users with an almost uncountable number of games, but offers only 8 games: Dice, Slot, Blackjack, Roulette, Video Poker, Plinko, Minesweeper and Lotto.
Thus, the casino rather relies on its strengths: fast money transfers and simple games of the old school. This allows users to start playing easily and quickly without any previous knowledge. It is also remarkable that Crypto Games is one of the oldest crypto gambling casinos in the entire industry.
To underpin the trust on the financial side, Crypto Games has published its public cold wallet addresses for Bitcoin and Ethereum. This is to give users the confidence that the casino has no problems paying out their potential winnings! The platform also boasts a strong team of entrepreneurs who have worked as programmers and systems engineers with various information technology companies. The success and popularity of the platform can be clearly seen through the number of registered bets which is over 4.6 billion and counting. The total bets value over 134,915.65 BTC!
The Platform
The Crypto Games platform is straightforward and easy to use. As one of the oldest crypto platforms on the market, it ensures that all games listed on the platform function in a transparent manner. The developers of the website are software engineers and have created a secure website. Crypto Games calculates the random numbers by using a seed that users can verify themselves. The lottery numbers are drawn by a third party website Randompicker.
Another big advantage of the platform is also the low house odds compared to the rest of the industry:
Dice has a house edge of 0.8%.
Slot has a house advantage of 1.97%.
Blackjack has a house edge of 1.253%.
Lottery has no house advantage
Roulette has a house edge of 2.7%.
Minesweeper has a house edge of 1%.
Video Poker – Jacks or Better has a house edge of 2.11%.
Video Poker – Tens or Better has a house edge of 2.08%.
Video Poker – Bonus Poker has a house edge of 2.09%.
Plinko – Green Ball has a house edge of 1.63%.
Plinko – Red ball has a house edge of 1.84%.
Plinko – Blue ball has a house edge of 1.52%.
Plinko – Yellow ball has a house advantage of 1.91%.
The Crypto Games platform also has a desktop and mobile-optimized design, which guarantees an optimal gaming experience on the go. The entire registration process, from the first visit to the Crypto Games casino to the creation of an account and the placing of a first bet, is completed within a few minutes.
Stakes
For slots the user can choose between 10 (0.00001 BTC, 0.0002 ETH, 0.001 LTC, 0.001 DASH, 0.001 XMR, 0.0001 BCH, 0.002 STRAT 10 DOGE, 0.001 GAS, 0.001 ETC) and 5,000 credits (0.005 BTC, 0.1 ETH, 0.5 LTC, 0.5 DASH, 0.5 XMR, 0.05 BCH, 1 STRAT, 5,000 DOGE, 0.5 GAS, 0.5 ETC).
For Blackjack, Plinko and Roulette, a selection between 0.00001 BTC, 0.0002 ETH, 0.001 LTC, 0.001 DASH, 0.001 XMR, 0.0001 BCH, 0.002 STRAT 10 DOGE, 0.001 GAS, 0.001 ETC and up to 4 BTC, 35 ETH, 15 LTC, 1.1 DASH, 5 XMR, 10 BCH, 50 STRAT, 300,000 DOGE, 100 GAS, 50 ETC is available. For Dice and Minesweeper the amount of the bet depends on the payout.
Payments
As the name implies, Crypto Games is a pure crypto-gambling platform where players can place bets with any of the 11 supported cryptocurrencies Bitcoin, Dogecoin, Ethereum, Litecoin, Dash, Gas, PlayMoney, Monero, Stratis, Bitcoin Cash and Ethereum Classic. Once the user has deposited one of the supported crypto-currencies, he can choose the game of his choice. Remarkably, Crypto Games also has a built-in exchange to switch between the supported cryptocurrencies. The user can withdraw Crypto from his account at any time.
Deposits are credited to the block chain after a confirmation.
Allowed users
Crypto Games is a company registered in Curacao and welcomes gamblers from all over the world. However, due to legal regulations, players from Australia, Belgium, Curacao, Denmark, Estonia, France, Hungary, Hong Kong, Israel, Italy, Romania, Spain, Turkey, the Netherlands, the USA and the United Kingdom are excluded.
Security and anonymity
Crypto Games uses some of the standard security features designed to protect both the accounts and the crypto assets held on the platform. These features include two-factor authentication and SSL encryption. In addition, the platform uses cold wallets for Bitcoin and Ethereum to protect user funds.
Promotions and events
The casino runs regular promotions and events where large amounts of cryptocurrency can be won. Most recently, there was a Christmas promotion where all users received a little surprise, a voucher of up to 0.0034 BTC! Crypto Games also organised a Santa Claus who distributed free coins, lottery tickets and voucher codes via chat. There is also a monthly betting contest where the casino selects its top players.
The Crypto Games bot – The betting robot
Under the motto "no more desire to lose", Crypto Games has developed the Crypto.Games Bot, which is already used by many players and enables betting to be automated. The bot makes it possible to combine several popular strategies and can also continue betting when the user is asleep or in bed. The bot is a stand-alone program that can weather almost instantly and offers the possibility to automatically change seeds, which improves the odds considerably.
To verify the bets, Crypto.Games uses seeds, generated strings that are used for cryptographic purposes. Server seeds are hashed and displayed prior to a bet and the user can select any seed. Server seed hashes are color-coded in the browser to make it easier to verify that the seed you see is the same. The bot changes it periodically based on a formula that greatly increases the winnings.
Built-in chat with special features
Crypto.Games also offers its users the possibility to chat with other gamblers. And not only that. The chat window allows users to tip other players. In addition, users can share their bets with other players, thus ensuring a unique gaming experience. In the lottery, players can buy lottery tickets for other users, sharing the excitement and fun of the game.
Built-in crypto exchange
Through the CoinSwitch integration, players can make deposits in over 30 different crypto-currencies and convert them to the desired crypto-currency on the platform. This is based on the CoinSwitch crypto exchange, which provides a payment gateway API for the emerging world of crypto gaming.
Summary
With TrustPilot, the platform receives an average rating of 4.5 out of 5 stars from 84 ratings. 84 percent give Crypto Games a 5-star "Excellent" rating. Users particularly appreciate the selection of beautiful and simple games, the fast withdrawals and deposits, the friendly admin and support team and the demonstrably fair gaming experience.
All in all, Crypto Games is thus a simple crypto-gaming platform that is ideal for both beginners and advanced players. The simplicity of registration, long history and transparency combined with attractive promotions make it a top choice for crypto-gambling.
Further Information
URL: https://www.crypto.games
Company: MUCHGAMING B.V.
Location: Curacao
License: Internationale eGaming Lizenz, Curacao
Supported currencies: Bitcoin, Ethereum, Litecoin, Dogecoin, Monero, Bitcoin Cash, Ethereum Classic, DASH, Gas, Stratis, PlayMoney
Affiliation: Crypto Gambling Foundation, Curacao Gaming
Facebook: https://www.facebook.com/CryptoGames/
Twitter: https://twitter.com/Crypto_Games
Discord: https://discord.gg/xassxQr
YouTube: https://www.youtube.com/user/GamesCrypto/featured
BitcoinTalk: https://bitcointalk.org/index.php?topic=750760