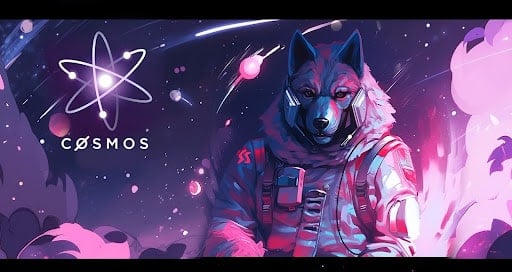 The crypto market, a space often known for its rapid fluctuations and volatility, has witnessed the rise and fall of numerous tokens. One such token that has been a hot topic in the market is Cosmos (ATOM).
The technical indicators surrounding Cosmos haven't been all green, falling by a staggering 24% in just 30 days. Understandably, investors are now exploring promising altcoins for preserving and growing their capital.
In this article, we explore what is happening to COSMOS and how Anarchy (ANA) is rising to fill the gap for explosive profit in the crypto market. 
Cosmos (ATOM): Slipping Down
Cosmos is a unique protocol hailed as the "Internet of Blockchains." It gained popularity for its mission to solve one of the most pressing challenges in the robust blockchain space—the interconnection of blockchains.
Its main objective is to nurture a decentralized ecosystem of networks that can automatically share data and tokens. Cosmos hub is a proof-of-stake blockchain supported by ATOM, its native cryptocurrency.
ATOM's price has a history of booming; this surge surprised investors, including many big hands in the market. Yet, last month wasn't a pretty sight for ATOM holders; the token fell by about 11.8% in the last 14 days and by about 23% in the last 30 days at the time of writing.
Over the last 7 days, it has continued on its downward trend, decreasing by about 7%. ATOM has continued to struggle, shaking the confidence of many investors.
Despite its recent struggles, ATOM continues to boast a solid technology stack and innovations. Just last week, Cosmos started voting on a proposal to replace existing staking and distribution modules with the Liquid Staking Module. 
This major upgrade is expected to improve the liquidity of the network. With over 90% in favor, all eyes are on the deadline for the voting process.
However, ATOM's price dip has prompted investors to escape to safer projects.
Something huge is coming.

If you see this 👀

Then your early! pic.twitter.com/HssZ4ywwrJ

— ANARCHY (@anarchycoineth) June 10, 2023
Anarchy (ANA): A Safe Zone
Unlike many other meme coins and cryptocurrencies in the market, ANA brings a sense of purpose. As an ERC-20 token, ANA has the sole purpose of challenging political systems that have unfair governance and corruption behind their self-acclaimed claims of always putting the people first.
In times when traditional financial systems are marred by opacity and injustice, ANA empowers its community members to voice their concerns and intentions through the witty use of memes.
Anarchy is all about having a good time while taking a stand against real-world problems.
Its governance structure—a DAO—enables token holders to have a direct say in the project's direction. With this in place, holders can vote for or against proposals, DAO ambassadors, etc.
This not only fosters transparency and decentralization but also ensures that everyone's voice is heard. In addition to its unique mission, ANA also employs a deflationary mechanism; this will steadily reduce the token's supply, potentially increasing its long-term value. 
One of the factors driving investors towards ANA is its clear commitment to a cause. It's not just about making quick gains; it's also about building a sustainable future for society at large.
Join Other Investors
While Cosmos may find its footing once again and continue its quest for interoperability, ANA is becoming the refuge for those seeking profit in the volatile market.
The recent performance of both tokens speaks. While Cosmos has faced a significant decline, ANA has shown promise, raising over $3 million in its presale phase.
Still, in the third phase of its presale, tokens are sold for $0.00027 per token, giving you a chance to buy as many ANA tokens as possible before it pumps.
Invest in ANA today and be a part of something huge.
Anarchy Website Anarchy Twitter Anarchy Telegram
Crypto News Flash Disclaimer: This publication is sponsored. Crypto News Flash does not endorse and is not responsible for or liable for any content, accuracy, quality, advertising, products, or other materials on this page. Readers should conduct their own research before taking any actions related to the company. Crypto News Flash is not responsible, directly or indirectly, for any damage or loss caused or alleged to be caused by or in connection with the use of or reliance on any content, goods, or services mentioned in the press release.
This article is provided for informational purposes only and is not intended as investment advice. The content does not constitute a recommendation to buy, sell, or hold any securities or financial instruments. Readers should conduct their own research and consult with financial advisors before making investment decisions. The information presented may not be current and could become outdated.
By accessing and reading this article, you acknowledge and agree to the above disclosure and disclaimer.