Coinbase has made its latest acquisition, bringing onboard BRD wallet for its "deep expertise in self-custody."
The wallet's native token, BREAD, shot up by over 900 percent in a few hours, as its volume surged over 43,000 percent.
---
America's largest exchange is expanding and has made a new acquisition. Coinbase has acquired BRD wallet to help it to accelerate web3 adoption. The wallet will gradually integrate into the Coinbase Wallet, but for now, users will not be affected by any changes.
Announcing the acquisition, Coinbase Wallet stated:
The team brings deep expertise in self-custody for crypto wallets, which will help Wallet enable more people to safely and securely access the decentralized world of crypto.
We're excited to be doubling down on our investment in self-custody and web3 in pursuit of increasing economic freedom in the world.

— Coinbase Wallet (@CoinbaseWallet) November 24, 2021
A spokesperson for Coinbase said that the exchange is working on an integration plan for its latest acquisition and that for now, BRD will be allowed to operate independently. The spokesperson added:
We'll be sharing more information in the coming months about how BRD and Wallet teams will unite.
BRD token shoots up 900%
BRD wallet launched in 2014, focusing on allowing its users to control their funds and enhancing security. At the time, there were few players targeting mobile users for Bitcoin storage. At launch, it only supported Bitcoin, but it has since then expanded to several other altcoins.
In addition, BRD now allows its users to buy, sell and swap cryptocurrencies. It has struck partnerships with Apple Pay and credit card providers that allow its users to easily buy several tokens.
BRD is a self-custody wallet, meaning that users store their cryptocurrencies on their devices. This has allowed it to skip the strict regulatory hurdles for custodial wallets. As a result, it has become quite popular in Latin America and India.
Currently, BRD claims to have ten million users, an impressive feat for a startup that first hit 500,000 users in June last year, over four years since launching. Since then, its founders claim it has been adding one million new users every two months.
Over 10 million people have now used BRD to directly own their wealth, and we're just getting started. #MoveYourMoneyForward pic.twitter.com/dleSryRcQe

— BRD (@BRDHQ) October 4, 2021
BRD has raised quite a chunk of money in funding, led by SBI Crypto Investments and East Ventures. Its last funding round was in October last year, and in total, it has raised $55 million.
With the acquisition has come a lot of traction for its native cryptocurrency and a parabolic surge in its value. Known as the BREAD token (BRD), it has been trading uneventfully around $0.1-$0.2 for months now.
However, upon the acquisition, it shot up 924 percent in a few hours, up from $0.16 to $1.65. Its momentum has since slowed down and is trading at $1.15 at press time, which is still 598 percent higher than a day ago.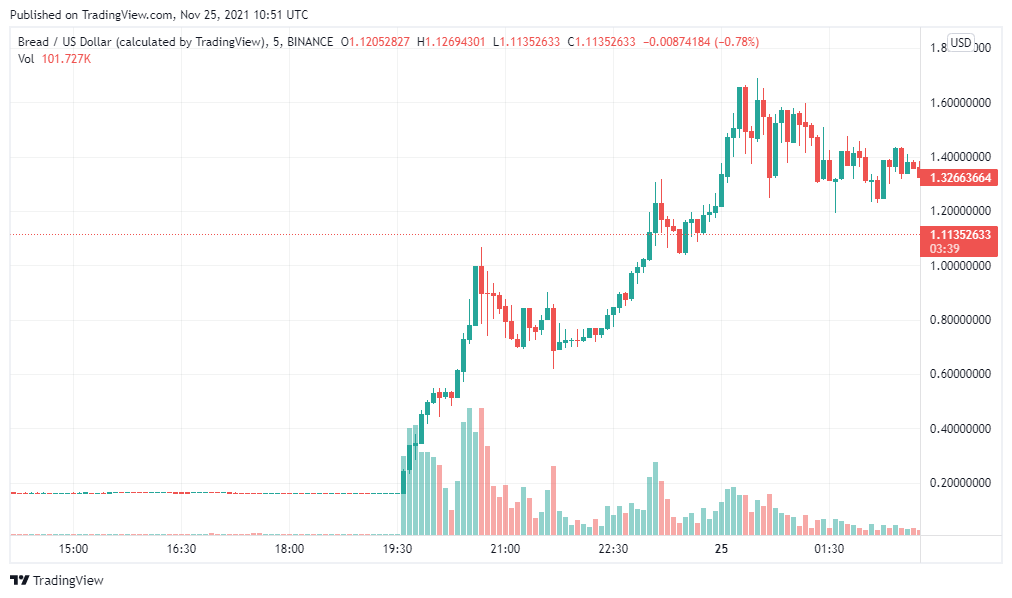 Its trading volume is a testament to its newfound fame. Just yesterday, it was averaging $300,000. Today, it's gone up to over $500 million, a 43,000+ percent increase.