Most important Information

| - | - |
| --- | --- |
| Number of cryptocurrencies | 12 cryptocurrencies |
| Website languages: | English, Russian, Chinese, Italian, Portuguese |
| Support languages | English |
| Payment methods: | Bank transfer, Visa, MasterCard, ACH, SEPA, Faster Payments |
| Infos: | ✅ Buy 12 cryptocurrencies directly by Fiat money |
| | ✅ Very reputable and secure broker based in London (UK) |
| | ✅ Margin Trading with 10-fold leverage on CEX.IO Broker |
| | ✅ Purchase and sale in US dollars, euros, British pounds and Russian rubles |
>> Buy cryptocurrencies on CEX.IO now* <<
About CEX.IO
CEX.IO is one of the oldest Bitcoin exchanges worldwide. The company offers both a trading platform and brokerage services for Bitcoin, Ethereum and 10 other cryptocurrencies and already has 2 million registered users. The trading platform was founded in 2013 and is headquartered in London. Because CEX.IO is based in the United Kingdom, it is regulated under the strict laws of the United Kingdom. The platform is registered with FINCEN and therefore implements the standard guidelines KYC (know your customer) and AML (Anti Money Laundering).
In addition, CEX has an MSB (Money Service Business) license to make Fiat money-based transactions (for the Brokerage Service) and a license from the Information Commissioner's Office (ICO). In this respect, CEX.IO can be classified as safe and reliable.
An interesting background fact about CEX is that the company originally started as an exchange for Bitcoin and as a cloud mining provider. The mining pool under the name Ghash.io was so successful that in the summer of 2016 it at times accounted for more than 50 percent of the total Hashrate of the Bitcoin network.
However, this met with heavy criticism within the Bitcoin community. This may have been one of the reasons why the mining pool had to shut down surprisingly in 2016 as a reaction to a massive denial of service attack. After that, CEX wanted to concentrate exclusively on the trading platform.
CEX.IO Services
Brokerage Service
CEX.IO's brokerage service gives you the opportunity to buy cryptocurrencies directly against US dollars, euros, British pounds or Russian rubles. This is a very good opportunity, especially for newcomers who do not yet have any cryptocurrencies, to invest in the crypto market for the first time. As with many brokerage services, the only disadvantage is that the spread, i.e. the difference between the brokerage exchange rate and the market price, is significantly higher than on a cryptocurrency exchange. CEX.IO requires a spread of 7 percent.
The purchase process basically works as follows: CEX.IO freezes the current price for a maximum of 120 seconds (there is a countdown on the website) while the user enters his/her purchase order. As soon as the user clicks Buy or Sell, the system checks whether the current market price allows the execution of the buy order. This is the case when the Bitcoin price has fallen or stays the same.
If the price of Bitcoin has risen, the order will not be executed. The user then receives a message and must confirm the purchase at the new conditions. After the purchase has been confirmed by the user, the order is compared with other orders on the exchange and the balance is adjusted again if necessary. So the amount (in Bitcoin for example) can become even larger, but never smaller.
CEX.IO trading platform
CEX.IO offers a trading platform for users who already have crypto currencies and want to trade them. The advantage of using the platform compared to the brokerage service is that the fees are considerably lower, since only "maker and taker" fees (max. 0.25 percent) are incurred.
If you look at the functional scope of the trading platform, it is noticeable that there are basically the functions to be expected: Market and limit orders can be concluded. Compared to other stock exchanges such as  Binance or Bitfinex, however, the range of functions is rather small.

Margin Trading
One feature that sets CEX.IO apart from other platforms is margin trading! In 2019, CEX.IO opened its own margin trading platform called CEX.IO Broker, where a demo account can be opened.  The platform offers trading of cryptocurrencies via CFDs with a variety of order types, technical analysis tools and advanced trading tools, enabling users to use 10x leverage. Margin trading is currently available for Bitcoin and Ethereum. The following video gives an overview of the functions of the platform.
How margin trading on CEX.IO Broker works and what you need to know is explained below.
What crypto currencies does CEX.IO offer?
At CEX.IO you can currently buy and sell 12 different cryptocurrencies (August 2019). These are:
BitTorrent Token (BTT)
MetaHash (MCH)
>> Buy cryptocurrencies on CEX.IO now* <<
The fees of CEX.IO
Beyond the spreads at CEX.IO, which we explained earlier in this article, the following fees apply for deposits and withdrawals for US dollars, euros and British pounds:
| Currency | Payment method | Deposits | Payment - Service fee | Payment - commission: |
| --- | --- | --- | --- | --- |
| USD | VISA | 2.99% | up to 3% + $ 1.20 | up to $ 3.80 |
| | MasterCard | 2.99% | up to 1.8% + $ 1.20 | up to 1.2% + $ 3.80 |
| | Bank transfer | $ 0 | 0.3% + $ 25.00 | $ 0 |
| | ACH | $ 0 | $ 0 | $ 0 |
| EUR | VISA | 2.99% | up to 3% + € 1.50 | up to € 3.50 |
| | MasterCard | 2.99% | up to 1.8% + € 1.50 | up to 1.2% + € 3.50 |
| | Bank transfer | € 0 | 0.3% + € 25.00 | € 0 |
| | SEPA | € 0 | € 0 | € 0 |
| GBP | VISA | 2.99% | up to 3% + £ 2.10 | up to £ 2.90 |
| | MasterCard | 2.99% | up to 1.8% + £ 2.10 | up to 1.2% + £ 2.90 |
| | Bank transfer | £ 0 | 0.3% + £ 25.00 | £ 0 |
| | Faster Payments | £ 0 | £ 0 | £ 0 |
| RUB | VISA | 2.99% | 3% + ₽ 50.00 | ₽ 0 |
| | MasterCard | 2.99% | 3% + ₽ 50.00 | ₽ 0 |
When using the trading platform of CEX.IO, only maker-taker fees are charged. These are based on the 30-day trading volume for all pairs and are recalculated every day at 00:00 GMT, including the trades of the current day.
| Trading volume 30d, BTC | Taker | Maker |
| --- | --- | --- |
| <= 5 | 0.25% | 0.16% |
| <= 30 | 0.23% | 0.15% |
| <= 50 | 0.21% | 0.13% |
| <= 100 | 0.20% | 0.12% |
| <= 200 | 0.18% | 0.10% |
| <= 1000 | 0.15% | 0.08% |
| <= 3000 | 0.13% | 0.04% |
| <= 6000 | 0.11% | 0.00% |
| > 6000 | 0.10% | 0.00% |
How do I set up a CEX.IO account?
CEX.IO basically offers two types of accounts for users: Private and corporate accounts. In the following, we will limit ourselves to the description of the private account, whose creation is very simple and should not take longer than 5 minutes. The opening of the CEX account is completed in three steps. The first step is to enter an email address and a password. Alternatively you can register via Telegram, Facebook, Google+, VKontakte or GitHub account.
After registration, you should receive an email within a few seconds containing a confirmation link to verify your email address. You will also be asked to enter a phone number, which you can confirm either by SMS code or by phone call. If you have verified both email and phone number, you have already fully opened your CEX account. However, in the next step you will need to perform a further verification to unlock all of the account's features.
>> Buy cryptocurrencies on CEX.IO now* <<
Verification at CEX.IO
If you want to withdraw Fiat money to CEX.IO or increase the initial limits for deposits and withdrawals, you must go through a two-step verification process at CEX.IO: identity and address verification. Your limits depend on these.
Level 1: Identity verification
1
In the first step of the identity check, you must first select your home country and state from a dropdown list. Depending on which country you choose, the following process will differ slightly.
2
Next, you will be asked to choose a document with which you want to identify yourself. You can choose between an international passport, an identity card or a driving licence. You will then have to upload this document to CEX.IO. You have two options: Either you can upload the document via your computer (PDF, PNG, JPG or GIF) or you can use your smartphone.
CEX provides you with a QR code that you have to scan with your smartphone. You can then take a photo of the document on your phone and send it to CEX. It should be noted that for driving licences and identity cards, photographs of both sides of the document (front and back) are required.
3
In the third step you have to take a picture of yourself and the identity document of step 2. You must also have a handwritten note with the text
"I'm a CEX.IO customer, Date, Signature" in your
hand. As in the previous step, you can choose to do the Selfie with your smartphone or upload a file from your computer.
4
In the fourth step, you will be asked to provide additional personal information: your gender, first and last name, nationality, date and place of birth. Finally, you must also enter the following information from your identity card: Identity card number, date of issue, country of issue and expiry date (if available).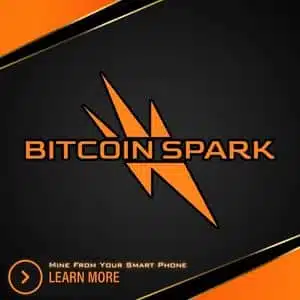 Step 2: Address verification
For level 2 an address verification is necessary. For this you must provide a photo of a document (which is not older than 3 months) confirming your current address. CEX.IO accepts energy and electricity bills, bank statements and tax returns, as well as all other documents with your address and first and last name.
You can upload the document either from your smartphone or from your PC. You will then be asked to enter your home address: street, flat/suite, city, postcode, state and country. "To increase the chance of approval," you can also post links to your profiles on social networks. It is recommended by CEX.IO to leave at least one link to one of your social media profiles.
These can be Facebook, LinkedIn, Twitter and any other profile of a social network or website. If you are not willing to share this, you can simply skip this step. Our experience is that the inclusion of no social media accounts is not an obstacle to successful verification.
VISA or Mastercard verification
In order to make deposits and withdrawals with a credit card, it must first be verified. You will need to add your credit card to your account and provide the following information: First name, surname, card number and expiry date. In addition, you must upload a Selfie with the credit card. Finally, CEX.IO checks the information and photos and will process the request. If corrections are required, a Compliance Manager will contact you via email.
>> Buy cryptocurrencies on CEX.IO now* <<
The limits at CEX.IO
You can see the limits of CEX.IO in the following table. Each payment method has its own limits. In addition, you must note that the cumulative limits of payment methods may not exceed the limits per account. These are 1,000 USD or EUR (800 GBP) per day for level 1 and 3,000 USD or EUR (2,000 GBP) per month. In level 2 there is no limit for the account!
| | VISA / Mastercard | SWIFT | ACH / SEPA / Faster Payments |
| --- | --- | --- | --- |
| Level 1 - daily | $ / € 1.000 or £ 800 | ❌ | ❌ |
| Level 1 - monthly | $ / € 3.000 or £ 2.000 | ❌ | ❌ |
| Level 2 - daily | $ 3.000 | $ / € 200.000 or £ 100.000 | $ / € / £ 200.000 |
| Level 2 - monthly | $ 30.000 | $ / € / £ 500.000 | $ / € / £ 500.000 |
The CEX.IO Wallet
You can find the CEX Wallet in the main menu under "Finance" and there in the tab "Balance". Below the Fiat Currency Wallet you will find "Crypto Balance". Here you can use "Deposit" to display your receiving address for e.g. Bitcoin or "Withdrawal" to send your Bitcoin to another wallet.
Even if CEX.IO is a very reputable trading platform, we recommend to manage your cryptocurrencies on an external wallet. Cryptocurrency exchanges are one of the most popular targets of hacker attacks. Since CEX.IO does not offer deposit insurance such as eToro, you should send your Bitcoin, Ethereum or other Altcoins to a secure external wallet. If a hack happens and customer funds are stolen, they are (presumably) lost if CEX does not pay for them as a gesture of goodwill.
If you are still looking for a hardware wallet, we recommend to have a look at our hardware wallet comparison or the review of our the test winner, the Ledger Nano X.
How can I buy cryptocurrencies on CEX.IO?
Once you've created and verified your account, it's just a few steps. To buy cryptocurrencies you have to select "Buy/ Sell" in the upper menu. In the following overview you can select the offered cryptocurrencies (step 1) and the Fiat currency (USD, EUR, GBP, RUB) with which you want to pay (step 2).
It is important to know that you can also pay in a currency other than the four above-mentioned currencies to buy cryptocurrencies on CEX.IO. The payment will be converted into the deposit currency of your choice according to the current exchange rate of your bank. Then you can either choose one of the predefined amounts (200, 500 or 1,000 USD) or enter your own amount under "Your Amount" (step 3). Then you can click on "Buy".
If you have not yet registered a credit card, you must first add a new Visa or Mastercard to complete the purchase. This requires that you enter your card information (step 4).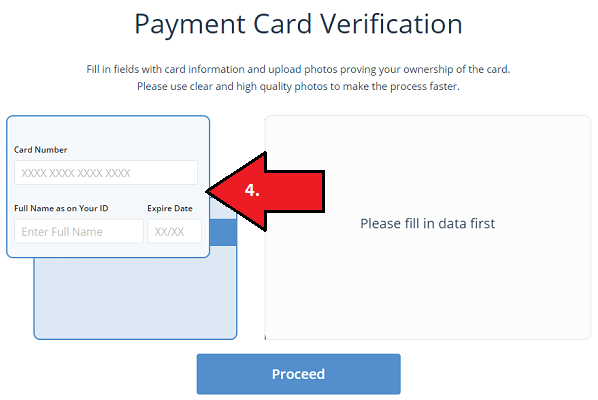 Subsequently, it is also necessary that you upload a Selfie of yourself with card and your identity card on CEX.IO to prove the possession of the card. Once the card is verified, you can complete the purchase. The purchased cryptocurrency will then appear on your CEX Wallet within a few seconds.
Trading cryptocurrencies on CEX.IO
As an alternative to buying cryptocurrencies directly, you can also use the trading platform to buy or sell cryptocurrencies by placing a market or limit order. To do this, you must first top up your account with either a cryptocurrency or Fiat money by credit card or bank transfer (SEPA or SWIFT). The availability of each method depends on the geographic location and the status of the account verification.
To make a deposit, click on "Deposit" in the upper right corner of the screen or go to the "Finance" page and then to the "Balance" tab. There you can also select "Deposit" for one of the Fiat Wallets or a Crypto Wallet (e.g. Bitcoin). You will then be taken to the deposit page where you can select the payment method, enter the amount and transfer funds.
To place an order on CEX.IO, go to "Trade" (step 1). On the left side you will see the list of available currencies. Here you can select a trading pair that corresponds to the Fiat currency you have deposited. For example, if you select the pair BTC/USD (step 2) and then click "Buy", you can trade your US dollars for: BTC.

Then you can choose whether you want to place a market order or a limit order. A market order is always executed immediately as it is serviced at the current market price. On the other hand, you can enter your desired price at which the crypto currency is to be bought or sold in a limit order. Accordingly, the order may not be executed at all if the price you specify is never reached.
When you place a market order, all you have to do is enter the amount of the purchase in your local currency and click "Buy Now". If you want to place a limit order, select the tab "Limit" and your desired purchase price (step 3). Then you can click on "Place Order". When the price reaches the specified level, the limit order is executed and the coins are added to your account balance.
How can I sell cryptocurrencies on CEX.IO?
To sell cryptocurrencies and pay out USD, EUR, GBP or RUB, you first click on "Finance" (step 1) and then on "Balance" (step 2). You can then use "Withdrawal" (step 3) to specify the payout amount and the payout method (varies by country). Basically both credit cards (VISA / Mastercard) and an international or national bank transfer are available.
Margin Trading on CEX.IO Broker
Warning:
Margin trading is only recommended for experienced investors as there is an increased risk of loss!
CEX.IO Broker is the trading platform for trading cryptocurrency CFDs with up to 10-fold leverage. CEX currently offers margin trading for Bitcoin and Ethereum (as of August 2019). There is a live account where you can trade for real money and a demo account to test the platform.
Good to know:
CFDs are derivatives whose value depends on the performance of the underlying asset. This means that you do not buy the cryptocurrency itself, but a certificate. The profits from it cannot be withdrawn therefore in the actual cryptocurrency, but only in Fiat or Bitcoin.
Currently (August 2019) 136 countries worldwide are authorized to use the platform. However, 58 countries are also excluded. Among them are also some European countries, as well as Great Britain and the USA.
In order to use margin trading on CEX.IO, you need to create another account with CEX.IO Broker. You can then deposit money into the account. You have the option to send Bitcoin (BTC) directly to the CEX.IO broker account or to transfer Fiat money from your CEX.IO account.
To send money to the Wallet, go to "Deposit and Withdrawal" in the main menu in the upper right corner of the account and select the account you wish to fund. You will also find the BTC address, which you can copy and enter as the recipient address in your external wallet. Deposits from CEX.IO accounts are instantly visible and free!
The fees for CFD leverage trading at CEX Broker are shown in the table below:
| Currency pair | Leverage | Opening fee | Rollover fee |
| --- | --- | --- | --- |
| BTC/USD | 1:2, 1:3, 1:5, 1:10 | 0.2 % | 0.04% per 4 hours |
| BTC/EUR | 1:2, 1:3, 1:5, 1:10 | 0.2 % | 0.04% per 4 hours |
| ETH/USD | 1:2, 1:3, 1:5, 1:10 | 0.2 % | 0.04% per 4 hours |
| ETH/EUR | 1:2, 1:3, 1:5, 1:10 | 0.2 % | 0.04% per 4 hours |
| ETH/BTC | 1:2, 1:3, 1:5, 1:10 | 0.2 % | 0.04% per 4 hours |
What does leverage mean?
Leverage means the ability to borrow money from CEX.IO to open a position that allows you to trade with more money than you actually own. If successful, a higher profit can be achieved. For example, a 1:10 leverage means that you can trade with ten times the amount of capital you actually have in your CEX broker account. CEX.IO Broker offers 1:2, 1:3, 1:5 and 1:10 leverage trading!
As a user of the platform you should be aware that Leverage Trading is very risky, because users can also get into the negative area and then have an obligation to make additional payments! In order to avoid this and to limit the loss to the total loss, it is therefore highly recommended to set up a stop-loss price before opening.
The CEX.IO Broker Demo Account
The platform offers a free demo account, which is limited to 3 months after its creation. Once this time has elapsed, the account will be automatically closed. However, you can open a new demo account afterwards.
The CEX.IO Trading Dashboad
The following screenshot gives you a first overview of the dashboard of CEX. IO Broker.
Your account balance ("Account Balance")
Set the trading pair for the chart view.
Define a buy order: 1 lot = one unit of the base currency, i.e. for BTC / USD 1 lot = 1 BTC.
Creation of a limit or stop limit order from the chart.
Set various tools and indicators for the chart.
Create a buy or sell order
If you are interested in using CEX's leverage trading, you should definitely take a closer look at the subject. A detailed description of the trading dashboard can be found in the following video from CEX:
Order Types on CEX Brokers and Stop Loss, Take Profit
Market, limit, stop and OCO orders are available on CEX.IO Brokers. The market order allows you to buy or sell at the current market price. The order will be executed immediately. On the other hand, the limit order allows you to enter a desired price at which the cryptocurrency is to be bought or sold. Accordingly, the execution of the order is not guaranteed if the specified price is not reached.
A stop order buys or sells as soon as a predefined price is reached in order to minimize losses. Accordingly, the stop order is very important to minimize the risk if the market moves in an unexpected direction. An OCO order (One-Cancels-the-Other) consists of two orders, a stop order and a limit order. As soon as one of the two orders is executed, the other is automatically cancelled.
What is the Stop Loss price?
The stop-loss price allows you to avoid total loss by setting a price at which a sell order is automatically executed. For example, if you set a Bitcoin stop loss price at USD 8,000 and the price is currently USD 10,000, the stop loss order will only be executed if Bitcoin falls below USD 8,000.
What is a Take Profit prize?
The Take Profit price is the opposite of the Stop Loss price. A sell order is automatically created by CEX.IO when the Bitcoin price rises above the take profit price (e.g. a price of USD 15,000).
CEX.IO put to test test
Security and reputation
CEX.IO takes extensive security measures when it comes to safe your money. The platform offers the possibility to activate 2-factor authentication via SMS or Google Authenticator. In addition, all information entered by users is encrypted before it is sent over the network.
Customer funds are stored in bulk in cold storages (offline). In addition, CEX has an MSB (Money Service Business) license so that Fiat money-based transactions are carried out securely and in accordance with current security standards. In addition, the payment system on CEX.IO complies with the PCI SSC Standard (Payment Card Industry Security Standards Council).
CEX.IO fees
Compared to other crypto currency brokers, the fees for the brokerage service of CEX.IO are relatively high at 7 percent (for immediate purchase and direct trading with CEX).
The fees of the best broker in comparison
Litebit
Coinmerce
Bitpanda
Coinmama
Coinbase

Available in:

Europe

Available in:

Europe

Available in:


worldwide

Available in:

worldwide

Availbale in:

103 countries

Fees:

approx. 1-2%

Fees:

approx. 1-3%

Fees:

1,49%

Fees:

5,9%

Fees:

1,49%
The Support
As usual, CEX.IO offers a ticketing system as its preferred support method, where users can submit requests that are processed one after the other. The experience reports on the Internet are predominantly positive, whereby the professionalism and speed of the support is praised with ticket inquiries.
Another way to make contact is via social media. In our experience, Twitter requests in particular are answered very quickly. In addition, there is a FAQ area which corresponds to the current standard in terms of scope. This means that customer support can be rated as very good all round.
Hacker attacks
CEX.IO proudly announces on its website that no customer funds have ever been stolen, which is great of course.
Summary
Within the crypto community, CEX.IO has a mixed reputation. On different rating portals there are some very bad ratings, which are justified with the allegedly hidden fees in the service. From our point of view this is not justified, because the active user can easily find the fees.
Nevertheless, the high service fees for the brokerage service are the biggest disadvantage of CEX.IO. Independently of this, the platform can be classified as reliable and serious for the purchase and sale of Bitcoin and Altcoins. The user-friendly interface is ideal for beginners and provides a quick and easy introduction to the world of cryptocurrencies.
>> Buy cryptocurrencies on CEX.IO now* <<
CEX.IO Alternatives
If you prefer to buy cryptocurrencies from another broker, we present 4 alternatives below.
Litebit is our top recommendation for European customers. The broker offers 50 cryptocurrencies, which can be purchased directly by credit card, SEPA bank transfer, SOFORT, GiroPay and much more. The fees are in the lower area. We have been a regular customer of the exchange for 4 years and are very satisfied with both the platform and the customer support. >> Read our Litebit Review <<
Bitpanda is a trading platform founded in Vienna (Austria) in 2014, which offers a brokerage service for 30 different cryptocurrencies at moderate fees. The service is available worldwide. In June 2019 Bitpanda also founded the Bitpanda Global Exchange. >> Get to know the Bitpanda Exchange<<
Coinbase is an American broker offering its services in 103 countries worldwide. Currently Coinbase offers 14 cryptocurrencies for sale and purchase with average fees. With more than 30 million customers, Coinbase is one of the most popular cryptocurrency platforms worldwide. >> Read our Coinbase review <<
eToro is a well known cryptocurrency CFD broker. On the one hand, the platform offers the purchase of "real" crypt currencies. On the other hand, cryptocurrency CFDs can also be bought and sold. With CFDs you can use a double lever.  >> Read our eToro test<<
[ratings]
Crypto News Flash does not endorse and is not responsible for or liable for any content, accuracy, quality, advertising, products, or other materials on this page. Readers should do their own research before taking any actions related to cryptocurrencies. Crypto News Flash is not responsible, directly or indirectly, for any damage or loss caused or alleged to be caused by or in connection with the use of or reliance on any content, goods, or services mentioned.