ZCash is, along with Monero and Dash, one of three best-known and most popular privacy coins. This type of cryptocurrency eliminates a significant disadvantage of other cryptocurrencies, such as Bitcoin and Ethereum, which are only pseudo-anonymous. ZCash, on the other hand, is a cryptocurrency that enables completely private transactions in a public blockchain. This allows the owner to control which data and details of a transaction are publicly viewable. ZCash (ZEC) can therefore not only be an interesting investment, but also serve as an anonymous means of payment (analogous to cash) in the digital world.
We will introduce you to various ways in which you can buy ZCash (ZEC) very easily and safely. We will also show you how to manage ZCash (ZEC) using a software wallet and how to receive and send ZEC. Before you look at the individual instructions, however, you should make an important decision beforehand. Depending on your decision, you will receive a recommendation from us as to which exchange or broker is best suited for you to buy ZCash.
A decision aid for the purchase of ZCash
The central question is: Do you want to keep your ZCash yourself and have full control over your property? Or are you looking for a simple solution and delegating the responsibility of the administration to an exchange? If you don't want to own "real" ZEC because you only see the investment potential, you also have the opportunity to invest in ZCash CFDs.
We want you to consider the following: The basic idea behind cryptocurrencies like ZCash is to create a financial system that does work without banks. Therefore, in our opinion, it is desirable to manage the ZCash yourself in your own wallet. Only you have access to your Private Key. Cryptocurrency exchanges and brokers have the big disadvantage that they keep the private key for you. So you give up control of your asset. However, this is not the only disadvantage. In the past, exchanges and brokers have been victims of hacker attacks, with large amounts of cryptocurrencies being stolen.
Therefore, in our opinion, it is safer to manage your ZCash yourself. However, it can be complicated for beginners to set up and use a desktop or hardware wallet. Another possibility is therefore to trade cryptocurrency CFDs. It is very important to know that you do not own ZCash, but only hold the certificate (CFD) for a rising (long) or falling (short) price of ZEC. On the basis of these preliminary considerations we would like to give you the following recommendation:
If you want to store and manage ZCash yourself, we recommend Kritptomat and Litebit. There you can buy the ZEC directly by SEPA, SOFORT, credit card or Giropay. Then you can send the ZEC to your wallet.
If you see ZCash as a pure investment and are looking for the easiest and quickest way to buy, then you should choose eToro. Remember, however, that you are giving up control of the private key and the asset.
If you want to speculate on a rising or falling price of ZEC with leverage, ZCash CFDs may be the right choice for you. In this case we recommend trading via eToro or Plus500.
Note
On most platforms you can buy either real cryptocurrencies or crypto CFDs. eToro is an exception. At eToro you can buy both CFDs and "real" ZCash. Below you'll find the advantages and disadvantages of each. >> Please note: Crypto CFDs are not offered in US/UK under FCA! <<
Buy ZCash as CFD:✅ Clear and unambiguous legal regulations
✅ Deposit insurance on capital invested
✅ Trading with a leverage
✅ No wallet setup required
❌ no possession of a real cryptocurrency
❌ high fees for long-term investors
Buy real ZCash:✅ Owning a real cryptocurrency
✅ Freedom and independence from third parties (exchanges, brokers)
✅ Lower fees for long-term investors
✅ No obligation to make additional contributions (only total loss possible)
❌ More time required to set up the external wallet
❌ Responsibility for the private key & no deposit insurance
Broker
Test
Info
Invest

✅ 15 Buy Cryptocurrencies & CFDs
✅ Free demo account
✅ Minimum deposit: 180 €


❌

CFDs are not available for US and UK (FCA) users

✅ Buy 30+ "real" cryptocurrencies
✅ Licensed exchange in the European Union
✅ Payment by SEPA, credit card, Neteller
✅ Low fees, no price premium ("spread")

✅ Over 50 cryptocurrencies
✅ Buy and sell cryptocurrencies via Euro
✅ Payment by SEPA, SOFORT, credit card, Giropay
✅ Minimum purchase: 1 €.
**= 75% of retail investor accounts lose money when trading CFDs with this provider. You should consider whether you can afford to take the high risk of losing your money.
Cryptoassets are highly volatile unregulated investment products. No EU investor protection. 
In the following you will find the corresponding instructions for Kriptomat, Litebit and eToro. We will also show you how to trade ZCash (ZEC) on the popular cryptocurrency exchange Binance for Bitcoin (BTC), Ethereum (ETH), Binance Coin (BNB) and other cryptocurrencies.
Another reliable provider to buy ZCash from is eToro. The first step is to visit the official website etoro.com (click here! *). Then click on the green button "Register now". Then a new window will open where you have to enter your first and last name, e-mail, password, telephone number and a user name.
Once you have successfully done this, you will also need to accept the Terms of Use and Privacy Policy. Then you can click on the blue button "Create account".
**= 75% of retail investor accounts lose money when trading CFDs with this provider. You should consider whether you can afford to take the high risk of losing your money.
Cryptoassets are highly volatile unregulated investment products. No EU investor protection. 
Limits for purchasing ZCash from eToro
Once you have successfully completed these steps, you will automatically be logged into your account. Your current account is subject to certain limits as you have not yet fully verified your identity. Therefore, there is a limit of 2.000 Euro for you, which you can deposit a maximum of.
In order to use the full range of functions, you must provide some personal data (name, address, etc.), as well as a tax number. This process is necessary in connection with the strict requirements of EU legislation and is also mandatory on many other exchanges. Verification at eToro is free and can be done in a few simple steps. Click on the "Edit" button on your profile. It then lists the necessary documents to be submitted in order to reach the trading limits. The following table shows you these limits, which also depend on the payment method and your place of residence.
| Method of payment | Countries | Time of transfer | Maximum par transaction |
| --- | --- | --- | --- |
| Credit card | worldwide | Immediately | $40.000 |
| Giropay, SOFORT | Germany | up to 1 working day | $30.000 |
| Neteller | UK (Great Britain) | Immediately | $10.000 |
| PayPal | Luxembourg | Immediately | $20.000 |
| Skrill Limited UK | UK (Great Britain) | Immediately | $10.000 |
| WebMoney | UK (Great Britain) | Immediately | $50.000 |
| Virement bancaire | worldwide | Bank wire | Unlimited |
| Yandex | Russia | Immediately | 5.000 RUB |
Once you have fully verified your account, you can now deposit over 2,000 Euros. All you have to do is select "Deposit money" at the bottom left and then select your preferred payment method. Depending on the method of payment (see table above), the credit will either take a little shorter or longer.
Buy ZCash on eToro
eToro has the special feature that both "real" ZCash and ZCash CFDs can be bought on the platform. Therefore, when purchasing ZEC on eToro, you need to consider the following:
When trading on eToro you should be aware of the following:
All
buy positions without leverage
will be traded as a real asset. Your investment at eToro will then be secured with real ZCash. This means that eToro buys the ZEC in your name and stores it in a separate account under your name.
In contrast, all buy positions with leverage are executed as CFDs. CFDs are so-called derivatives – a security whose value or performance depends on the performance of one or more underlying assets. They are specialized and popular over-the-counter (OTC) financial products that allow traders to easily open positions in a variety of different financial markets. The underlying asset – ZCash- is not acquired by the investor. All you receive is a certificate.
Buy the ZCash cryptocurrency
EToro currently offers 15 different cryptocurrencies for trading, including ZCash. To buy "real" ZEC, you must first click on "Trade Markets" and then on "Crypto" and then on ZCash. The following screenshot shows you how it works step by step:
The letter "B" stands for buy ZCash (English "B" for buy) and "S" for sell ZCash (English "S" for sell). Click on the "B" in the ZCash line to start the purchase. Then you only have to enter the amount of ZEC you want to buy.
Then click on "Open Trade" without changing any other setting and your transaction will be executed within a few seconds. Now you have already purchased ZCash easily and quickly. The ZEC are now visible on your eToro account under "Portfolio".
>> Buy and sell ZCash on eToro** <<
**= 75% of retail investor accounts lose money when trading CFDs with this provider. You should consider whether you can afford to take the high risk of losing your money.
Cryptoassets are highly volatile unregulated investment products. No EU investor protection. 
Buy ZCash CFDs
The purchase of ZCash CFDs on eToro works similar to the "real" purchase of the cryptocurrency ZEC. To buy ZCash CFD, click "B" again to buy ZCash. After that you get to the usual overview. Here you have to make some small changes.
First you determine the amount of money you want to invest in this trade. Then you have to adjust the lever multiplier "X2". For cryptocurrencies, eToro does not currently offer any major leverage. You should then check your Stop Loss and Take Profit settings. A stop-loss limit is very important to limit the possible risk. Then you can open the trade. This is executed immediately when the trade is placed.
Stop Loss means that you close a trade if the ZEC price reaches a fixed market price or an amount of money that you have set yourself. Take Profit determines when your trade is automatically closed when the profit of your trade reaches the amount you have chosen. It is also important to note that eToro charges overnight fees (also known as rollover fees). These will appear in the pop-up window (at the bottom) before you place your order (see screenshot).
>> Buy and sell ZCash CFDs on eToro** <<
**= 75% of retail investor accounts lose money when trading CFDs with this provider. You should consider whether you can afford to take the high risk of losing your money.
Cryptoassets are highly volatile unregulated investment products. No EU investor protection. 
The eToro Wallet
Since March 2019 eToro offers the possibility to manage single cryptocurrencies – Bitcoin, Bitcoin Cash, Ethereum, Litecoin and XRP – on a mobile wallet (an app). The app makes it possible to withdraw your own "real" cryptocurrencies from the platform and send them to an external wallet.
Unfortunately, ZCash cannot yet be managed via the eToro Wallet (as of June 2019). So you are forced to keep the ZEC on eToro. As soon as there are news about this, we will inform you!
Minimum Deposits and Processing Fees
When trading on eToro, you need to keep the following in mind:
All trading accounts are maintained in US dollars (and not euros). That's why your deposit will be converted into US dollars immediately. This is done at the current exchange rate and a conversion fee will be charged.
The minimum deposit is 50 USD. A minimum of 500 USD is required for deposits made by bank transfer.
A withdrawal handling fee will be charged for withdrawals. You will see the respective withdrawal fee in the cashier area after you have entered the withdrawal amount. For payouts greater than 50 USD, this is 25 USD.
Is eToro safe and recommendable?
From our point of view, this question is very important because the management of private keys is delegated to a broker. The user gives the control over his own assets to a third party, here: eToro! This makes it all the more important that the broker is reputable and trustworthy.
This can be clearly confirmed for eToro. Customer funds are usually well protected when the broker is supervised by a regulatory authority. eToro is controlled by two regulatory authorities that are considered to be very accurate and strict in professional circles:
CySEC: As eToro has part of its registered office in Cyprus, the Cypriot CySEC is responsible for monitoring.
FCA: As eToro has also established a subsidiary in the UK, FCA in the UK is also responsible for the control of eToro.
The broker also actively protects customer deposits by keeping them separate from the company's assets. Even if the broker were to become insolvent, the customer's money would not flow into the insolvency estate.
>> Buy and sell ZCash on eToro** <<
**= 75% of retail investor accounts lose money when trading CFDs with this provider. You should consider whether you can afford to take the high risk of losing your money.
Cryptoassets are highly volatile unregulated investment products. No EU investor protection. 
Legal notice:
eToro is a multi-asset platform that offers equity and cryptocurrency investments as well as CFD asset trading.
CFDs are complex financial instruments. Because of the leverage effect, they carry a high risk of losing money quickly. 75% of private investor accounts lose money when trading CFDs with this provider.
Please be aware of the risks of CFD trading in advance, as high losses cannot be ruled out.
Cryptocurrencies are not regulated and their prices can fluctuate widely. This is why cryptocurrencies are not suitable for all investors. The trading of cryptocurrencies is not subject to any supervision by the EU regulatory authorities. Your capital is exposed to risks.
eToro USA LLC does not offer CFDs and makes no representation and assumes no liability as to the accuracy or completeness of the content of this publication, which has been prepared by our partner utilizing publicly available non-entity specific information about eToro.
Buy ZCash (ZEC) on Kriptomat
About Kriptomat
If you do not only consider Zcash as an investment but also want to use it for payments or simply want to be your "own bank", you should choose a broker where you can easily send Zcash (ZEC) to an external wallet. Kriptomat is our top recommendation for this. On the website you can currently purchase over 30 cryptocurrencies by SEPA bank transfer, credit card or Neteller. In keeping with the motto of the exchange, "Crypto for everyone", Kriptomat offers a very simple and modern interface that allows anyone, regardless of experience level, to buy Zcash (ZEC).
This does not mean, however, that Kriptomat is only recommended for beginners. From our experience, it is also a good option for experienced investors. So you don't have to worry about the seriousness of Kriptomat, as the company behind the platform has received two licences from the Estonian government authorising it to hold and sell cryptocurrencies. But this is by no means our main argument for Kriptomat. It is much more the low fees. Unlike other exchanges and brokers, Kriptomat does not charge a price premium, the so-called "spread". The exchange only charges the following transaction fees:
| Transaction | Fee % | Minimum |
| --- | --- | --- |
| SEPA (Euro to crypto) | 1.45% | 1,45 EUR |
| Zimpler | 2,89 % | |
| Skrill | variable | |
| Neteller | variable | |
| SEPA sell (crypto to Euro) | 1,45% | 1,45 EUR |
| Credit card >100 EUR | 3,65 % | |
| Credit card <100 EUR | variable | |
>> Buy Zcash (ZEC) on Kriptomat* <<
Registration and verification
As this is a European platform you have to be prepared for an extensive registration process, similar to opening a bank account or registering with eToro. Before you can buy Zcash (ZEC), the Exchange requires a complete verification of your identity. The first step is (logically) to go to the official website kriptomat.io*. There you will find the orange "Register" button on the start page. After that, you will only have to enter your first and last name, an e-mail address and a password. You will then verify your e-mail address by clicking on an activation link that will be sent to you via e-mail by Kriptomat.
This was only step 1 of 4, but it continues with your telephone number (step 2 of 4). After entering the number on the website, Kriptomat will send you an SMS containing a verification code which you must enter on the website to verify the authenticity of your phone number. In step 3 of 4, Kriptomat collects your personal data (see screenshot).

At this point, you must enter your full address (street, house number, city, country) and verify it. You have the option to submit a copy of your passport or identity card. To make this process as quick and easy as possible, Kriptomat offers the option to continue the registration on your smartphone, if you have done it on your desktop PC so far. You can then take a picture of your ID card on your smartphone and upload it to Kriptomat. The same applies to your selfie, which you can easily do with your mobile phone. This is the most comprehensive step of all, step 3 of 4. You now have the following limits at your disposal:
| Transaction | Limits |
| --- | --- |
| Daily deposit and withdrawal via SEPA | 25,000.00 EUR |
| Monthly deposit and withdrawal via SEPA | 200,000.00 EUR |
| Deposit and withdrawal in cryptocurrencies | no limit |
| Daily limit for other payment methods | 500.00 EUR |
| Monthly limit for other payment methods | 5,000.00 EUR |
However, there is still a step 4 if you want to make a deposit via SEPA transfer. As you can see in the table below, there is no way around SEPA Bank Transfer if you want to buy higher amounts (> 500 Euro per day). Step 4 of the verification process consists of proving ownership of your bank account. Only then can you deposit money via SEPA and use this "credit" to buy Zcash. For the other payment methods: Neteller, Skrill and credit card, this step is logically omitted, but your purchase limit is also much lower. A good overview of the complete verification process can be found in the following tutorial:
>> Buy Zcash (ZEC) on Kriptomat* <<
Buy Zcash on Kriptomat
Now that you have mastered registration and verification, you have already overcome the hardest part. Buying Zcash (ZEC) works in one minute and is really very easy. To do this, click on the "Buy/Sell" tab in the main menu (step 1) and then select the "Buy" tab (step 2). You can then search and select Zcash in the table below.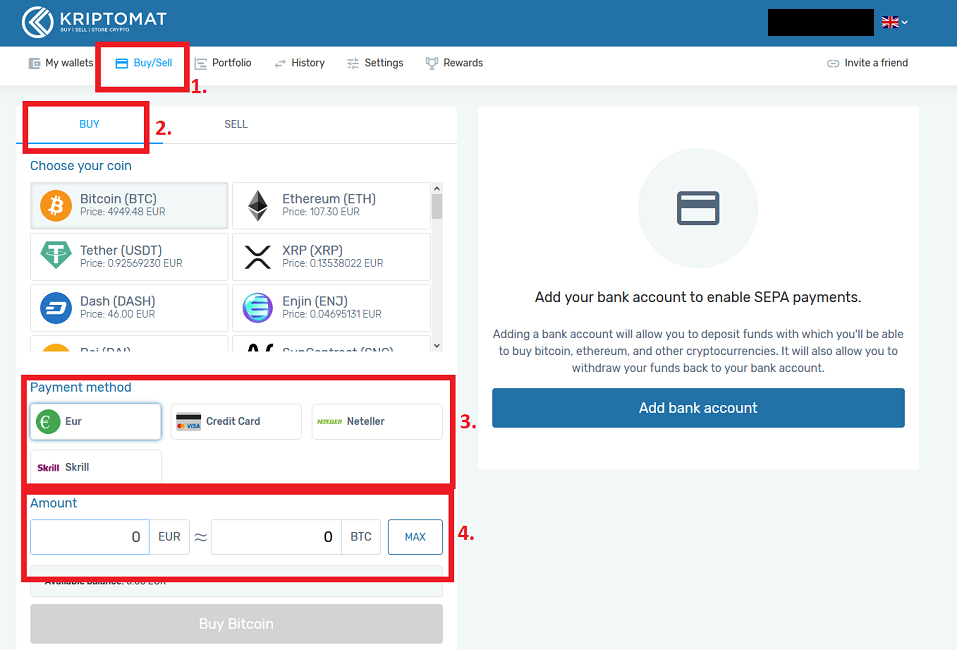 Below this you will find the "Payment Methods" (Step 3). In the fourth step (see screenshot), you just enter the amount of your purchase and click on "Buy Zcash". Now you will be taken to an overview where you can check all details again. Among other things, you will see the transaction fees that may be charged for the order. If everything is correct, you can complete the purchase by clicking on "Confirm transaction".
Unless there is a big rush on the market, Zcash (ZEC) should then appear in your account within a few seconds and be visible in the "My Wallet" section, where you can also make the transaction to an external wallet. If you would like to watch the process again in moving images, we recommend the following Kriptomat tutorial:
>> Buy Zcash (ZEC) on Kriptomat* <<
Buy ZCash (ZEC) on Litebit
It's that simple: Buy ZEC
The Dutch exchange Litebit.eu is a very reliable broker based on our many years of experience, who is not quite as well-known as other providers. However, we have had very good experiences with Litebit. The purchase is very quick and easy. The provider's security standards are very high. If you wish, you can also use the Litebit Wallets. Litebit.eu is in our opinion the first choice to buy ZCash by SEPA bank transfer, SOFORT, credit card or GiroPay. The first step to buy ZCash is to create a new account on Litebit. You have to visit the website of litebit.eu* (click!). To register, simply click on the "Register" button.
As you will carry out Fiat money transactions on your account, Litebit is legally obliged to request in advance some data necessary for the Know Your Customer process (to implement the European Union directive on anti-money laundering and anti-terror financing laws).
Once you have entered all the details (see screenshot), click on "Create account". You will then receive an email containing a confirmation code. You must enter the code on the website to verify your email.
In the next step Litebit will ask you for your phone number and afterwards for confirmation of this phone number – also by code. If you click "next step" Litebit will send you a text message to the registered phone number. This text message contains a code. You must enter this again on the website to verify your phone number.
Finally, you need to set up two-factor authentication. The default setting for LiteBit is two-factor authentication via SMS. The exchange also offers the possibility to secure your account with the Google Authenticator (if you already use the app somewhere else). We have had very good experiences with both solutions. Once you have completed these steps, you will be automatically redirected to the homepage. Now you can log in to your account for the first time ("Login").
>> Register on Litebit now*  <<
Purchase limits and verification
Litebit has different levels of verification and associated limits on how much you can buy daily, weekly or monthly in cryptocurrencies. Through the registration process described above, you already meet the requirements for the first level.
"Tier 1" allows you to invest 350 Euro per day, 1,050 Euro per week and 4,200 Euro per month. If you want to increase these limits, you must unlock additional levels ("Tiers"). The following table shows an overview of the verification levels and the maximum investment amounts:
Depending on the payment method, the upper limits also differ once again:
| | Unverified | Tier 1 | Tier 2 | Tier 3 |
| --- | --- | --- | --- | --- |
| iDeal | 0.00 € | 350.00 € | 500.00 € | 20,000.00 € |
| SEPA | 0.00 € | 250.00 € | 500.00 € | 35,000.00 € |
| Credits | 0.00 € | 350.00 € | 500.00 € | 10,000.00 € |
| Sofort | 0.00 € | 100.00 € | 500.00 € | 1,000.00 € |
| GiroPay | 0.00 € | 100.00 € | 500.00 € | 1,000.00 € |
| Bancontact | 0.00 € | 350.00 € | 500.00 € | 10,000.00 € |
Level 2 ("Tier 2") is the address verification. Level 2 requires you to scan and upload the front and back of your ID card. You must also prove your place of residence, for example by uploading an electricity or mobile phone bill to Litebit.eu as evidence.
Level 3 ("Tier 3") is ID verification. At this level, a Litebit representative will contact you via Skype in a video call so you can confirm your identity with your ID card. In "Tier 3" you can buy cryptocurrencies up to a limit of 500.000 Euro per month.
Buy ZCash by SEPA Bank Transfer, SOFORT or Credit Card
The actual purchase process of ZCash (ZEC) is very straightforward. You simply click on the "Buy" tab in the upper menu and then select ZCash from the drop-down menu.  Then you can choose the amount in Euro you want to buy.
Now you have to decide if you want to use the Litebit Wallet or an external Wallet. With ZCash, however, this decision is omitted since Litebit does not offer a wallet for ZEC. Therefore "External wallet" is already selected.
In the "Receive Address Wallet" field, enter the ZCash Wallet address to which you want to send the ZEC. If you already have an external wallet installed, simply enter the reception address of the wallet in this field.
If you haven't set up a ZCash Wallet yet, we recommend our instructions on how to set up and use a ZCash Desktop Wallet (click here!), which you'll find below. As a better alternative, but not free of charge, we recommend a hardware wallet like the Ledger Nano X or the Trezor Model T. Hardware wallets offer by far the highest security and the best protection. Especially if you invest higher sums and don't want to trade actively, the purchase is worth it!
Then you have to choose a payment method. Our recommendation is: "Sepa Bankwire", as the fees are the lowest. If you choose SEPA, you must transfer the corresponding amount in euros to Litebit's bank account for a specific purpose. It usually takes a maximum of 24 hours for Litebit to receive the transaction and send the ZCash to your wallet.
Binance is one of the world's largest and most popular exchanges, which is not only secure but also extremely user-friendly. Until recently (June 2019) it was not possible to buy cryptocurrencies with USD or Euro on Binance. This has changed.
Besides trading you now have the possibility to buy Bitcoin, Bitcoin Cash, XRP, Ethereum and Litecoin by credit card. However, you cannot yet buy ZEC with a credit card, so you only have the option of trading ZCash on Binance against another cryptocurrency.
The first step is to create an account with Binance. To do this, click on this link (Binance.com)* and register. The process is very fast as there is almost no personal data and evidence (e.g. a copy of identity card, proof of residence, etc.) required.
Unlike many other exchanges, you can verify your identity with Binance, but this is not mandatory. The trading-limit is 2 Bitcoin per day. You can therefore use all functions of Binance without verification. However, it may be advisable to submit the necessary documents to achieve a higher limit of 100 BTC per person.
Step 1: Buy / trade Bitcoin by credit card
Once you have registered, you can buy Bitcoin by credit card on Binance and trade BTC for ZCash. The menu item for purchasing Bitcoin by credit card can be found in the right-hand part of the menu under "Funds" and "Buy with Credit Card". Then you will see the following view. Here you have to select "BTC".
It is important to know that Binance is working with the third-party provider "Simplex" to process the purchase. In addition, a verification of your identity is required. The purchase process is relatively self-explanatory. Below we have written a short summary of the individual steps:
Select "BTC" and the currency you want to pay in (Euro or USD).
Fill in the fields with the personal data.
Verify your email and phone number with a code.
Go back to the website and click "Next" .
Enter your credit card information.
Upload your documents to verify your identity (front and back of your passport).
Before and after the purchase there are some things to keep in mind:
The given Bitcoin amount is based on the current price and is not final, but will be calculated later! However, if the rate changes by more than +/-2.5%, you will be asked to reconfirm the transaction by email from Simplex.
Once the payment is complete, you can check your payment status and deposit history on Simplex.
The Simplex fee is 3.5% per transaction or USD 10, whichever is higher.
The daily limit is 20,000 USD per user. The monthly limit is 50,000 USD per user.
The minimum amount (the minimum) for a transaction is currently USD 50.
>> Buy Bitcoin on Binance by Credit Card* <
Step 2: Trade ZCash
When Bitcoin has arrived on your Binance Wallet, you can start the trade. We will show you how you can trade Bitcoin (BTC) for ZCash. Alternatively, you can of course also transfer Bitcoin from another exchange or wallet to Binance. You can send the BTC directly to the wallet address of Binance.
If you don't own a Bitcoin yet, you can buy it on Litebit with SEPA or by SOFORT. During the purchase process you simply enter the Bitcoin Wallet address of Binance so that Litebit can send the BTC to Binance immediately after the transaction has been successfully completed.
To find the "Receive address" of your Binance Wallet, click on "Funds" in the navigation bar and then on "Deposit". You can enter BTC in the search field and select Bitcoin.
In the following field you will be shown a Bitcoin deposit address. You must enter this in the "Receive address" field on Litebit during the purchase process if you want to buy BTC on Litebit and then transfer it to Binance.
Now you should have received Bitcoin on your Binance Wallet. Two small steps are left to acquire ZEC on Binance.
Next to the Binance logo on the top left, you will find the tab "exchange" and below it "Basic". Select this menu item. Afterwards you get to the following overview (see screenshot below). In the search field (next to the red arrow (1.)) enter "ZEC" and click on ZEC/BTC (step 2).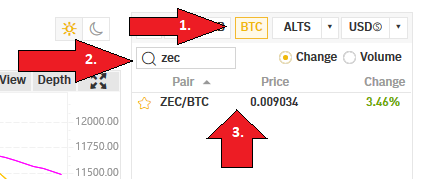 The display below the price chart changes. First you have to decide what kind of purchase you want to make. You can choose between "Limit", "Market" and "Stop-Limit".
Step 3: Limit, Market and Stop-Limit Order with Binance
A "limit" order is an order placed in the order book at a limit price you specify. This means that the trade is only executed when the market price reaches your limit price. If the market price does not reach the price you set, the limit order remains open. You can delete them if you want. A "limit" order should therefore always be used when you are not in a hurry to buy or sell or want to achieve a certain price.
In contrast, a "market" order is executed immediately at the current market price (see arrow number 4.). Accordingly, the "Market" order is particularly suitable for beginners and investors who want to sell or buy quickly.

Since you want to sell your Bitcoin and get NEO for it, you have to use the left field "Buy ZCash ". In the line "Amount" you enter how much ZEC you want to buy. Once you have entered everything, you can click on "Buy ZCash".
>> Buy ZCash on Binance by Credit card* <
Normally your ZEC will arrive on your Binance Wallet within seconds. As with Litebit, we recommend transferring the ZCash to an external wallet. This will increase the security of your ZEC, as Binance has already been the victim of a Bitcoin hack in May 2019 (during which 7,000 BTC were stolen). A corresponding manual for the Jaxx Wallet can be found above.
A detailed test report from Binance and a tutorial on how to use the Binance user interface correctly can be found in our detailed Binance test report (click here!).
Best ZCash wallet: Jaxx Liberty
Why is Jaxx Liberty the best ZCash Software Wallet?
As mentioned above, hardware wallets provide the highest security for storing cryptocurrencies. The two market leaders in the field of hardware wallets: Ledger and Trezor both supported ZCash. Both the new Ledger Nano X and the Trezor Model T are suitable to manage ZEC.
But if you want free software, the Jaxx Liberty Wallet is our first choice for ZCash. Jaxx is a wallet which offers a desktop client, a mobile client and a web client. It is available for Android, iOS and Google Chrome. There are also desktop versions for Mac and Windows.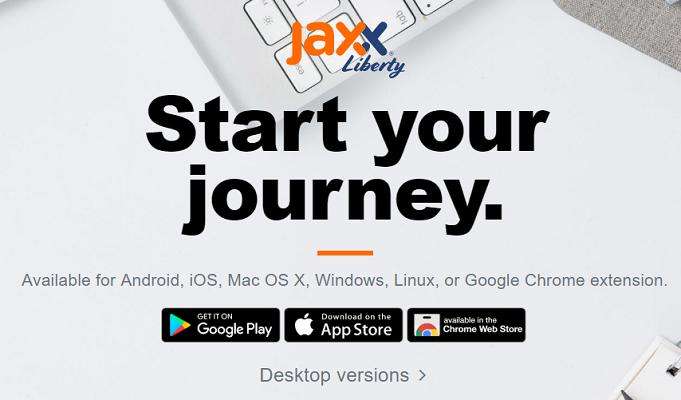 The Jaxx Wallet has been on the market for a long time and has enjoyed great popularity ever since, as it can be used to manage a large number of other cryptocurrencies in addition to ZCash. The latest version is called Jaxx Liberty and can store more than 80 different cryptocurrencies. It is also noteworthy that the wallet is developed by the company of Anthony Di Iorio, a co-founder of Ethereum.
The safety of the Jaxx Liberty Wallet is very good. The developers have no access to your "Private Keys". You alone have full control over your private keys. In addition, the Jaxx Wallet offers a quick and easy way to create a backup. The support team, which is available around the clock, is also particularly praiseworthy.
Installation and operation of the Jaxx Liberty Wallet
To install the Jaxx Liberty Wallet, you must first visit the official website (click here!). On this website you can find all versions: iOS and Android (for smartphones), downloads for Windows, Linux and Mac and a browser extension for Google Chrome.
We show you how to set up the Wallet for Windows. After you have downloaded the .exe file, you have to start it by double clicking on it. Then the following window opens. Now click on "Create New Wallet". Afterwards your wallet is already set up and ready to go! Below you can see the user interface of the Jaxx Liberty Wallet:
As you can see on the screenshot, the Jaxx Liberty Wallet offers many features (which other wallets don't have). So there are "Markets", where you can inform yourself about the current rates of the top cryptocurrencies and an integrated blockchain explorer for various cryptocurrencies.
Under the menu tab "Portfolio" you can see your total stock of cryptocurrencies in US dollars, euros or another currency – according to your settings. Under "Wallets" you can see your crypto-wallets and their holdings. But before you go on looking around, you should backup your wallet first, i.e. create a backup and assign a password. For this you have to click on the menu (the three dashes) in the upper right corner of the wallet. Afterwards you will see the menu item "Back Up Wallet".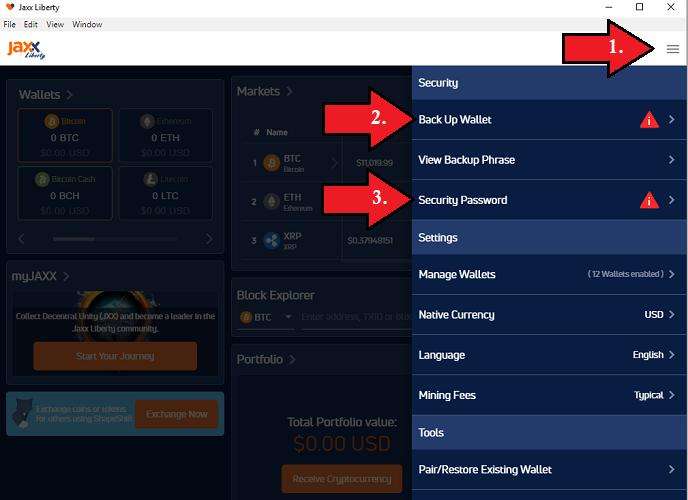 With the backup phrase you can restore your wallet if you lose access to your computer (or your smartphone with a mobile version). You should keep the password phrase secret and safe.
If you lose the backup phrase, you will lose access to your wallet and thus access to your assets in an emergency (if your computer is broken or your smartphone is lost). Write the phrase several times on a piece of paper and keep it safe!
The Jaxx Liberty Wallet will guide you through the process of generating the backup phrase. At the end you have to enter all 12 words again for confirmation:
Don't forget to assign a password ("Security Password") for your wallet! Now you can take care of the administration of your wallet. If the "Wallet" area is too confusing for you, you can select your cryptocurrencies to be displayed in the menu under "Manage Wallets":
However, ZCash is already selected. Except for Bitcoin, Ethereum and ZCash, we have set all other cryptocurrencies to invisible (see screenshot) so that the display is clearer.
Send and receive ZCash
To send or receive ZCash, simply select the ZCash Wallet (see screenshot). After that you have the two options "Send" to send ZEC and "Receive" to receive ZCash on this wallet:
If you are in the middle of the purchase process at Litebit, you will find your "recipient address wallet" here. If you click on "Receive", you can copy it to your clipboard via "Copy Adress" and then paste it into Litebit in the column "Receive Adress".
---
If our purchase instructions have helped you, we would be happy if you would rate them:
[ratings]
If you have any further questions, please feel free to write us a comment, we will be happy to help you!