In the following article we will introduce you to various ways in which you can purchase Dash safely and easily in the shortest possible time. You can find the current Dash price on our price overview page for DASH. If you want to check further prices of cryptocurrencies like Bitcoin, Ethereum or Ripple, please have a look at our marketcap site.
The Dash blockchain, like Monero, supports anonymous transactions. This means that transactions cannot be tracked on the blockchain. Therefore Dash is also regarded as a so-called "Privacy Coin" and is mainly used by users who attach great importance to data protection and privacy.
Before you invest in DASH, however, you should decide whether you want to keep your Dash (DASH) in a Dash Wallet yourself or place the responsibility in the hands of a exchange. Depending on how you decide, different Dash exchanges or Dash brokers come into question.
The basic idea of DASH is to create a financial system without third parties and intermediaries (e.g. banks, credit institutions). Therefore, in our opinion, it is desirable to manage the DASH yourself, since only you have access to your asset via your private key. Cryptocurrency exchanges and brokers have the big disadvantage that they keep the private key for you. So you give up control of your asset.
However, this is not the only disadvantage. In the past, exchanges and brokers have been victims of hacker attacks, with large amounts of cryptocurrencies being stolen. We therefore believe that it is always better to have complete control over your DASH coins. That's why we introduce a reliable Dash wallet so you can store your DASH easily and safely. So only you have access to your private key, so only you have access to the wallet.
Broker
Test
Info
Invest

✅ 15 Buy Cryptocurrencies & CFDs
✅ Free demo account
✅ Minimum deposit: 180 €


❌

CFDs are not available for US and UK (FCA) users

✅ Buy 30+ "real" cryptocurrencies
✅ Licensed exchange in the European Union
✅ Payment by SEPA, credit card, Neteller
✅ Low fees, no price premium ("spread")

✅ Over 50 cryptocurrencies
✅ Buy and sell cryptocurrencies via Euro
✅ Payment by SEPA, SOFORT, credit card, Giropay
✅ Minimum purchase: 1 €.
**= Risk warning: 62% of retail CFD accounts lose money when trading CFDs from this provider.
The next trusted vendor we'd like to introduce is eToro. It was founded by three entrepreneurs in 2007. The international group has several registered offices in London (UK), Limassol (Cyprus) and also has branches in Tel Aviv and Shanghai. We have tested eToro extensively and show you in our review (click!) what you can expect from the platform. >> Please note: Crypto CFDs are not offered in US/UK under FCA <<
The eToro website is available in many languages (English, German, French, Portuguese, Spanish,…). This makes it easy and user-friendly for many users worldwide. In addition there is also the clear structure of the page, which represents a further plus point. Thus, the DASH purchase process can be carried out quickly and easily.
The high level of security is a major advantage over other providers.
If you have already decided to use eToro here, this link will take you directly to the official website*. Here you can easily create a user account by clicking on "Register now". Now a window opens in which you have to enter all necessary data. Once you have entered your email address and phone number, and your chosen username and password, all you need to do is accept eToro's current Privacy Policy and Terms of Use, and by clicking the "Create Account" button, your account is already set up.
**75% of retail investor accounts lose money when trading CFDs with this provider. You should consider whether you can afford to take the high risk of losing your money
Cryptoassets are highly volatile unregulated investment products. No EU investor protection.
Purchase limits on eToro
After you have created your account completely, you can now deposit money. In order to be able to use the entire offer, you must first go through the verification process. Your current purchase limit is therefore initially 2,000€.  If you want to invest more money in DASH, all you have to do is follow the steps below. Simply go to your user profile and click on "Edit". Here you are required to provide proof of your identity as well as your current address and tax number.
In addition, the platform must collect the data from the user, as this is necessary under the KYC laws. In order to get started quickly and unrestricted later, it is worth going through the verification process immediately after registration. To load money into your account, it doesn't matter if your account is already verified and confirmed or not. If you already want to deposit money, simply log in with your user data and click on "Deposit Funds".
Here you can select the desired amount, the currency and your preferred deposit method. You can choose between bank transfer, credit card, SOFORT or the e-wallet. The following table shows you an overview of the payment methods, the duration of the credit, in which country the payment method is available and the maximum amount per transaction.
| Method of payment | Countries | Time of transfer | Maximum par transaction |
| --- | --- | --- | --- |
| Credit card | worldwide | Immediately | $40.000 |
| Giropay, SOFORT | Germany | up to 1 working day | $30.000 |
| Neteller | UK (Great Britain) | Immediately | $10.000 |
| PayPal | Luxembourg | Immediately | $20.000 |
| Skrill Limited UK | UK (Great Britain) | Immediately | $10.000 |
| WebMoney | UK (Great Britain) | Immediately | $50.000 |
| Virement bancaire | worldwide | Bank wire | Unlimited |
| Yandex | Russia | Immediately | 5.000 RUB |
The E-Wallet PayPal is used with pleasure, because it is very uncomplicated and the desired amount is credited immediately on your user account. If you choose it as your payment method and enter for example the amount of 100€, you will be immediately forwarded to PayPal and can log in there with your PayPal user account. Once you have confirmed the transaction with PayPal, you will automatically be taken back to the eToro page. The transaction is now complete and you can immediately purchase with your credit on eToro DASH.
Buy DASH on eToro
On eToro you have 15 cryptocurrencies to choose from. The following description will show you how to buy DASH and DASH CFDs on eToro.
When trading on eToro you should be aware of the following:
All
buy positions without leverage
will be traded as a real asset. Your investment at eToro will then be secured with real DASH. This means that eToro buys the DASH in your name and stores it in a separate account under your name.
In contrast, all buy positions with leverage are executed as CFDs. CFDs are so-called derivatives – a security whose value or performance depends on the performance of one or more underlying assets. They are specialized and popular over-the-counter (OTC) financial products that allow traders to easily open positions in a variety of different financial markets. The underlying asset – DASH – is not acquired by the investor. All you receive is a certificate.
Buy "real" DASH
To purchase DASH, go to the "Markets" button and then click on "Crypto". Now you will be shown 15 different cryptocurrencies.
Now select "DASH" in the current window. Now two abbreviations appear: "B" stands for buy and "S" for sell. To purchase "DASH", simply click on the "B" and enter the amount you wish to purchase.
You do not have to make any further settings (mandatory). Afterwards you confirm with a "click" on "Open Trade", now the purchase of "DASH" is completed. After a few seconds your transaction is complete and you have DASH in a few minutes without any problems.
>> Buy and sell DASH on eToro** <<
**75% of retail investor accounts lose money when trading CFDs with this provider. You should consider whether you can afford to take the high risk of losing your money
Cryptoassets are highly volatile unregulated investment products. No EU investor protection.
Buy DASH CFDs
The purchase of Dash CFDs works almost analogously to buying the "real" DASH. To buy Dash CFDs you need to click "B" again to buy DASH. Afterwards you get to the already known overview. Here you can enter the amount of money you would like to invest for your Dash purchase.
Now you have to adjust the leverage multiplier "X2". Currently, eToro does not offer any major leverage for cryptocurrencies. After selecting "X2", you should check your Stop Loss and Take Profit settings. A stop-loss limit is very important in order to keep the respective risk low. If you have adjusted these settings according to your wishes, you can now open the trade.
Stop Loss means that you enter into a trade when the DASH price reaches a price you have set or an amount of money you can pre-select. Take Profit determines when your trade is to be executed automatically when the profit of your trade has reached the amount you want. It is important to know that eToro charges so-called "overnight fees", also known as rollover fees. This notice will also appear as a pop-up before you make your take profit.
>> Buy and sell DASH CFDs on eToro** <<
**75% of retail investor accounts lose money when trading CFDs with this provider. You should consider whether you can afford to take the high risk of losing your money
Cryptoassets are highly volatile unregulated investment products. No EU investor protection.
The eToro wallet
Recently eToro offers a mobile wallet in the form of an app. With this it is possible to use different currencies: Bitcoin, Bitcoin Cash, Ethereum, XRP, Litecoin and XLM. Dash is unfortunately not supported yet. As soon as this is the case, however, we will inform you.
Minimum Deposits and Processing Fees
There are also a few other special aspects worth considering when trading on eToro:
All your accounts are maintained in US dollars. All deposited amounts are therefore immediately converted into US Dollars at the current exchange rate. Conversion fees will be charged for this conversion.
The minimum deposit is 200 USD. If you choose bank transfer as your deposit method, the minimum amount is 500 USD.
There is also a handling fee for the withdrawal. You can see the fee for this in the cash area, in the last step. If the amount to be paid out is greater than 50 USD, the fee is 25 USD.
>> Buy and sell DASH on eToro** <<
**75% of retail investor accounts lose money when trading CFDs with this provider. You should consider whether you can afford to take the high risk of losing your money
Cryptoassets are highly volatile unregulated investment products. No EU investor protection.
Legal notice:
eToro is a multi-asset platform that offers equity and crypto currency investments as well as CFD asset trading.
CFDs are complex financial instruments. Because of the leverage effect, they carry a high risk of losing money quickly. 75% of private investor accounts lose money when trading CFDs with this provider.
Please be aware of the risks of CFD trading in advance, as high losses cannot be ruled out.
Crypto currencies are not regulated and their prices can fluctuate widely. This is why crypto currencies are not suitable for all investors. The trading of crypto currencies is not subject to any supervision by the EU regulatory authorities. Your capital is exposed to risks.
eToro USA LLC does not offer CFDs and makes no representation and assumes no liability as to the accuracy or completeness of the content of this publication, which has been prepared by our partner utilizing publicly available non-entity specific information about eToro.
About Kriptomat
Kriptomat is a relatively young crypto exchange, but due to its easy handling and clear interface as well as good customer support, the number of users is constantly increasing. On the website you can buy more than 30 different cryptocurrencies directly per Euro, USD, etc. and send them to an external wallet (unlike eToro). However, we would like to inform you that Kriptomat is only available in Europe and not in the United States of America.
Kriptomat aims to make buying and selling cryptocurrencies as easy as possible. We are enthusiastic about Kriptomat and can warmly recommend the exchange to every beginner! Kriptomat has two different licenses from the Estonian government and is therefore considered regulated and serious.
A unique selling point of Kriptomat is that the exchange does not charge a price premium, the so-called "spread". This means that your purchase price is also equal to the spot price of Dash. Kriptomat only charges a nominal fee for the settlement of each transaction. However, this fee is displayed transparently during each purchase process. The following table gives you a good insight into the fees:
| Transaction | Fee % | Minimum |
| --- | --- | --- |
| SEPA (Euro to crypto) | 1.45% | 1,45 EUR |
| Zimpler | 2,89 % | |
| Skrill | variable | |
| Neteller | variable | |
| SEPA sell (crypto to Euro) | 1,45% | 1,45 EUR |
| Credit card >100 EUR | 3,65 % | |
| Credit card <100 EUR | variable | |
Account setup and verification at Kriptomat
Kriptomat is subject to the legal requirements of the European Union and therefore requires a comprehensive verification of your identity (as with eToro). In order to buy Dash at Kriptomat, you need to create an account on the exchange in the first step. To do so, go to the official website kriptomat.io* and click on the orange button "Register".
Now a new pop-up window will open where you have to enter your first and last name, your email address and your password. When you have done this, you can click on "Create account". Within a few seconds Kritptomat will send you an email containing a confirmation link. Log in to your mailbox and click on the link. This will activate your account and confirm that your email address is yours.
In the next step you have to enter a phone number, which you also have to verify. Kriptomat will send you an SMS with a code which you have to enter on the website. You will also need to provide full proof of your identity and upload a copy of your ID and proof of address. To start this process, you simply have to click on the corresponding prompt (see screenshot).

If you have followed the instructions in the screenshot, you now need to upload a photo or scan of your passport or ID card to Kriptomat. Kriptomat provides a simple solution for this. Kriptomat will send you an SMS containing a link. Just click on the link to go to the mobile website.
You can upload a photo of your ID card (front and back!) very easily and quickly. To complete the verification process, you have to make a selfie of yourself and upload it to Kriptomat as well. This process is the same for all exchanges and is required by the strict legal situation in Europe. After registration, the following purchase limits are available:
| Transaction | Limits |
| --- | --- |
| Daily deposit and withdrawal via SEPA | 25,000.00 EUR |
| Monthly deposit and withdrawal via SEPA | 200,000.00 EUR |
| Deposit and withdrawal in cryptocurrencies | no limit |
| Daily limit for other payment methods | 500.00 EUR |
| Monthly limit for other payment methods | 5,000.00 EUR |
If you want to buy DASH via SEPA bank transfer, you will also need to verify your bank account. Then you can transfer money to Kriptomat by bank transfer, which will make the amount available to you immediately. Besides bank transfer, Kriptomat offers the payment methods Neteller, Skrill or credit card payment.
Buy DASH on Kriptomat
The actual purchase of dash on Kripotmat is very easy and fast. In the first step click on the tab "Buy/Sell" (step 1) and then select the tab "Buy". Click on Dash in the next section.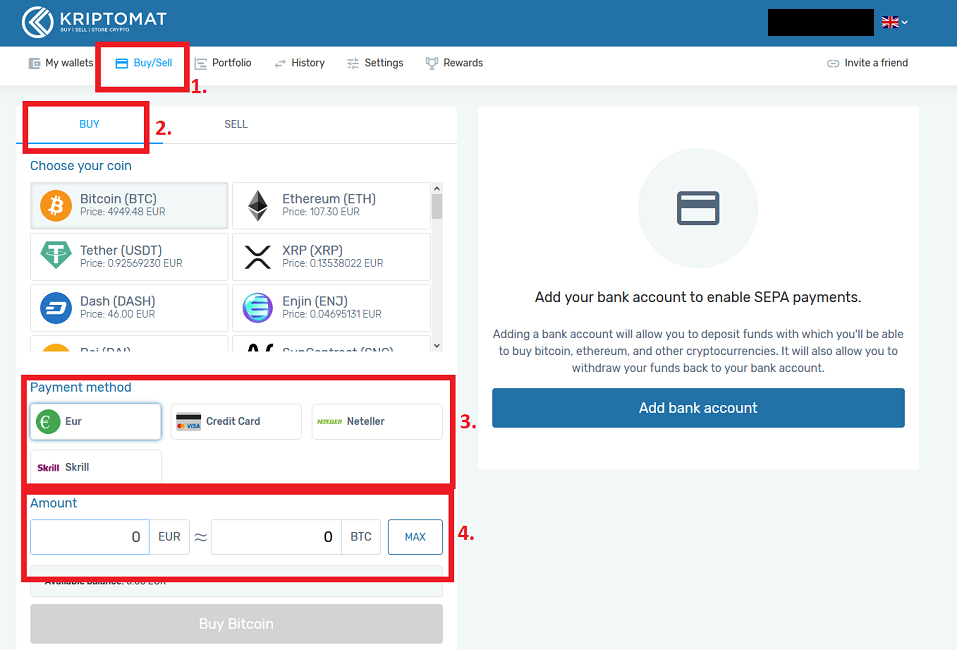 You now have four different payment methods available. You can now buy DASH either by bank transfer or by credit card, Neteller or Skrill. As already described, bank transfer is the "cheapest" payment method. But you have to deposit your bank account. Purchasing by credit card, Neteller or Skrill allows you to purchase without having to enter any further details.
If you have chosen a payment method, you have to decide in the last step how much Euro you want to buy DASH for. If you now click on "Buy Dash", the transaction fees will be displayed. To complete the purchase, you must click on "Confirm transaction". Kriptomat will then confirm the purchase and redirect you to the "My Wallet" section of the website. Your purchase order will be executed and credited to your account within a few seconds. We are very satisfied with the simple purchase process, as all fees are clearly and transparently displayed and therefore there are no "nasty surprises". The following video explains briefly and concisely how you can buy cryptocurrencies on Kriptomat:
It's that simple: Buy DASH
The well recognized exchange Litebit.eu was launched in 2013 with its registered office in the Netherlands. More than 50 crypt currencies can be bought, exchanged and managed easily and securely on this platform. We have been a regular customer of Litebit.eu for more than 4 years. The high security as well as the outstanding service are among other things reasons to choose this platform. You can find a detailed review of the Litebit here (click!).
Before you can start trading, you need to create an account at Litebit.eu. If you click on this link, you will get to the official website of litebit.eu*. For registration Litebit.eu needs some information from you, this information is required by law. The process is called KYC ("Know your Customer") and is self-explanatory for the user. Please fill in all required personal information.
When all fields are filled in, click on "Create my account". You will then receive an email with a confirmation link that you can use to activate your account. After successfully confirming your email address, you will be taken back to the LiteBit homepage and can log into your user account by simply clicking on the "Log in" button and entering your email address and password.
>> Register on Litebit now* <<
Limits on LiteBit
The limit for trading cryptocurrencies on LiteBit is classified according to verification levels. These levels determine how much money you can trade daily, weekly or monthly. The verification process is divided into several steps. To reach a higher level, you will be required to provide additional personal information. If you rise to a higher level, your purchase and trade limits will also rise.
If you have registered, as described in the preceding points, you are still at the "Unverified" level and cannot yet buy DASH or other currencies. The respective levels are called "Tiers" in LiteBit. To buy DASH, you need the first verification level, "Tier 1". For this you have to enter your telephone number, which will send you an SMS with a code that you have to enter on the website.
For the second stage, "Tier 2", a document is required that contains your name, a current date, and your address. The document must be clearly legible and can be an invoice, a bank statement or a rental agreement not older than three months.
The last level, "Tier 3", can be reached with a copy of your official identity card or passport. To do this, you must scan both sides of the document and upload it to your LiteBit account. Now you can buy, exchange and sell all cryptocurrencies up to a monthly limit of 500.000,00 Euro. In the following table you will find the limits for each level of LiteBit.
In addition to the limits of the respective verification levels, there may also be a maximum mandatory purchase limit for your chosen payment method. The following table shows you the respective maximum purchase limits of the different payment methods that can be used with LiteBit.
| | Unverified | Tier 1 | Tier 2 | Tier 3 |
| --- | --- | --- | --- | --- |
| iDeal | 0.00 € | 350.00 € | 500.00 € | 20,000.00 € |
| SEPA | 0.00 € | 250.00 € | 500.00 € | 35,000.00 € |
| Credits | 0.00 € | 350.00 € | 500.00 € | 10,000.00 € |
| Sofort | 0.00 € | 100.00 € | 500.00 € | 1,000.00 € |
| GiroPay | 0.00 € | 100.00 € | 500.00 € | 1,000.00 € |
| Bancontact | 0.00 € | 350.00 € | 500.00 € | 10,000.00 € |
Buy DASH quickly and easily from LiteBit
Once your account with LiteBit has been created, you can now begin the actual purchase of DASH. This is quite uncomplicated on this platform. For this you go to the tab "Buy", which you can find on the upper right side. Now the site opens where you can see different cryptocurrencies. Now you can select DASH by clicking on it. Selecting DASH will take you to this new view: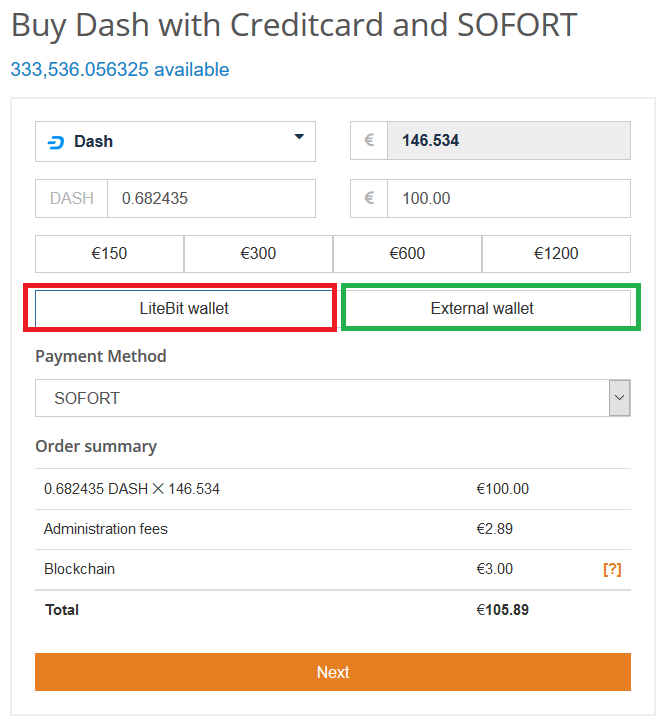 Here you can enter how much DASH you want to buy. You can enter your desired purchase amount either in the left box directly in the cryptocurrency DASH or in the right field in Euro. Below these two input fields there is another field where you have to choose whether you want to use the Litebit Dash Wallet or send the Dash directly to an external wallet.
If you are using a wallet from LiteBit, you do not need to enter an address. In this case you only have to click on "Use LiteBit Wallet", framed in red, which will automatically add your wallet to LiteBit. However, if you want to use another wallet, simply enter its address in the field provided, framed in green.
Since hacker attacks have already taken place on various platforms, which have stolen a lot of money in the form of cryptocurrencies, the LiteBit wallet is unfortunately not 100% secure either. You can increase security by enabling 2-factor authentication, which is a much more secure extension to the standard login. If you are still unsure, we can recommend desktop and hardware wallets, such as the Trezor or Ledger Nano X, where you can also save your chosen cryptocurrencies offline. This allows you to actively protect your wallet against hacking attacks.
After you have filled in all fields as explained, you must now select a payment method. We recommend a simple bank transfer, because the bank transfer has the lowest fees. If you have chosen to pay by bank transfer, select Sepa Bankwire in the "Payment method" tab. Then click on "Next".
It is important that you specify the specific purpose of use, referred to here as "Transaction Message". Only then can Litebit assign your transaction in the system accordingly and will send your Dash to your Wallet immediately. You can find the transaction message as shown in the screenshot. Normally the transfer is received and processed by Litebit within one day. Your DASH will then be sent immediately to your DASH Wallet.
>> Buy DASH on Litebit now* <<
The name "Binance" is made up of the two words "binary" and "finance" to describe the link between technology and the financial world. Currently, "Binance" is one of the world's largest crypto exchanges. The international trading platform, which was launched in June 2017, is one of the fastest exchanges on the market today, with a settlement rate of over 1 million orders per second.
Binance does not currently allow you to buy DASH with a credit card. Currently only Bitcoin, Ethereum, Litecoin, Binance Coin, Bitcoin Cash and Ripple can be purchased by credit card. If you already have other cryptocurrencies or would like to buy one of the above as an intermediate step, you can then trade it against DASH.
Account creation with Binance
A Binance user account can be created quickly and free of charge. For this you need a current e-mail address and a password of your choice. Click on this link to register with Binance*. Afterwards you have to move a puzzle to the right place and confirm your e-mail address via an activation link. You can find our extensive Binance review and tutorial here (click!).
Once you have done this, you can log into Binance with your account for the first time. In addition we recommend to activate the "Two Factor Authentication" or to protect your account again with a SMS Authentication. These settings can be found under the menu item Account and in the Google Authentication area. The required Google App is available free of charge in the Play Store. This authentication protects your account from unauthorized access, as the authentication code is required for each login.
The QR code that appears at the time of registration must be scanned with the smartphone and the numerical code that appears is then entered in the corresponding window at the time of registration. SMS Authentication can only be used with a Chinese mobile phone number.
Limits for buying on Binance
All functions can be used by you immediately after registration, even without verification. Initially, the purchase limits per day are 2 Bitcoin. For a verified user account, the limit is 100 BTC per day.
Buy Bitcoin with credit card
Once you are registered, you can buy Bitcoin by credit card on Binance and trade against DASH. The menu item for purchasing Bitcoin by credit card can be found in the right-hand part of the menu under "Funds" and "Buy with Credit Card". Then you will see the following view. Here you have to select "BTC".
It is important to know that Binance uses the third-party provider "Simplex" to process the purchase. In addition, verification of your identity is required (as opposed to when you "only" use the Exchange). The purchase process is relatively self-explanatory. Below we have written a short summary of the individual steps:
Select "BTC" and the currency you want to pay in (Euro or USD).
Fill in the fields with the personal data.
Verify your email and phone number with a code.
Go back to the website and click "Next" .
Enter your credit card information.
Upload your documents to verify your identity (front and back of your passport).
Before and after the purchase there are some things to keep in mind:
The given Bitcoin amount is based on the current price and is not final, but will be calculated later! However, if the rate changes by more than +/-2.5%, you will be asked to reconfirm the transaction by email from Simplex.
Once the payment is complete, you can check your payment status and deposit history on Simplex.
The Simplex fee is 3.5% per transaction or USD 10, whichever is higher.
The daily limit is 20,000 USD per user. The monthly limit is 50,000 USD per user.
The minimum amount (the minimum) for a transaction is currently USD 50.
>> Buy Bitcoin on Binance now* <<
Trade DASH for Bitcoin
If you already own Bitcoin, you can send it to the address of the Binance Wallet. If you do not own Bitcoin, you can also buy BTC on LiteBit. To do this, you enter the wallet address of Binance when you make your purchase, so the BTC go directly to Binance.
You will find your Binance wallet address, which you must enter when buying Bitcoin from LiteBit, if you have registered with Binance and click on "Funds" and then on "Credit". Enter BTC in the search field and click on "Deposit". Now you can see your current deposit address for Bitcoin. Copy it and paste it into LiteBit as receiving address.
As soon as the BTC have arrived in your Binance Wallet, you can start trading against DASH. To do this, click on the Binance logo in the upper right corner. On this page you go to "ALTS Markets" and select DASH or DASH/BTC.
Now click on "Market" on the following overview. Your purchase order will then be executed immediately at the current market price. You can also use "Limit" and "Stop-Limit". A limit order is an order placed in the order book at a limit price you specify. This means that the trade is only executed when the market price reaches your limit price.
If the market price does not reach the price you set, the limit order remains open. You can delete them at any time. A limit order should therefore be used whenever you are not in a hurry. Because it can happen that your limit order is not executed and therefore remains open and is only fulfilled at a later point in time. In contrast, a market order is executed immediately at the current market price. Accordingly, the "Market" order is particularly suitable for beginners and investors who want to sell or buy quickly.
Then you go to the left field "Buy DASH" and enter how much DASH you want to buy at "Amount".
The line above shows the exchange rate for DASH in BTC. If your desired amount is selected, you can see in the bottom line ("Total") how much BTC you have to pay for your purchase of DASH. Then click on "Buy DASH" and your order will be processed immediately and after a short time your DASH units will be in your current wallet.
>> Buy Bitcoin on Binance now* <<
Buy DASH on Anycoindirect.eu
You have to create an account at the official Anycoindirect site. Click on this link to get directly to anycoindirect.eu. Now click in the upper right corner on the button "Register". Now you will be asked to provide some personal information about yourself. This is mandatory under the KYC laws. When all fields are filled in, click on the green button "Register". You will then receive an email with a confirmation link from Anycoindirect. Open your mailbox and click on the corresponding mail and go to the confirmation link.
After clicking on the link you will automatically be redirected to the Anycoindirect homepage. In order to use the exchange to its full extent, you must additionally verify your identity. To purchase DASH, select the digital currency DASH in the "Buy" tab. Now this overview appears:
Depending on your verification level and payment method, you can spend up to €5,000 per day on DASH. Depending on the type of payment, different fees are charged for the purchase of DASH. A payment method with few fees is the bank transfer. Here for select the item "SEPA". In the field "DASH address" you must enter your receiving address, your DASH Wallet, framed in red. If you do not yet have your own DASH Wallet, follow the DASH Wallet instructions provided above. By clicking on this link you will get to the instructions for creating your own DASH Wallet.
In the field Payment ID you should always enter a unique payment ID, so that your transfer can be quickly assigned to your account. If you have entered all data correctly and have noted the payment ID for your transfer, you can now click on the button "Buy DASH" at the bottom right. Finally, Anycoindirect will provide you with the bank details to which you must transfer the corresponding amount. Once the transfer has been received by your bank, it can take up to 2 days (usually faster) for Anycoindirect to receive the amount and credit your DASH.
If something doesn't work out, there is very good customer support, which can even be contacted via Skype. We were really satisfied with the support in English.
If you don't want to store your DASH on a exchange, but want to have the best possible protection, you can either use a hardware wallet or a desktop wallet. Hardware Wallets offer the decisive advantage that the Private Keys are never connected to the Internet and are therefore completely safe from hacker and phishing attacks. The test champion of our hardware wallet test is the Ledger Nano X. You can read our detailed review in our Ledger Nano X Review. A complete overview of all hardware wallet tests can be found here (click!).
If you don't want to use a hardware wallet, but a secure and easy to use desktop wallet, then read our instructions carefully. We have had very good experiences with the Dash Exodus wallet that we present to you now. It offers medium protection and is especially suitable for beginners, as the user interface is very simple and clear.
In the first step, you must visit the official site of Exodus. Click on this link now, you will get directly to the landing page where you can download the wallet. Now select the operating system that suits you best and that you are using on your PC/ notebook.
We are using a Windows PC, so we clicked the button "Download Windows App". Now you have to install the software, this should not take longer than 30 seconds. If you have successfully installed the Dash Wallet, you will receive a notification that you can start the wallet now. The surface of the DASH Wallet looks as follows:
To find Dash, click on the "Wallet" tab. Then you have to click on Dash. Now there are two buttons you can select, "Send" and "Receive". To find out the receiving address, click on "Receive".
Now you will see your dash receiving address. If you want to use this external wallet to buy Dash, then copy the receiving address and paste it into the "Receive Address" column of Litebit or another exchange. In case of Litebit you have to click on "External Wallet" and insert the address exactly there. Then you can continue the Dash purchase process as normal.
---
Please rate our purchase instructions:
[ratings]
If you have any questions, please leave us a comment, we will be happy to help you!