The Cosmos Network is a decentralized network of independent, scalable and interoperable blockchains, each using the Byzantine Fault-Tolerant (BFT) consensus method. Cosmos thus tries to enable an ecosystem of blockchains that are scalable and can interact with each other.
The Cosmos network also strives to solve the biggest problems of blockchain technology, the difficult development and scalability by pursuing the technical vision to build the "Internet of Blockchains".
Even though the Cosmos project is still young – publication of the Whitepaper in 2016 and launch of the Mainnet on 13 May 2019 – the ATOM Coin can be a very interesting investment. In the following article we will show you where and how to buy Cosmos (ATOM). If you want to check the ATOM course before you start, we recommend to have a look at our Cosmos (ATOM) price overview.
Before you read through the instructions for the exchanges and brokers, you should make an important decision beforehand: Do you want to keep your ATOM Coins yourself and have full control over your property? Or are you looking for a simple solution and delegating the responsibility of management to an exchange or broker?
In our opinion it is desirable to manage Cosmos (ATOM) yourself, as only you can access your asset with your private key. Cryptocurrency exchanges and brokers have the big disadvantage that they keep the private key for you. So you give control over your cryptocurrencies to a third party, similar to a bank.
However, this is not the only disadvantage. In the past, exchanges and brokers have been victims of hacker attacks, with large amounts of cryptocurrencies being stolen. Therefore, in our opinion, it is safer to manage your ATOM yourself in an external wallet. We explain to you which is the best wallet for ATOM from our point of view. At the end of the article we will also show you how easy it is to set up and operate a Cosmos wallet.
The best exchanges and brokers
Broker
Review
Info
Invest

✅ Buy over 100 cryptocurrencies
✅ Direct purchase starting at 10 €
✅ Payment by SOFORT, SEPA, Giropay
✅ Buy and sell on one platform

Read review

✅ Buy over 30 cryptocurrencies directly by fiat money 
✅ Very reputable and regulated broker according to EU laws
✅ Fiat currency wallets for fast transactions

✅ Buy BTC, ETH, XRP, LTC, BCH & BNB by Credit Card
✅ Very low trading fees
✅ Very large selection of cryptocurrencies (trading)
Below you will find the purchase instructions for:
Buy Cosmos (ATOM) on Coinmerce
Guide: Buy Cosmos quickly and easily by Euro
The Dutch website Coinmerce.io offers a brokerage service for the direct purchase of cryptocurrencies via Euro by credit card, SEPA bank transfer, SOFORT and other payment methods. The company behind the broker, Coinmerce B.V., is a Dutch limited liability company based in Amstelveen in the Netherlands. The company was founded in 2017.
We have had very good experiences with Coinmerce. This is also reflected in the increasing popularity and user numbers of the website. Coinmerce was founded by cryptocurrency enthusiasts to make buying and selling cryptocurrencies as easy and quick as possible for everyone.
From our point of view, the platform is succeeding in this extraordinarily well. In particular, the very large number of cryptocurrencies (over 100), all can be purchased directly by Euro, are a special feature on the European market. In order to make it as easy as possible for the customer, Coinmerce also offers a wallet on which the cryptocurrencies can be managed. The following video offers a good overview of all features of the exchange:
To buy Cosmos (ATOM) you need to create an account. Go to the website of Coinmerce (click here!)*. Then you can click on the red button "Create account". You will then be asked by Coinmerce to enter some personal data. You should make sure that your first name, surname and address are the same as on your identity document (e.g. your passport) you will have to present later.
Coinmerce collects the following information: your name, e-mail address, gender, nationality, date of birth, an e-mail address and a telephone number. At the end you also have to assign a password. Then you can click on "Register". After the click you will receive a message that a verification link has been sent to you by e-mail.
This verification link must be clicked to activate your account. After this your account is activated. You can now log in to Coinmerce for the first time. As you will be depositing Fiat funds, Coinmerce is required by law to verify in advance some of the information and evidence required as part of the Know Your Customer process to implement the European Union's Anti-Money Laundering and Anti-Terror Financing Directive.
>> Create an account on Coinmerce now * <<
Verification and limits on coinmerce
Coinmerce has different limits depending on your verification level. This means that you must gradually prove your identity in order to increase the limits for buying Cosmos. The limits are graduated according to daily, weekly and monthly maximum amounts.
Level 1 (verify your bank account)
For level 1 you need to verify your bank account. Before that, you can't buy cryptocurrencies. To carry out the verification, you must transfer one euro cent to Coinmerce's account to confirm the ownership of your bank account. You can do this by iDeal or bank transfer. To perform the verification, you must go to "Settings" -> "Security Settings" -> "Bank". There you will find the instructions where and with what purpose you have to transfer 0,01 EUR:
Level 2 (verification of your identity)
For Level 2, you must have a valid ID card, e.g. an identity card, passport or driver's license from Coinmerce and upload a copy. With a Level 2 account you can trade up to €20,000 per day and €60,000 per week.
Level 3 (contact support)
If these limits are not enough for you, you can apply for Level 3. Coinmerce will need proof of your sources of income, proof of residence and a Skype call. To apply for Level 3, you must contact the Coinmerce support team.
The table below provides an overview of the verification levels, processing times, transaction fees by payment method, and limits by level:
| Payment method | Transaction fees | Processing time | Pay out | Approved countries | Level 1 Limit (24h) | Level 2 Limit (24h) |
| --- | --- | --- | --- | --- | --- | --- |
| Coinmerce Coins | 0.00 EUR | Immediately | Immediately | All | 500 EUR | Unlimited |
| iDeal | 0.30 EUR | Immediately | Immediately | Netherlands | 500 EUR | 20.000 EUR |
| SEPA | 0.00 EUR | 1 - 2 working days | 1 - 2 working days | All european Countries | 500 EUR | 20.000 EUR |
| Giropay | 1,8% + 0.30 EUR | Immediately | 3 - 5 working days | Germany | 500 EUR | 2.000 EUR |
| SOFORT | 2% + 0.30 EUR | Immediately | 1- 3 working days | Austria, Belgium, Switzerland, Germany, Spain, France | 500 EUR | 10.000 EUR |
| Bancontact | 1,3% + 0.40 EUR | Immediately | 1-3 working days | Belgium | 500 EUR | 5.000 EUR |
| EPS | 1,8% + 0.30 EUR | Immediately | 1- 3 working days | Austria | 500 EUR | 20.000 EUR |
A special feature of the broker is the Coinmerce Coin. A Coinmerce Coin is always worth 1 Euro. The Coinmerce Coin is comparable to a stable coin, which is linked to the value of the euro. The Coinmerce Coin should give you the opportunity to secure your returns. Beyond that no transaction fees result with the use of the Coinmerce Coins. In addition, the transaction time is also shortened with the use.
>> Buy Cosmos (ATOM) on Coinmerce* <<
Buy Cosmos: This is how it works!
Once you have unlocked your desired limit, you can begin the actual purchase process of Cosmos on Coinmerce. This is very easy and quick to do. You go to the homepage of Coinmerce and then choose in the drop-down Cosmos (ATOM), as well as your desired amount in Euro. Then click on "Buy".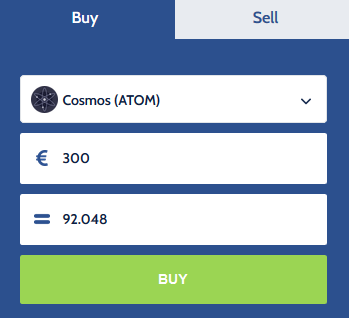 Next you have to decide if you want to use the Coinmerce Wallet or an external wallet. If you want to use the Coinmerce Wallet, you only have to select one of the following payment methods in the next step:
iDeal,
SEPA bank transfer,
Coinmerce Coins,
Bancontact,
GiroPay,
SOFORT,
EPS bank transfer
and click on the payment button to complete the purchase. You also have the option to have a friend pay the bill. For this you can simply click on the button "Copy" and send the payment link to the third person. However, you must note that the order must be placed via a verified bank account! Orders paid from a non-verified account will be blocked and not executed by Coinmerce.
So if you want to send your ordered ATOM to a software or hardware wallet, the next step is very easy. All you have to do is activate the corresponding slider (see screenshot below). A field for the external wallet destination address will then be displayed. It is important to know that there is an additional fee. At Cosmos this amounted to 0.006 ATOM = 0.02 Euro at the time of writing:
Depending on the method of payment, the ATOM Coins will be credited to your account accordingly. In our experience, a SEPA bank transfer does not take longer than 24 hours. Then you should see the cosmos on your wallet. Further down in this article, we'll explain how to install a free Cosmos (ATOM) Wallet.
>> Buy Cosmos (ATOM) now on Coinmerce* <<
Buy Cosmos (ATOM) on Bitpanda
The cryptocurrency broker Bitpanda was founded in 2014 and is one of the largest and best-known brokers in the field of cryptocurrencies in Europe. Due to its headquarters in Vienna, Bitpanda is fully regulated within the framework of EU legislation and can therefore be classified as serious and safe.
A big advantage of the exchange is that there are numerous payment options to choose from. In particular, Bitpanda currently offers four Fiat currency wallets for US dollars, euros, Swiss francs and British pounds. You can use them to deposit Fiat money into your account and buy and sell cryptocurrencies directly. So you don't have to rely on long processing times by payment service providers and you can buy and sell your cryptocurrencies within seconds. Pleasing is also that the site is available in 3 languages: English, German and French is available.
>> Register now on Bitpanda*<<
Setting up an account with Bitpanda
Opening an account with Bitpanda is unfortunately not as uncomplicated as with other exchanges and brokers. However, registration and verification should not be an obstacle for you. Bitpanda's instructions are very helpful. Apart from that, you can use this article as a guide.
First you have to visit the official website (click here!) and click on the "Get started now" button. You will then be asked to provide some personal information: your name, e-mail address, password and country of residence. You also have to accept the terms and conditions and the privacy policy. Now click on the "Create account" button to apply for the account opening.
After you have confirmed your e-mail address via a corresponding link in an e-mail, you can log in to Bitpanda. Before you can buy cryptocurrencies, you must fully verify yourself.
Verification at Bitpanda
The legal regulations in Austria stipulate that customers must fully identify and verify themselves. Only when you have fully verified yourself, you can also make Fiat deposits at Bitpanda. The verification is carried out in a video identification procedure. A stable internet connection and a webcam are required. To start the process, click "Verify now" on the start page of your account.
The following personal data is required: your full address, a telephone number and your date of birth. To confirm this information, you can upload a copy of your passport or ID card. Bitpanda distinguishes between a "light verification" and a "full verification":
Light Verification
Light Verification is a document-based verification where you simply enter your personal information and then scan your ID document with your webcam. This process is carried out by a Bitpanda partner company called eID. The Light Verification offers you the following possibilities:
Deposit and withdrawal of Fiat currencies (only) by bank transfer
Trading of cryptocurrencies as well as gold and silver
Full verification
With full verification, you can take full advantage of all the features of the Bitpanda platform, including the Bitpanda Global Exchange. The verification is performed by one of the two partner companies called IdentityTM and IDNow.
For the verification we made a phone call via webcam. Numerous questions were asked and personal data were verified by means of the identity document. In addition, we had to declare that we wanted to trade cryptocurrencies (despite "the risks") on our own responsibility. In total, the phone call lasted about 4-5 minutes.
After successful verification, a limit of 2,500 EUR is available for deposits with online payment methods such as EPS, GiroPay or SOFORT. This limit will be completely removed once you have made a verification deposit. You must do this by bank transfer, SOFORT or GiroPay /EPS. The amount must be between 25 EUR and 2,500 EUR.
Tipp:
The limit will be lifted once you have made your first deposit. If you want to deposit a larger amount with your first deposit, you can also make a bank transfer. By bank transfer you can also deposit higher amounts immediately after verification. These are also considered as a verification deposit
The complete verification offers you the following possibilities:
All trading features including Swap and Savings plan
Deposit and withdrawal of Fiat currencies by bank transfer, credit card and various online payment service providers, such as SOFORT, iDEAL, Neteller, Skrill, Zimpler, etc.
>> Buy Cosmos on Bitpanda now* <<
Limits for the purchase of Cosmos
The deposit and withdrawal limits for Fiat currencies on Bitpanda differ. They differ according to verification status and selected deposit or withdrawal method. The following tables show the deposit limits for Euro deposits:
| | | Not verified | Light Verification | Full verification |
| --- | --- | --- | --- | --- |
| Bank transfer (SEPA) | Day (24h) | 0,00 EUR | 49.999,00 EUR | 49.999,00 EUR |
| | Month | 0,00 EUR | 5.000.000,00 EUR | 5.000.000,00 EUR |
| | Total | 0,00 EUR | 100.000.000,00 EUR | 100.000.000,00 EUR |
| Credit card | Day (24h) | 0,00 EUR | 0,00 EUR | 2.500,00 EUR |
| | Month | 0,00 EUR | 0,00 EUR | 300.000,00 EUR |
| | Total | 0,00 EUR | 0,00 EUR | 5.000.000,00 EUR |
| Online Payments | Day (24h) | 0,00 EUR | 0,00 EUR | 10.000,00 EUR |
| | Month | 0,00 EUR | 0,00 EUR | 300.000,00 EUR |
| | Total | 0,00 EUR | 0,00 EUR | 10.000.000,00 EUR |
| Payment method(s) | | - | SEPA | EPS, GiroPay, SOFORT, Netelle, SEPA, Skrill, VISA, Mastercard, Zimpler, iDeal |
The following tables show the deposit limits for USD deposits:
| | | Unverified | Light verification | Verified |
| --- | --- | --- | --- | --- |
| Online Payments | Daily limits (24h) | USD 0.00 | USD 0.00 | USD 11,151.50 |
| | Monthly limits | USD 0.00 | USD 0.00 | USD 334,545.13 |
| | Total limits | USD 0.00 | USD 0.00 | USD 11,151,504.34 |
| Credit card | Daily limits (24h) | USD 0.00 | USD 0.00 | USD 2,787.88 |
| | Monthly limits | USD 0.00 | USD 0.00 | USD 334,545.13 |
| | Total limits | USD 0.00 | USD 0.00 | USD 5,575,752.17 |
| Payment options | | - | - | Skrill, VISA, Mastercard |
Fees for the purchase of ATOM
All prices on Bitpanda are real-time prices. This means that all fees for the purchase or sale of cryptocurrencies are already included in the displayed price. You will receive from Bitpanda exactly the amount of coins, which will be shown to you at the order confirmation. The fees for the purchase of Bitcoin are currently 1.49 percent and for the sale of 1.29 percent. You will see the selling price (with fees) before you conclude your trade. The difference between the buy and sell price is known as the spread.
The table below gives you an overview of minimum deposits, withdrawal fees and minimum withdrawal amounts:
| | No fees for deposits bigger than... | Deposit fees | Minimum deposit | Withdrawal fees | Minimum payout |
| --- | --- | --- | --- | --- | --- |
| 0x | 10.00000000 ZRX | 0.20000000 ZRX | 2.00000000 ZRX | 0.09999940 ZRX | 2.00000000 ZRX |
| Augur | 1.00000000 REP | 0.01000000 REP | 0.10000000 REP | 0.01000040 REP | 0.10000000 REP |
| Basic Attention Token | 10.00000000 BAT | 0.50000000 BAT | 1.00000000 BAT | 0.23000000 BAT | 1.00000000 BAT |
| Bitcoin | 0.05000000 BTC | 0.00010000 BTC | 0.00100000 BTC | 0.00049910 BTC | 0.00150000 BTC |
| Bitcoin Cash | 0.01000000 BCH | 0.00010000 BCH | 0.00100000 BCH | 0.00002300 BCH | 0.05000000 BCH |
| Cardano | 100.00000000 ADA | 1.00000000 ADA | 10.00000000 ADA | 0.20000110 ADA | 1.00000000 ADA |
| Chainlink | 10.00000000 LINK | 0.50000000 LINK | 1.00000000 LINK | 0.09999940 LINK | 1.00000000 LINK |
| Dash | 0.10000000 DASH | 0.00010000 DASH | 0.01000000 DASH | 0.00000000 DASH | 0.01000000 DASH |
| EOS | 10.00000000 EOS | 0.00100000 EOS | 0.10000000 EOS | 0.00000000 EOS | 0.01000000 EOS |
| Ethereum | 0.10000000 ETH | 0.00050000 ETH | 0.00100000 ETH | 0.00138000 ETH | 0.02000000 ETH |
| IOTA | 10.00000000 MIOTA | 0.10000000 MIOTA | 0.50000000 MIOTA | 0.02000080 MIOTA | 1.00000000 MIOTA |
| Komodo | 10.00000000 KMD | 0.01000000 KMD | 0.10000000 KMD | 0.00000000 KMD | 0.10000000 KMD |
| Litecoin | 0.10000000 LTC | 0.00010000 LTC | 0.00100000 LTC | 0.00089700 LTC | 0.05000000 LTC |
| NEM | 100.00000000 XEM | 0.10000000 XEM | 1.00000000 XEM | 0.04999970 XEM | 0.10000000 XEM |
| NEO | 1.00000000 NEO | 0.00000000 NEO | 1.00000000 NEO | 0.00500020 NEO | 1.00000000 NEO |
| OmiseGo | 5.00000000 OMG | 0.20000000 OMG | 0.50000000 OMG | 0.09999940 OMG | 1.00000000 OMG |
| Pantos | 1000.00000000 PAN | 1.00000000 PAN | 5.00000000 PAN | 1.00000090 PAN | 5.00000000 PAN |
| Ripple | 0.10000000 XRP | 0.00000000 XRP | 0.10000000 XRP | 0.00000000 XRP | 1.00000000 XRP |
| Stellar | 10.00000000 XLM | 0.00000000 XLM | 0.10000000 XLM | 0.00000000 XLM | 10.00000000 XLM |
| Tether | 10.00000000 USDT | 0.25000000 USDT | 0.50000000 USDT | 0.09999940 USDT | 0.10000000 USDT |
| USD Coin | 10.00000000 USDC | 0.25000000 USDC | 0.50000000 USDC | 0.09999940 USDC | 0.10000000 USDC |
| Waves | 5.00000000 WAVES | 0.01000000 WAVES | 0.10000000 WAVES | 0.00000000 WAVES | 0.10000000 WAVES |
| ZCash | 0.05000000 ZEC | 0.00100000 ZEC | 0.00500000 ZEC | 0.00010120 ZEC | 0.00100000 ZEC |
If you pay in a currency other than EUR, USD, GBP and CHF, the exchange will charge exchange fees. However, these are not charged by Bitpanda but by the payment service provider and are therefore not included in Bitpanda's prices. There are no minimum deposit and withdrawal limits when sending cryptocurrencies to other Bitpanda users or during an internal wallet transaction. There are also no fees.
Buy Cosmos at Bitpanda: That's how it works!
To buy Cosmos (TOM) at Bitpanda, you must deposit your local currency on your Fiat Wallet. Then you can exchange your national currency for ATOM. Just follow the steps below:
Click on the "Deposit" button in the upper right corner.
Select your desired Fiat Wallet.
Select a payment method. These vary according to your country and your national currency.
Enter the desired amount and click on "Summary":
To complete the transaction, you must waive your right of withdrawal. You will also receive a PIN sent to you by SMS (not for bank transfers), which you must enter.
You will then be redirected to the website of the selected payment provider or see the details for the bank transfer. When this step is completed, you will be redirected to Bitpanda and the amount will be credited to your Fiat Wallet (may take some time).
When your money has arrived, you can click on "Trade" in the upper right corner.

Click on "Buy" and select Cosmos (ATOM) and your wallet.
Select the Fiat Wallet with which you want to make the payment and specify the quantity you want to buy.
In the last step you will see a summary of your order. After you have waived the right of withdrawal again, click on "Buy Now" to complete the purchase.
Buy Cosmos (ATOM) on Binance
Binance is one of the world's largest and most popular exchanges, which is not only secure but also extremely user-friendly. However, there is a significant restriction when buying cryptocurrencies on Binance. Currently, the Exchange only offers the purchase of Bitcoin, Bitcoin Cash, XRP, Ethereum, Binance Coin and Litecoin by credit card.
So on Binance you only have the possibility to buy another cryptocurrency by credit card and then trade it against Cosmos (ATOM). Alternatively, you can buy the other cryptocurrencies from a broker such as Litebit or Coinmerce (if you don't have a credit card) and then trade ATOM on Binance against the other cryptocurrency.
The first step is to create an account with Binance. To do this, you must click on this link (Binance.com) and first set up an account*. The process is very fast, as no personal proof (e.g. an identity card, a proof of residence) is required. Unlike many other exchanges, you can trade cryptocurrencies on Binance without having to verify yourself beforehand. The limit without verification is already 2 Bitcoin per day and should be sufficient for many investors. However, if you want a higher limit, you will need to submit and verify a few documents. Your limit is 100 BTC per day after successful verification.
Step 1: Buy Bitcoin by credit card
As soon as you have completed the registration, the first step is to buy a cryptocurrency on Binance, which you can later trade against Cosmos (ATOM). On Binance you can trade Cosmos for Bitcoin, Binance Coin and Tether at the moment. We will show you the purchase process with Bitcoin as an example. The menu item for purchasing Bitcoin by credit card can be found in the right-hand part of the menu under "Medium" and "Buy with Credit Card". Then you will see the following view. Here you can select "BTC" and enter your desired amount.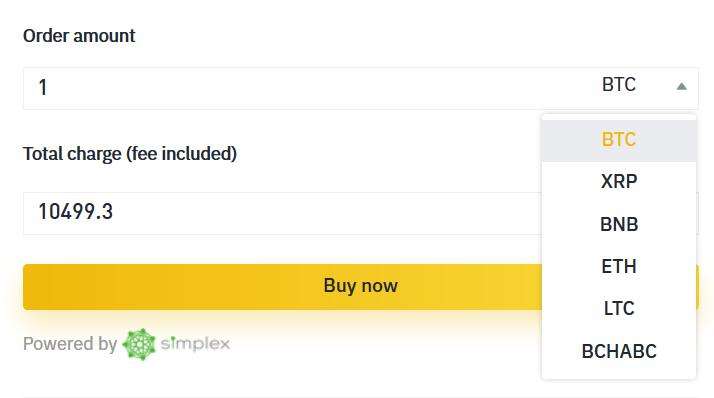 It is important to know that Binance is working with the third-party provider "Simplex" to process the purchase. Therefore a verification of your identity is necessary! The purchase process is relatively self-explanatory. Below we have written a short summary of the individual steps:
Select "BTC" and your local currency with which you would like to pay.
Fill in the fields with the personal data.
Verify your email and phone number using the code sent to you.
Go back to the website and click "Next" .
Enter your credit card details.
Upload your documents to verify your identity (front and back of your passport).
Before and after the purchase there are some things to keep in mind:
The given Bitcoin amount is based on the current price and is not final, but will be calculated later! However, if the rate changes by more than +/-2.5%, you will be asked to reconfirm the transaction by email from Simplex.
Once the payment is complete, you can check your payment status and deposit history on Simplex.
The Simplex fee is 3.5% per transaction or USD 10, whichever is higher.
The daily limit is 20,000 USD per user. The monthly limit is 50,000 USD per user.
The minimum amount (the minimum) for a transaction is currently USD 50.
Step 2: Send Bitcoin to Binance
Step 2 is optional: If you already own Bitcoin on another wallet or would like to buy from another broker, you must first transfer the BTC to Binance. For this you need your BTC reception address from Bitcoin. To find out the "Receive address" of your Binance Wallet, click on "Funds" in the navigation bar and then on "Deposit". You can then enter BTC in the search field and select Bitcoin. A Bitcoin address from your Binance account will then be displayed in the following field. You can enter these in the purchase process on Litebit or Coinmerce, for example, to send the BTC directly to Binance.
Step 3: Trading Cosmos
You should now definitely have Bitcoin on your Binance Wallet. Now there are only two small steps to buy Cosmos (ATOM) on Binance. Next to the Binance logo in the top left-hand corner, there is the menu item "exchange" and below it "Basic". Select this menu item. Afterwards you get to the following overview (see screenshot below). First you have to make sure that BTC is set as trading pair (step 1). In the search field below (step 2) enter "ATOM" and click on ATOM/BTC (step 3).
The display below the price chart then changes. You can find a more detailed explanation of Binance's trading overview in our Binance review. If you were able to follow the previous steps, you must then decide what type of purchase you would like to make. You can choose between "Limit", "Market" and "Stop-Limit".
Step 4: Select Limit, Market or Stop-Limit Order
A "limit" order is an order placed in the order book at a limit price you specify. This means that the trade is only executed when the market price reaches your limit price. If the market price does not reach the price you set, the limit order remains open. You can delete them if you want. A "limit" order should therefore always be used if you are not in a hurry to buy or sell or want to achieve a certain price.
In contrast, a "Market" order is executed immediately at the current market price (see step no. 4 in the screenshot below). Accordingly, the "Market" order is particularly suitable for beginners and investors who want to sell or buy quickly. Since you want to sell your Bitcoin and get ATOM for it, you have to use the left field "Buy ATOM". In the line "Amount" you enter how much Cosmos (ATOM) you want to buy. When you have entered everything, you can click on "Buy ATOM ".
Under normal circumstances the ATOM Coins will be visible on your Binance Wallet within a few seconds. As with Coinmerce, we recommend that you transfer the Cosmos to an external wallet.  If you want the best possible protection, you should buy a hardware wallet.
We have tested more than 9 hardware wallets and in our hardware wallet comparison we will show you which model scored best. The Ledger Nano X offers a strong price-performance ratio and is therefore our test winner. If you are looking for a cheaper hardware wallet and only want to store a few cryptocurrencies on your wallet, the predecessor model, the Ledger Nano S, could also be a very good choice for you. If you don't want to spend any money on a hardware wallet at all, read our Cosmos Wallet Guide. We introduce you to a free ATOM Wallet.
>> Trade Cosmos (ATOM) now on Binance* <<
The number of software wallets for Cosmos is very limited. Nevertheless, we have a clear recommendation if no hardware wallet is suitable for you. The Atomic Wallet is a Multi-Coin-Wallet with which we have had very good experiences in the past two years and which can manage over 300 additional cryptocurrencies.
To install it, you must first go to the official website and download the software. Click on the following link, which will take you directly to the download page. The Wallet is available as desktop version for Windows, Mac, Ubuntu, Debian and Fedora. There is also a mobile version for iOS and Android in the respective App Store.
Depending on which operating system you are using, you can download the appropriate version. The download should not take very long (100 MB). If the download was successful, you will need to install the software. First you will be asked if you want to create a new wallet or restore an old one. Now click on "New Wallet" so that you can create a new wallet. You will then need to enter your password and confirm it again. The next step is to create the wallet for you.
Attention:
The most important step of the complete installation follows. The Atomic Wallet shows you a backup phrase consisting of 12 words. Be sure to write these 12 words on one or more pieces of paper, which you keep safe. With the help of the backup phrase you can restore your Atomic Wallet in case of loss or defect of your computer! If you lose the backup phrase and the above case occurs, you lose access to your cryptocurrencies.
When you have successfully written down your seed, click on "Open Wallet". The wallet's dashboard displays numerous cryptocurrencies. Therefore click in the upper left corner of the search field and enter "Cosmos". In the line behind it you already see your Cosmos address ("Your Adress"):
You must enter your address as the receiving address with Binance or another exchange. Your ATOM will then be sent to this address. If you want to send Cosmos (ATOM) from your Atomic Wallet to another Exchange or Wallet, you have to click on Cosmos. You will then get the following overview where you can enter the destination address, a memo and the amount: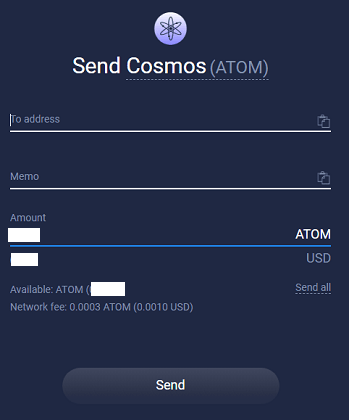 If you liked our purchase instructions, please rate them by clicking on the stars:
[ratings]
If you have questions or suggestions, write a comment. We will be glad to help you!
Crypto News Flash does not endorse and is not responsible for or liable for any content, accuracy, quality, advertising, products, or other materials on this page. Readers should do their own research before taking any actions related to cryptocurrencies. Crypto News Flash is not responsible, directly or indirectly, for any damage or loss caused or alleged to be caused by or in connection with the use of or reliance on any content, goods, or services mentioned.