Bityard is a cryptocurrency derivative exchange founded in 2019 in Singapore, the technological capital of Asia, which follows the principle of "Complex Contracts Simple Trade". As the slogan suggests, Bityard aims to make crypto derivatives trading, which is very complex for many, as simple as possible and to offer clients the ultimate simplified trading experience.
Thus, unlike other potential competitors on the market, Bityard takes a different approach. While BitMEX, for example, focuses on professionalism and thus on institutional or professional investors, Bityard's main goal is to make trading as easy as possible while offering adequate trading tools.
By implementing this strategy, Bityard is also ideally suited for newcomers. A first look at the user interface is enough to see that a newcomer should find his way around Bityard much faster. The user interface of BitMEX is probably often too complicated for newcomers, quite simply because they do not need all the functions.
Bityard, on the other hand, has limited the user interface to all necessary and essential functions, thus allowing newcomers a much easier entry into the world of crypto derivatives (see screenshot – left: BitMEX and right: Bityard). At UX, the different market positioning of BitMEX and Bityard becomes very clear.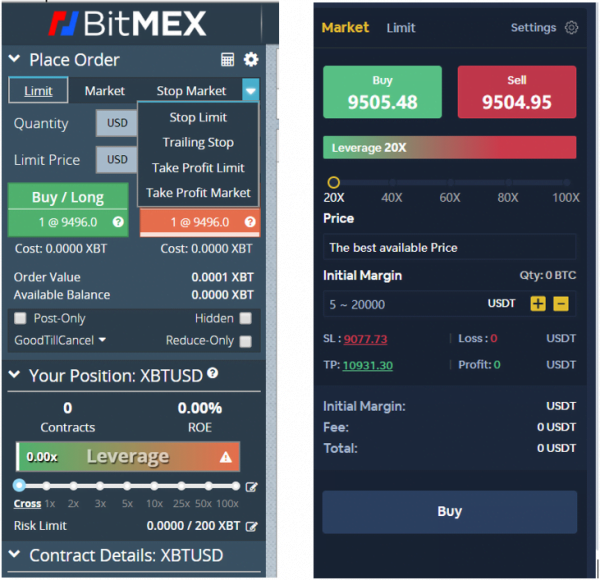 Another big plus of Bityard for newcomers is that the exchange has a much lower entry barrier with only 5 USDT for trading. As we will explore later, Bityard also offers competitive fees. Furthermore, the daily mining program allows users to generate additional income.
Leveraged trading on Bityard
As described above, Bityard is a crypto-derivatives exchange that offers trading of contracts with leverage. Contracts are trading instruments that allow investors to trade the price movement of an asset at a fixed future date and price. Trading in contracts allows users to access enormous amounts of capital through leverage. It is generally used as a means to hedge other investments or to protect profits when trading in volatile markets.
The leverage offered on Bityard is 10x and 100x. The following 10 cryptocurrencies are available for selection at the time of writing:
USDT (OMNI/TRC20/ERC20)
Bitcoin
Ethereum
Ripple (XRP)
TRON (TRX)
Huobi Token
EOS
BYD token (Bityard own token)
Is Bityard secure and trustworthy?
The seriousness of the exchange is clearly demonstrated by the fact that Bityard can boast four licenses. The exchange is regulated and licensed under the ACRA of Singapore, the MSB of the United States by the Financial Crimes Enforcement Network, which is part of the United States Department of the Treasury, the MTR of Estonia and the AUSTRAC of Australia.
The mining program and the platform coin – BYD
A special feature of the exchange compared to other derivatives exchanges is also that Bityard offers its users the possibility to receive BYD, the platform token, on its "Daily Mining" page, alongside other common cryptocurrencies. The platform's native token, which is comparable to BNB of Binance, plays an important role in the Bityard ecosystem and is expected to be listed on mainstream exchanges in the future. Accordingly, the BYD has great potential.
For the time being, it can be used to pay the trading fees on Bityard, which gives the users a discount. The total volume of the token is 210 million, of which BYD 10.24 million is allocated to the mining program. Users of Bityard receive 6 BYD for activating the account.
Great variety for deposits
In terms of deposit options, Bityard also offers a wide variety and thus a high degree of user-friendliness. With this in mind, Bityard has more deposit options than any other crypto derivatives exchange. In addition to the deposit via fiat currency (Chinese CNY, Vietnamese Dong, Indonesian rupiah), seven cryptocurrencies are available for the deposit: Bitcoin, Ethereum, XRP, USDT, TRX, HT, LINK and since a few days also EOS.
In the future Bityard also plans to add more fiat deposit options. In addition, Bityard also offers OTC services for USDT purchases with low trading fees, aimed at both first-time traders and institutions.
Registration and trading on Bityard
Opening an account is very easy and also very fast. All you need to do is register an email address or a mobile phone number. This way you can become a Bityard user within 30 seconds. Once you have completed the registration process, you will be assigned a secure wallet, so you can start trading right away.
To begin trading, go to the main menu and select "Trade". You will then be directed to a very clear and user-friendly overview with all trading options, as well as professional charts and tools.
Bityard's price data is sourced from the three renowned spot trading exchanges Binance, OKEx and Huobi to maximize the accuracy of market prices. This, by the way, is another advantage for all Bityard users, as the exchange, unlike its competitors, does not impose its own price data on its users or diversify the data origin across several exchanges.
The KOL incentive system
Bityard offers its KOL partners a commission of at least 40%. Each of them receives a salary per day proportional to the number of users they bring to the site, rewarding only "valid users", defined as follows
Total monthly deposit ≥100 USDT
Monthly trading volume ≥ 50 USDT
Only 1 user counts per IP address
The rewards are staggered for three months for new monthly (valid) users as follows (where 7 BYD = 1 USDT)
5-10 new users – 70 BYD/user
11-30 new users – 80 BYD/user
31-80 new users – 90 BYD/user
80-120 new users 100 BYD/user
Furthermore, Bityard KOL's also receive a daily bonus as long as their commission rate is above 5%.
Otherwise, KOL's that reach the trading volume requirements within 3 months become qualified KOL's and benefit from regular bonus payments.
Bityard's brand ambassadors
Unlike other brokers, Bityard also has a very well-known brand ambassador in the form of Thai boxing champion Buakaw Banchamek. Below you will find Buakaw's Facebook post about the cooperation with Bityard:
Bityard in comparison
| Broker | BitMEX | Bybit | Deribit | Bityard |
| --- | --- | --- | --- | --- |
| Unternehmenssitz | Seychellen | Singapur | Panama | Singapur |
| Lizenz | Securities Dealer License | Financial Services Comission | MTR | AUSTRAC/ ACRA/ MTR/ FinCEN |
| Transaktionsgebühren | 0.075% | 0.075% | 0.075% | 0.05% (Für den Mining Reward könne 10% abgezogen werden) |
| Fiat Einzahlungen? | Nein | Nein | Nein | Ja |
| Einzahlung per | BTC | BTC/ ETH/ EOS/ XRP/ USDT | BTC/ ETH | BTC/ ETH/ XRP/ USDT/ TRX/ HT/ LINK |
| Minimum Margin | 1 USDT | 5 USDT | 0.1 BTC / 1 ETH | 5.00 USDT |
| Anzahl der Kryptowährungen | 8 | 4 | 2 | 10 |
| Demomodus | Ja | Ja | Ja | Ja |
| Zwangsliquidierung? | Ja | Nein | Nein | Nein |
| Max. Auszahlung | Keine | 10 BTC | Keine mit KYC | 100.000 USDT |
| KYC? | Nein | Nein | Auszahlungen > 1 BTC | Nein |
| Leverage | 1-100x | 1-100x | 1-100x | 10-100x |
| Kundensupport | E-Mail/ Telegram | E-Mail/ Online | E-Mail | E-Mail/ Telegram/ Online |
| Markenbotschafter |  - | - | - | Buakaw Banchamek |
Conclusion on Bityard
Bityard is a cryptocurrency derivatives exchange that has discovered a gap in the market and wants to make leveraged trading in crypto derivatives accessible to a broad mass of people in accordance with its motto "Complex Contracts Simple Trade". To this end, Bityard has developed a trading platform that is very simple and intuitive, even for newcomers, and thus removes the "hurdle" of entry. Any newcomer who tries the exchange will find that it is the most intuitive trading platform for contracts on the market.
Crypto News Flash does not endorse and is not responsible for or liable for any content, accuracy, quality, advertising, products, or other materials on this page. Readers should do their own research before taking any actions related to cryptocurrencies. Crypto News Flash is not responsible, directly or indirectly, for any damage or loss caused or alleged to be caused by or in connection with the use of or reliance on any content, goods, or services mentioned.