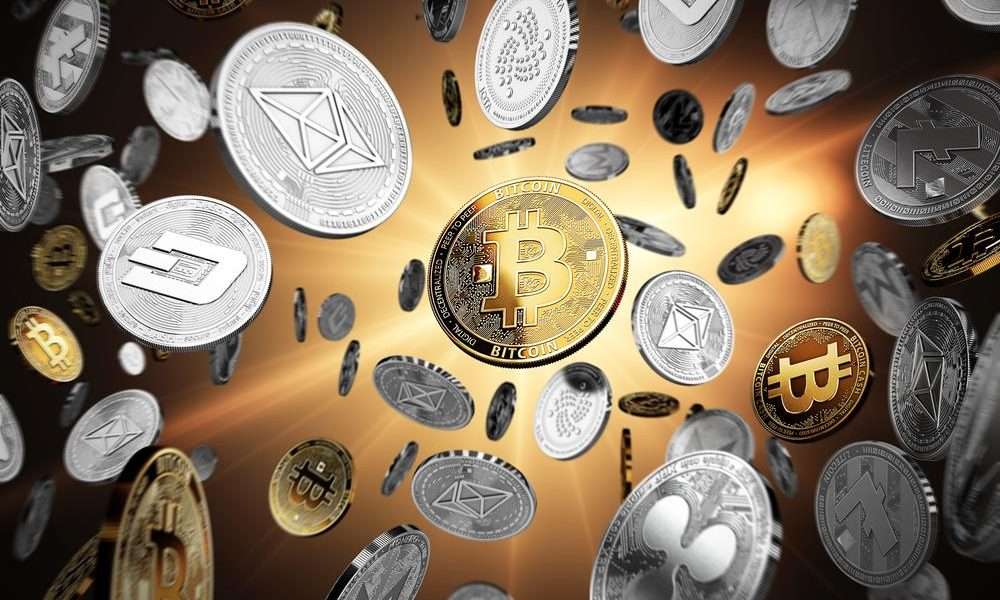 Bitcoin rose by $500 to $9,500 within a few hours, surprising many analysts.
Along the $9,600 mark is the next strong resistance which the Bitcoin price must break through on its way to the $10,000 mark.
Ethereum shows the largest gains among the 10 largest cryptocurrencies by market capitalization.
---
The Bitcoin price has risen from $9,000 to temporarily $9,600 in the last few hours, defying the forecasts of many analysts. Within the last 24 hours, Bitcoin has thus risen by 3.65% to a price of $9,498.47. The market capitalization has risen from $169 billion to almost $174 billion.
Bitcoin Trader and Blockroots founder Josh Rager describes that Bitcoin is currently drawing higher lows and lower highs, so he expects a big price move. In his opinion, this price movement could continue next week before a rally follows, confirming a new uptrend for Bitcoin.
$BTC price continues to compress with higher-lows and lower-highs

Would be interested to see if this continues this upcoming week before a potential large breakout for the corn pic.twitter.com/O8KimeMG3c

— Josh Rager ? (@Josh_Rager) May 29, 2020
Scott Melker is more bullish for Bitcoin and explains that the price on the daily chart looks bullish again as BTC has closed above the $9,500 mark. However, he points out to his followers that trading volume is still low and Bitcoin may now start to move sideways before confirmation of a new uptrend follows.
Pushing into the daily close. Looking strong like bull. pic.twitter.com/aFwSrD8ZO6

— The Wolf Of All Streets (@scottmelker) May 28, 2020
Crypto trader HornHairs, on the other hand, says that he expects a correction as Bitcoin will fight its way through the strong resistance along the $9,600 mark. Although Bitcoin was able to rise quickly, it will take some time before Bitcoin can confirm the short-term upward trend, the analyst said.
✅✅

Expecting pullback pic.twitter.com/PtbKbdD6qn

— HornHairs ? (@CryptoHornHairs) May 28, 2020
The anonymous trader Big Chonis Trading points out another circumstance in a video update. Bitcoin is in a tight triangle and either will soon break out upwards. This could trigger either a new bull run or another downward correction if the bottom of the triangle is tested again at $8,800.
$BTC – quick video update on #bitcoin daily chart and oscillators … pic.twitter.com/pVqlGRvR6b

— Big Chonis Trading? (@BigChonis) May 29, 2020
Bitcoin Trader "Cold Blooder Shiller" shared a chart with its community showing that Bitcoin has not closed above the $9,360 mark on the monthly chart for the last 10 months. A chart close below this level has recently pushed Bitcoin to new lows of $6,000 and $3,000. If Bitcoin manages to close above this level in May, the analyst sees a good chance that there will be another bull run in the coming weeks.
People referring to the importance of this $BTC level, so I thought I'd provide you with the Monthly view.

We've not had a Monthly close above 9360 in nearly 12 months. Rejections from this level have led to tests of $6k and eventually $3k.

4h range bouncing around this level. pic.twitter.com/9B5gHXahyM

— Cold Blooded Shiller (@ColdBloodShill) May 28, 2020
As a result of Bitcoin's current uptrend, BitMEX short positions in the derivatives exchange have been liquidated over $40 million in the last 36 hours, according to data from Skew.com. In addition to Bitcoin, the Ethereum price also shows a strong upward trend within the last 24 hours. ETH rose by 6.92 % to a price of $221.74, showing the largest increase within the 10 largest cryptocurrencies in terms of market capitalization.
Grayscale in Bitcoin buying frenzy
As Crypto News Flash has already reported, Grayscale has bought almost 50% of all newly mined ETH in 2020. Since Bitcoin Halving, 12,337 Bitcoin have been mined so far. Grayscale has bought more than 18,910 BTC in the same period, so this development could indicate a further increasing interest among institutional investors like Grayscale.
These facts are in direct contrast to the last Goldman Sachs conference call, where the company advised its clients not to invest in Bitcoin.
Grayscale's Bitcoin Trust bought 18,910 Bitcoins since the halving.

Only 12,337 Bitcoins have been mined since the halving.

Wall Street wants Bitcoin, and they don't care what Goldman Sachs has to say. pic.twitter.com/Br6a4ijuze

— Kevin Rooke (@kerooke) May 27, 2020