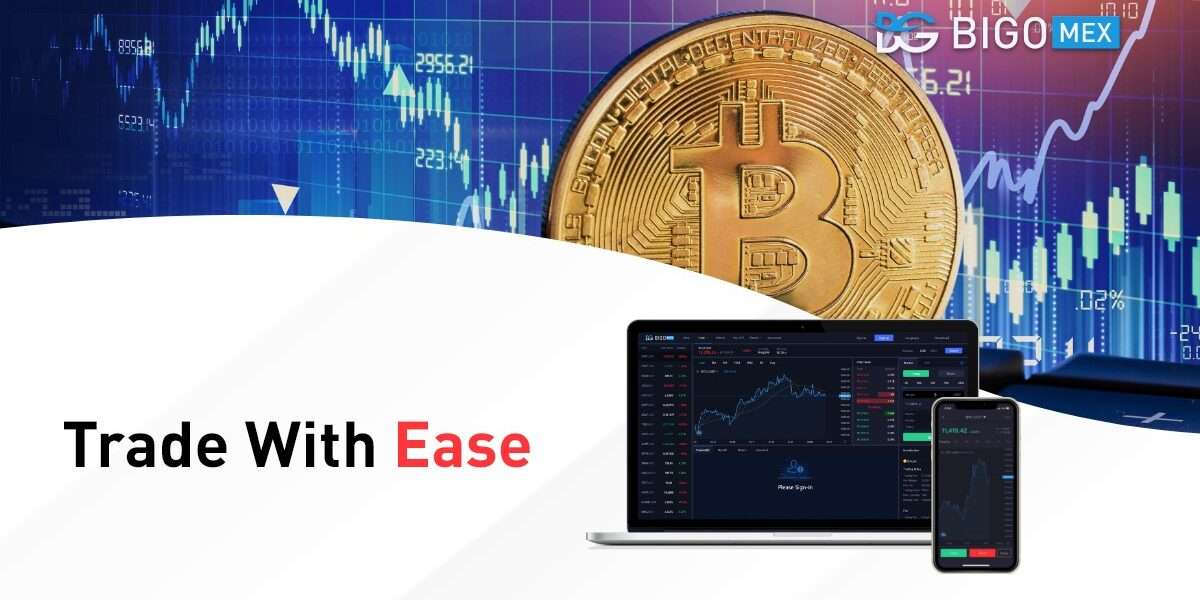 Introducing BigoMex
BigoMex is a cryptocurrency contracts trading platform that carries the slogan "Trade With Ease". From the slogan, we know that BigoMex's mission is to make trading easy for users by using the methods we discuss in this review.
The BigoMex team consists of individuals who have more than 10 years experience in the finance industry, tech industry, and early investors in Bitcoin. The team believes that existing contracts trading platforms are too complicated and can be intimidating for new users. Therefore, by building a platform that has simple features and is easy to use, BigoMex aims to become a reliable platform for crypto contracts traders.
This platform has a headquarter office in Singapore, and therefore is regulated by the Accounting and Corporate Regulatory Authority (ACRA) agency. Additionally, BigoMex has recently acquired license from Money Services Business (MSB) in the USA, as an indicator for its service expanding widely around the globe. The licensing shows that BigoMex is a legitimate platform to assure users that it is a professional service.
Crypto contracts trading
Cryptocurrency contracts is a form of derivatives trading in the digital asset market. Instead of buying and selling spot assets, users buy and sell contracts tied to the price of an asset. This mechanism allows for users to put a buy or long order and, more importantly, a sell or short order.
Using a short sell order, a trader can profit during a bear market when the price of cryptocurrencies are decreasing. Traders who only engage in the spot market can't profit when the price of the assets they hold are going down. But traders who do short selling can make a profit on the way down, and also place a long order to profit when the price resumes an uptrend.
These instruments are important for an investment portfolio to maximize gains during any market condition. An investor can also use a short order as a hedge or protection of their portfolio when the market is going through a bear phase.
Trading at BigoMex
BigoMex introduced two additional trading features on top of real trading that allow beginners to learn and practice crypto contracts trading that not every other exchanges have: a trading tutorial and a demo trading account. Users who sign up will immediately be able to get access to the two main trading features for free (no deposit is required).
The trading tutorial is an animated step-by-step trading guide that is user-interactive. This tutorial course covers the explanation of contracts trading, long/short, margin, leverage, and profit calculation. It is a short and helpful visual tutorial so that new users can understand the mechanics of trading and how they make a profit and even how they make a loss.
For users who already understand the basics but aren't ready to trading real money yet, BigoMex also offers a demo trading feature. Using the demo, users get 100,000 BUSDT credited to their account as trading capital. Users can make demo trades following the real market price of assets, and see if their strategies result in profit or loss.
The demo trading has all the same features as real trading. The difference is that in real trading, users deposit their money and use that as capital to open their long or short positions. For traders who are beginning, we recommend taking advantage of the demo trading feature.
As can be seen from the trading interface, BigoMex team makes the trading panel as straightforward as possible without installing any unnecessary buttons.
Set up BigoMex account
To open an account, head over to the BigoMex official site. Click on Sign Up at the top navigation menu. You can create an account using a phone number and a verification code that will be sent to your phone. Alternatively, you can use your Facebook account or email to sign up. A verification code will be sent to your email.
Deposit & trade
Once you enter the verification code, your account is set up and ready to go. There is no KYC necessary, you don't need to provide any ID to make a deposit or withdrawal. This feature allows traders to make an account and start trading immediately without needing to upload and verify documents that can take a long time.
After your account is ready, login, click on your account name, and choose balances. Here, you can choose to make a deposit to start trading. Here is where you will also make withdrawals. You can also access the deposit screen from the trading screen by clicking on Deposit.
BigoMex offers various ways to make a deposit. Users can deposit one of the following crypto assets: USDT, BTC, ETH, XRP, TRX, or EOS. USDT deposit is available in OMNI, ERC-20, or TRC-20.
You can copy the address or scan the QR code. Note that deposits in the form of cryptocurrencies (BTC, ETH, and others) will be converted to USDT upon successful deposit. That is because the base pair for executing trades is USDT. USDT-based contracts trading will enable traders to use USDT margins to trade in all the trading pair market.
Users can also buy USDT directly using fiat currencies. The fiat currencies supported by BigoMex include Indonesian Rupiah (IDR), Vietnamese Dong (VND), Thailand Baht (THB), and Malaysian Ringgit (MYR). BigoMex claims to open more fiat deposit gateways and credit cards deposit options in the near future.
Enter the USDT amount you want to buy, or enter the fiat amount you want to spend, and then click on Get Buy Quote. Once you agree with the quote, you will be directed to the fiat payment processor screen according to your chosen currency.
Upon successful deposit, a user can begin trading immediately. Trading is very simple, users can choose either a Market Order or a Limit Order. A Market Order means a user buys at the current price, while a Limit Order means a user sets an order to buy at a determined price.
Here, users can make a long or short order. The leverage available includes 10x, 20x, 30x, 50x, and 100x, though some pairs don't have 50x and 100x in the consideration of their price volatility to protect trader's investment. The minimum margin is only 2 USDT, so users can trade with a small margin if they want to test their strategies first before trading with large size.
The crypto pairs that are available for trading now include:
BTC/USDT
ETH/USDT
BCH/USDT
LTC/USDT
EOS/USDT
XRP/USDT
ETC/USDT
XLM/USDT
ADA/USDT
TRX/USDT
IOTA/USDT
XMR/USDT
DASH/USDT
ZEC/USDT
NEO/USDT
QTUM/USDT
OMG/USDT
BigoMex's price feed is indexed to major cryptocurrency platforms Binance, Bitfinex, and Coinbase to ensure stability. It means that the price will adhere to global standards and not experience any sudden crashes or abnormalities that can cause extreme loss to the user.
BigoMex users receive a Perks balance in their balance account. The amount of balance in Perks can be used to deduct up to 50% of the trading fee when a trade is closed. Users can receive Perks from registration bonus.
Withdrawing funds from BigoMex is quick. Users can withdraw USDT OMNI, ERC-20, or TRC-20. The minimum withdrawal amount is 30 USDT, and the fee is 9 USDT for ERC-20 and 0.5 USDT for TRC-20. Note that this withdrawal fee is dynamic depending on the state of the blockchain and not marked up by the team.
New users promotion
New users who sign up can get a 5 USDT bonus which includes 1 USDT to the Assets Balance, 2 USDT to the Bonus Balance, and 2 USDT to the Perks Balance. The Assets Balance is the one used to do trading, the Bonus Balance can be used to deduct margin (up to 25%), and the Perks Balance can be used to deduct trading fees (up to 50%).
Other than the sign-up bonus, BigoMex offers a 20 USDT Perks bonus for users who make a first time deposit of 100 USDT or more, and a 1 USDT Perks bonus for users who deposit 5 USDT or more.
Once a user begins trading, they can get up to 268 USDT extra bonuses by achieving various levels of trading volume. The bonus includes 1 USDT upon reaching 1,000 USDT trading volume, up to 153 USDT bonus after reaching 1,000,000 USDT trading volume.
Besides trading, BigoMex has an interesting program called Captain Miner. Through this feature, users can mine USDT at certain times each day. By clicking on the bubbles, the USDT mined from Captain Miner goes to the Perks balance and can be used to deduct trading fees.
Referral program
Similar to popular cryptocurrency exchanges, BigoMex has a referral program. If User A invites User B, B gets the 5 USDT sign-up bonus. If B becomes a valid user, A will get 5 USDT.
Other than that, A will get a trading fee rebate up to 70% what B is trading.
Conclusion
With the many bonus and rewards for both first time sign-ups and active users, and the simple-to-use interface that doesn't use complicated buttons, BigoMex is a top option for a crypto contracts trading platform. Thousands of traders have made wise investment decisions using the BigoMex platform.
Long term users get rewarded through the trading volume bonuses. New users can take advantage of the demo trading feature to practice making profit. With more trading pairs coming in the future, BigoMex is a user-friendly platform to help traders make a profit during both bull markets and bear markets.
Sign Up BigoMex to Get 5 USDT Bonus!
Crypto News Flash does not endorse and is not responsible for or liable for any content, accuracy, quality, advertising, products, or other materials on this page. Readers should do their own research before taking any actions related to cryptocurrencies. Crypto News Flash is not responsible, directly or indirectly, for any damage or loss caused or alleged to be caused by or in connection with the use of or reliance on any content, goods, or services mentioned.